Angie Hobbs writes Ladybird Expert Guide to Plato's Republic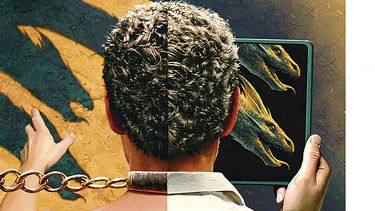 Angie Hobbs has written a guide to Plato's Republic for the new Ladybird Expert series. The book was published by Penguin on 7th February 2019.
The Ladybird Expert series features acccessible and concise introductions to a variety of subjects, written by experts in their fields. The books are beautifully illustrated and produced in the small hardback style of the original Ladybirds.
Angie said "I hope this Ladybird guide will introduce many new readers to the riches of Plato's extraordinary legacy."
"I wanted to write about Plato's Republic for a general audience because it addresses questions of perennial concern, such as how and why societies are formed and what does it take for a society to flourish. It is also strikingly relevant to many of our current problems, brilliantly analysing how democracies can be subverted into tyrannies by a cynical demagogue, or how sophistry can trick people into believing fake news."
"I particularly enjoyed thinking up the ideas for the 24 illustrations and working with the superb artist, Angelo Rinaldi, on the specific details of design and colours. I did a lot of research into ancient dyes! I also did a lot of research into how the Republic was published and how quickly copies were transported around the Greek world, including to the great library at Alexandria in Egypt. It was clear that it was immediately recognised to be a very rich and important work, and I would argue strongly that it still has much to teach us today. Although some of its solutions are too extreme for most us, it asks so many of the right questions and analyses the choices available to us with such lucidity and imagination. And many of its central images, such as that of the Cave, have entered deeply into the cultural mainstream."
A world top-100 university
We're a world top-100 university renowned for the excellence, impact and distinctiveness of our research-led learning and teaching.