We're here to help you in choosing and applying for the right Philosophy postgraduate programme.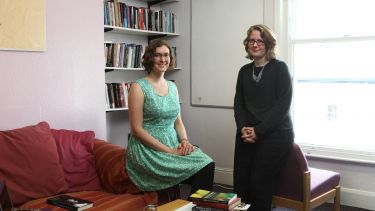 Off
If you're considering one of our MA programmes, you're welcome to visit us on one of our Postgraduate Taught Course Open Days. You can also discuss your application with the Department before you submit it.
If you're thinking of applying to our PhD programme, you're invited to discuss your application with a potential supervisor before submitting it. You are also welcome to visit the department to chat to staff in person, or attend the postgraduate or departmental research seminars.
If you are applying to our MA or PhD programmes from outside the UK, you may be able to meet with one of our international officers in your country. Overseas visit dates
You can also book a place on one of our Virtual Open Days.
Applications to our MA and PhD programmes are made directly to the university using the MA application form, and the PhD application form.
You will need to provide a writing sample and a research proposal (PhD applications only), and a record of your academic achievement. You will also need reference letters from two referees, who should send them directly to the department.
More information about how to apply for each programme is available on our course pages:
Weekly online events
Attend an online event when it suits you, all year round, as an alternative to an open day.
Every Wednesday, Sheffield Live sessions cover different aspects of University life. You can also meet your department and learn more about studying your subject.