Undergraduates to collaborate with academic staff on SURE research projects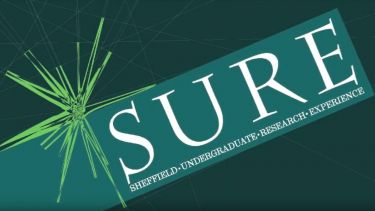 Sheffield Undergraduate Research Experience (SURE) offers students a chance to take part in research projectsin areas of interest to them and work in collaboration with academic staff. The projects are a chance for students to get valuable experience, transferrable skills and deeper knowledge of subjects they are passionate about.
Three undergraduates from the Department of Philosophy have been successful in their bid to take on SURE projects this year.
Jake Smith will be working with Luca Barlassina on "An investigation into the Folk Psychology of attributing phenomenally conscious mental states to artificial systems". Many people believe that computers and robots might be able to think and reason. However, people also have the intuition that computers and robots cannot feel. Jake will be working with Luca on the psychological origins of this intuition and on its philosophical significance.
Wiktoria Kulik will work with Rosanna Keefe. Her project is titled "Let's talk. Prospects offered by philosophy of language for the development of conversational programs that communicate on human level." Wiktoria aims to answer the question of whether we can create a programme that is capable of maintaining a conversation on a human level despite the fact that what we communicate often goes beyond what we have literally said.
Catherine Kennedy will work with Hugh Pyper looking at how a fashionable new way of introducing the bible to children known as 'Godly Play' deals with issues of gender and normativity.
Students who have taken part in SURE in previous years have found the experience a rewarding one. James Dunstan, who took part in 2016, said: "Taking part in the SURE project gave me confidence in my ability to engage in serious philosophical research, as well as giving me an opportunity to pursue a topic I wouldn't normally have, in an academic setting."
Michael Chilton said: "I found the SURE scheme invaluable, not only did it help my third year studies with its emphasis on independent research but also more broadly it helped give me a clearer idea on whether I wanted to pursue postgraduate research, which I am now doing. Most of all though, it gave me the opportunity to study an area of philosophy that interests me in a way of my choosing. This alone made me value the SURE scheme and I enjoyed it hugely as a consequence."
The students will be working on their projects over the summer. They will then exhibit a dissemination piece and answer questions about their research at the SURE showcase in February where there will also be an awards ceremony.
A world top-100 university
We're a world top-100 university renowned for the excellence, impact and distinctiveness of our research-led learning and teaching.