Educational and Child Psychology
School of Education, Faculty of Social Sciences

This professional training course will give you the skills, competencies and HCPC registration required to practise as an educational psychologist. We teach you the theory and support your practice, so you'll be well prepared for your future career.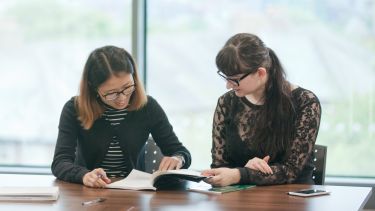 Course description
This is a three-year, full-time course approved by the Health and Care Professions Council (HCPC). It is accredited by the British Psychological Society (BPS) and recognised by the Department for Education as a professional training course in educational psychology.
All our graduates are eligible to apply for registration with the HCPC as a practitioner educational psychologist and join the British Psychological Society's Division of Educational and Child Psychology.
Content
This programme is non-modular, but will include:
Developmental Psychology

Assessment and Intervention

The Education of Children with Additional Needs

Group Training for Support Staff

Professional Issues

Over 300 days of supervised professional practice placements
Applying
For funded entry, you'll need to apply via the Association of Educational Psychologists (AEP) website. The application system opens in September and the deadline is in November of that year. Please see the AEP website for more details, developments and news.
Teaching
A mix of placement, private study and teaching from tutors. Your usual weekly pattern will be:
Year 1: Two days teaching, one day private study, two days work placement.
Year 2: One day teaching, one day private study, three days work placement.
Year 3: One day teaching or research, one day private study, three days work placement.
Assessment
Essays, practical work folders and a dissertation including research portfolio.
Duration
3 years full-time
Entry requirements
You must have over one year of full-time (or equivalent) experience of working with children within educational, childcare or community settings. You will also need an honours degree in psychology that is recognised by the BPS for graduate membership.
Disclosure and Barring Service
As this course involves working with children and young people, you'll need to obtain an Enhanced Disclosure from the Criminal convictions and Disclosure and Barring Service (DBS) prior to your training starting.
English language requirements
Overall IELTS score of 7.0 with a minimum of 6.5 in each component, or equivalent.
For funded entry, you'll need to apply via the Association of Educational Psychologists (AEP) website.
The content of our courses is reviewed annually to make sure it's up-to-date and relevant. Individual modules are occasionally updated or withdrawn. This is in response to discoveries through our world-leading research; funding changes; professional accreditation requirements; student or employer feedback; outcomes of reviews; and variations in staff or student numbers. In the event of any change we'll consult and inform students in good time and take reasonable steps to minimise disruption. We are no longer offering unrestricted module choice. If your course included unrestricted modules, your department will provide a list of modules from their own and other subject areas that you can choose from.