2022 start
September
Cybersecurity and Artificial Intelligence
Department of Computer Science, Faculty of Engineering

Receive a grounding in the fundamentals of cybersecurity and artificial intelligence. We teach you how to apply what you learn in business and industry, anywhere in the world.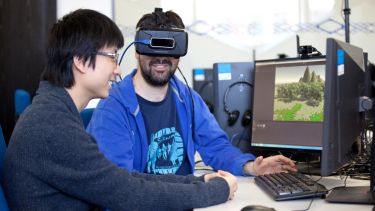 Course description
This course combines two disciplines: cybersecurity and artificial intelligence (AI). Cybersecurity is one of the most pressing problems of our time and artificial intelligence has made great advances in recent years. Skills in both areas are very much in demand. You will receive a grounding in the fundamentals of cybersecurity and AI. There are taught modules in each of these disciplines and you'll carry out a project that addresses a research problem (or problems) at the interface of the two.
Modules
Core modules:
Scalable Machine Learning

This module will focus on technologies and algorithms that can be applied to data at a very large scale (e.g. population level). From a theoretical perspective it will focus on parallelisation of algorithms and algorithmic approaches such as stochastic gradient descent. There will also be a significant practical element to the module that will focus on approaches to deploying scalable ML in practice such as SPARK, programming languages such as Python/Scala and deployment on high performance computing platforms/clusters.

15 credits

Fundamental Security Properties and Mechanisms

This wide-ranging module covers some fundamental concepts, properties, and mechanisms in security, e.g. identity, authentication, confidentiality, privacy, anonymity, availability and integrity. Cryptographic algorithms are explored together with major attacks (using a break-understand-and-fix approach). High level security protocols are explored (passwords, graphical passwords, key distribution and authentication protocols) together with some rigorous mechanisms for reasoning about their correctness (e.g. belief logics). Other mechanisms such as biometric authentication are also covered.

15 credits

Development of Secure Software

This module covers the security analysis - as well as the secure development - of software-based systems, both on an architectural as well as a system level. The main goal of this module is to teach the foundations of secure software design, secure programming, and security testing. The module requires a solid understanding of software development in general and in particular, of at least one programming language (e.g., Java, JavaScript, Ruby, C#, F#, or C) and basic software development tools such as an IDE (e.g., Eclipse, VS Code), a revision system (e.g., git), or build systems (e.g., Maven, Gradle, npm, FAKE). Moreover, an understanding of database and Web applications is required. The labs require a basic command of Linux in general and the command line (shell) in particular.

15 credits

Cyber Threat Hunting and Digital Forensics

The module provides an in depth view of threat hunting in memory, file system and network data and an introductory analysis of malicious programs. Practical sessions will elaborate on key concepts of incident handling, cyber threat hunting and digital investigation along with detailed analysis of real world case studies. We will also introduce some unusual and non-virulent types of malware.

15 credits

Security of Control and Embedded Systems

This module will explore security issues in systems where computation is carried out to sense, analyse, and control physical system elements. These systems typically react in real time to external events. Examples include washing machines, autonomous vehicles and traffic management systems, power distribution systems, automated manufacturing systems, robotic applications, and web-enabled toys. Many now, or will, operate as part of the "Internet of Things". A breach in the security of the systems of interest could also have catastrophic safety consequences. Complications arise when intrusions are detected, e.g., closing down a system may simply not be possible.

15 credits

Text Processing

This module introduces fundamental concepts and ideas in natural language text processing, covers techniques for handling text corpora, and examines representative systems that require the automated processing of large volumes of text. The module focusses on modern quantitative techniques for text analysis and explores important models for representing and acquiring information from texts. You should be aware that there are limited places available on this course 

15 credits

Machine Learning and Adaptive Intelligence

The module is about core technologies underpinning modern artificial intelligence. The module will introduce statistical machine learning and probabilistic modelling and their application to describing real-world phenomena. The module will give you a grounding in modern state-of-the-art algorithms that allow modern computer systems to learn from data.

15 credits

Natural Language Processing

This module provides an introduction to the field of computer processing of written natural language, known as Natural Language Processing (NLP). We will cover standard theories, models and algorithms, discuss competing solutions to problems, describe example systems and applications, and highlight areas of open research.

You should be aware that there are limited places available on this module. The maximum number of students allowed on the module is 160.

15 credits

Cybersecurity and AI Dissertation Project

For your individual project you can choose from a wide range of possibilities in many different environments both within, and outside, the University. The project is completed during the summer and you will have a personal academic supervisor to guide you during this period. The individual project is examined by a dissertation based on the project work and an oral examination. This module has been designed for students taking the MSc Cybersecurity and AI programme; the topic will be at the interface of Cybersecurity and AI. This provides a significant element of glue, bringing together the two areas that make up the programmes.

60 credits
The content of our courses is reviewed annually to make sure it's up-to-date and relevant. Individual modules are occasionally updated or withdrawn. This is in response to discoveries through our world-leading research; funding changes; professional accreditation requirements; student or employer feedback; outcomes of reviews; and variations in staff or student numbers. In the event of any change we'll consult and inform students in good time and take reasonable steps to minimise disruption. We are no longer offering unrestricted module choice. If your course included unrestricted modules, your department will provide a list of modules from their own and other subject areas that you can choose from.
An open day gives you the best opportunity to hear first-hand from our current students and staff about our courses. You'll find out what makes us special.
Duration
1 year full-time
Teaching
We use lectures, online technical content, tutorials, practical lab sessions and seminars led by staff from external organisations.
Assessment
Assessment is by formal examinations, coursework, mini team project, practical assessment, podcast and poster development, and a research project dissertation.
Entry requirements
Minimum 2:1 honours degree, or equivalent, in a relevant discipline (computer science or a numerate discipline with experience of software systems development).
Overall IELTS score of 6.5 with a minimum of 6.0 in each component, or equivalent.
We use a staged admissions process to assess applications for this course. You'll still apply for this course in the usual way, using our Postgraduate Online Application Form.
Any supervisors and research areas listed are indicative and may change before the start of the course.
Recognition of professional qualifications: from 1 January 2021, in order to have any UK professional qualifications recognised for work in an EU country across a number of regulated and other professions you need to apply to the host country for recognition. Read information from the UK government and the EU Regulated Professions Database.