2022 start
September
Executive Masters in Business Administration (EMBA)
Management School: Executive Education, Faculty of Social Sciences

Aimed at managers and other business professionals, this course gives you up-to-date understanding of current academic thinking in the discipline of management. The Executive MBA is an internationally recognised qualification.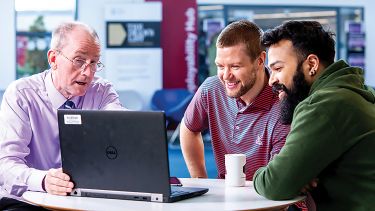 Course description
Our Executive MBA is an internationally recognised qualification for managers and other business professionals who have at least three years' work experience. It gives you an up-to-date understanding of current academic thinking in the discipline of management. Through our ambitious team of academics and practitioners we inform and inspire the change of existing managerial paradigms. It is important that leaders are equipped with the relevant competency, knowledge and skill sets in order to create real competitive advantage for organisations.
How to apply
You'll need to apply using our Alternative Routes and Programmes Online Application form. Select programme code MGTT229
Accreditation
Accredited by the Chartered Management Institute
Modules
Collaborative Networks and Relationships in a Global Context

The module introduces the nature and role of collaborative networks and relationships in a global context. In an interconnected and diversified world, organisational leaders have to become increasingly adept at managing partnerships and network relationships on a global scale in order to identify and exploit global opportunities and support organisational strategy. This module examines collaborative approaches through networks and relationships as a source of competitive advantage. The module highlights the strategies that allow leaders to build, manage and sustain global partnerships and networks effectively. Further, the module considers the influence and impact of the global context on the development and maintenance of collaborative relationships.

10 credits

Corporate Governance and Accountability

The module focuses on governance, accountability and reporting within an organisational context, with governance of the organisation understood to be a nexus of state, market and other (e.g. civil society pressures) forces. This module will also consider models of organisational structure, working with board and company / organisational structures and corporate social responsibility.

10 credits

Global and Managerial Economics

This module focuses on the analysis of organisations and global markets from an economic perspective. The module will introduce learners to how global markets and organisations work to inform decision making and will address several different, but related, economic approaches to the management of organisations. Topics include behavioural theory, agency theory, transaction cost economics and economic contributions to strategy and decision making. This directs attention to the development of different organisational forms and the interaction of organisations with their environments, providing a coherent picture of managerial economics and a series of analytic techniques for the organisation.

10 credits

Operations and Continuous Improvement

Effective management of operations and continuous improvement are critical to the success of organisations. Organisations that produce products and/or deliver services have operational system at their core. Well designed, robust systems that align with an organisational strategy and are managed consistently well are centre to sustaining high level of organisational performance. The ability to analyse the current processes and procedures underpins the ability of an organisation to make improvements to these. The tools and techniques of quality and process improvement will be introduced and critically evaluated, allowing students the opportunity to apply these to real world scenarios.

10 credits

Foundations of Professional Practice in Leadership

This module will provide learners with a foundation in the professional knowledge and leadership skills needed for leadership practice in their chosen field. During this module, and in preparation for the Professional Practice in Leadership module studied in year two of the programme, learners will explore and critically evaluate a range of concepts associated with the theory and practice of leadership. They will have an opportunity to reflect on previous experiences of leadership, their current leadership performance and leadership development processes relevant to their context.

10 credits

Leading in a Complex and Changing Environment

This module enables and empowers learners to navigate the complex and changing organisational environment by introducing them to aspects of human behaviour in organisations through the lens of the Human Resource Management (HRM) and Organisational Behaviour (OB) disciplines. A range of HRM/OB concepts and theories are explored, along with considerations of their application to management for motivation, change, performance and wellbeing. Cutting-edge topics are covered using research-informed teaching to critically assess relevant models, tools and techniques. Learners are encouraged to engage with and reflect on current debates in HRM/OB, including areas such as recruiting and developing a diverse workforce.

10 credits

Organisational Entrepreneurship and Innovation

The module will introduce learners to the concepts of entrepreneurship and innovation as a basis to drive positive organisational change. The module covers key topics concerned with corporate entrepreneurship and business model innovation to help managers and leaders understand how they can create value in their organisations. Learners can expect to be introduced to topics such as organisational structures, business models, consumer trends, the external environment, as well as the implications associated with technological change and disruptive technologies.

10 credits

Responsible Leadership: Developing People, Teams and Collectives

This module further develops your growth as a leader and equips you with the knowledge and skills required for leading and developing people, teams and collectives. The module develops understanding of the most important leadership, leadership development and team working theories, particularly focusing on ethical and value-driven approaches to leadership and team dynamics. This module will teach you how to leverage these theories to build your own leadership capacity as well as high performing work teams that function well within the ever-changing organisational environment and while balancing the needs of different internal and external stakeholders.

10 credits

Strategy and Risk

This module covers strategic issues and methods including strategic decision-making, risk management and the nature and source of competitive advantage to explore how leaders can develop strategies to achieve strategic goals within ever changing markets. Learners will be introduced to theoretical and practical concepts in order to help address new strategic and organisational demands in their workplace.

10 credits
Accounting and Financial Management

This module provides an introduction to the theory and practice of management and financial management in relation to organisational decision making, strategy, allocation of resources and understanding financial governance. The use of financial and non-financial information to inform decision making, contribution to strategy and management control is included in the scope of the module including both short-term and long-term time horizons considered. Topics include budgeting, cost behaviour, capital investment decisions, balanced scorecard, strategic management accounting, using accounting to shape external environment (including CSR reports).

10 credits

Professional Practice in Leadership

This module will build a deeper knowledge and leadership skill set needed for leadership practice in their chosen field following the Foundations for Professional Practice in Leadership which learners attended during year one of the programme. During this module, learners will further reflect on their own leadership performance, demonstrate professional standards in relation to their leadership behaviour and identify areas for ongoing development. This module will also prepare the learner for the professional portfolio and discussion for the End Point Assessment of the Apprenticeship. Assessment will comprise a 1000-word self-reflection portfolio and a short professional discussion.

10 credits

Intelligent Organisations and Decision Making

The emergence of Artificial Intelligence (AI) and Cognitive Computing is causing total reinvention of contemporary enterprises and in particular their business decision making processes. Early adopters of such disruptive technologies gain significant competitive advantage and therefore put pressure on modern organisations to catch up or fade away. This module is designed to equip senior leaders with knowledge of the next generation business information systems, using AI technologies and analytics to understand, reason, and evolve. The main aim of this module is to elevate managerial performance via the utilisation of cutting edge innovations from the domain of enterprise knowledge engineering.

10 credits

Strategic Marketing Management

To achieve competitive advantage in today's rapidly changing markets, organisations need to develop marketing plans and strategies that are analytical, comprehensive, actionable and flexible. This module brings together a wide range of marketing topics in order to optimise strategies . The practice of marketing concerns important managerial decisions including those about the choice of the target market, the nature of the offer, prices, distribution, promotion and finally communication.

10 credits

Business Research Methods and Management Project

This is an individual proposal and final project/dissertation taken towards the end of the programme and allows the learner to demonstrate the ability to research a management issue within an academic framework and within the context of a specific organisation or industry. It utilises knowledge and skills acquired in the earlier part of the programme and is executed under the general guidance of an academic supervisor. The module will also equip learners with the frameworks and approaches needed while researching in the field of management.

50 credits
The content of our courses is reviewed annually to make sure it's up-to-date and relevant. Individual modules are occasionally updated or withdrawn. This is in response to discoveries through our world-leading research; funding changes; professional accreditation requirements; student or employer feedback; outcomes of reviews; and variations in staff or student numbers. In the event of any change we'll consult and inform students in good time and take reasonable steps to minimise disruption. We are no longer offering unrestricted module choice. If your course included unrestricted modules, your department will provide a list of modules from their own and other subject areas that you can choose from.
Teaching
This is a modular programme. Teaching is in block sessions and usually consists of three-day block study periods for every ten-credit module (180 credits in total).
The learning and teaching sessions include lectures, business case analyses, problem analyses, student presentations and talks by visiting guest lecturers from senior practitioners.
Our campus and how we use it
We timetable across the whole of our campus, the details of which can be found on our campus map. Teaching might take place in a student's home department, but may also be timetabled to take place within other departments or central teaching space.
Duration
The programme normally takes 2 years part-time. You will normally be taught in three-day block study periods at Sheffield University Management School.
Entry requirements
A first degree at 2:1 or above, or equivalent work experience and/or professional qualifications.
In addition to your qualification, you'll require at least three years' relevant full-time work experience after graduation.
Candidates who don't have an undergraduate degree can be considered if they can demonstrate exceptional work experience.
Overall IELTS score of 6.5 with a minimum of 6.0 in each component, or equivalent.
Fees and funding
For more information on funding opportunities or to discuss in further detail, please email Nicola Orridge, n.orridge@sheffield.ac.uk
You'll need to apply using our Alternative Routes and Programmes Online Application form.
Select programme code MGTT229
Any supervisors and research areas listed are indicative and may change before the start of the course.
Recognition of professional qualifications: from 1 January 2021, in order to have any UK professional qualifications recognised for work in an EU country across a number of regulated and other professions you need to apply to the host country for recognition. Read information from the UK government and the EU Regulated Professions Database.