2022 start
September
International Development (Masters in Public Health)
Department of Geography, Faculty of Social Sciences

School of Health and Related Research, Faculty of Medicine, Dentistry and Health

Explore the intersections of international development and healthcare policy and practice in the Global South, while developing the skills to work in health and development organisations around the world.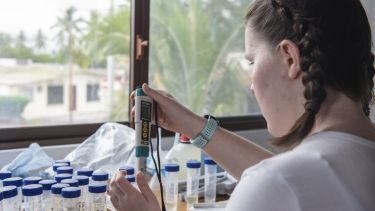 Course description
This course combines expertise from development studies and public health to help you engage with the challenges of health and international development in today's complex world. Working across the Department of Geography and the School of Health and Related Research (ScHARR), you'll develop an understanding of the interventions necessary to improve the health of communities in the Global South.
You'll develop a critical understanding of international development theories and debates in the context of public health research and practice. There's an emphasis on applying your learning to complex challenges in the real world. You'll develop professional skills, carry out hands-on research during a field class, and you'll complete a work placement-based dissertation that links academic theory with public health and international development practice.
Our teaching involves industry and sector specialists, which means you can make connections and contacts with a global network of expertise beyond the University. On this course you'll develop the practical skills you need to work within development and health organisations around the world.
Field class
Nepal

The Nepal field class gives you the chance to work in small groups with a dedicated Nepali team member, taking part in community initiatives in Kathmandu before staying in Sindhupalchok District. You'll pursue research projects around themes of gender, health, migration, earthquake disaster recovery, community forestry and climate change. This research has a direct impact through a final dissemination event which in recent years has involved national political and media attention as well as regional and local stakeholders.

The field class is an amazing part of the masters programme, which allows you to consolidate the theory and ideas learnt in lectures, in the field. As well as preparing you for the dissertation it is also a great chance to meet and learn from students of different cultures in a new and interesting environment.
Helena

Tanzania

The Tanzania field class gives you practical experience of field research. Working with our NGO partner KEDA, you'll be based in rural communities around Mt Kilimanjaro.

You'll research a range of issues that affect local communities such as health, environmental change and poverty alleviation among smallholder farmers. Each year students feed back to district officials and have even been interviewed for National TV.

The field class in Tanzania provided the incredible opportunity to bring case studies we had always read about in books and lectures to life through hands-on fieldwork. I was able to learn about issues in water, health and sanitation through the voices of local people. Conducting research in the rich and vibrant culture of Tanzania was an unforgettable experience.
Shahreen

Ecuador

The Ecuador field class gave students the opportunity to work closely with our local partner Intercultural Outreach Initiative, which is based on the Island Isabela in the Galapagos Islands. Our students gained experience in field research by exploring a range of issues that affect the local communities such as food security, water, sanitation and hygiene (WASH) issues and ocean plastic pollution. Each year students feed back to district officials and local stakeholders.

You can read a blog from one of our students about a virtual field class.

The virtual field class provided an opportunity to experience the challenges of international fieldwork, and allowed us to develop skills in adapting research to changing circumstances and using video interviews for data collection, which will be useful skills for the future! It was a great way to gain an understanding and insight into the situation around plastics in the Galapagos, despite not being able to visit!
Elle
Placement
Recent topics for the dissertation with placement

Exploring the impact of land certification programmes on land tenure security and land conflicts for peasants in Indonesia
Inclusive education for students with visual, hearing and physical disabilities: Barriers and experiences in Gondar, Northern Ethiopia
Sustainable livelihoods and the urban poor: The importance of rural-urban connections for second generation rural-urban migrants in Kampala, Uganda
Shifting and negotiating identities: Shan refugees in Northern Thailand
Breaking dichotomies and the process of social reproduction: A case study of urban market women in El Alto
Life histories of giving: Individuals' changing relationships with charities over time Governance and livelihoods: The future of aquaculture on Lake Bunot, San Pablo, Philippines
Intercalation
We accept medical students who wish to intercalate their studies. Find out more on the Medical School's website.
Modules
Core modules:
Ideas and Practice in International Development

This unit introduces students to key theoretical debates in international development. It explores how thinking about development has changed over time and why it has changed. The module also encourages students to think about the relationship between development theory and development practice. This is achieved by introducing key topics and issues areas in the field and having students think critically about the ways in which practitioners have approached development issues and defined development problems at various points in time, as well as the theoretical viewpoints that have informed their actions.

15 credits

Research Design and Methods for Development

Research methods are a key part of international development research within academic and practitioner institutions. This module takes you through the research process, from designing a viable project, through to development issues in a range of research methods, forms of analysis, and approaches to writing and dissemination.
The course covers both quantitative research methods, such as questionnaire surveys, and qualitative research methods, including the use of interviews and focus groups, as well as methods for critical reading. The course will also cover the analysis and formulation of research findings for academic and professional purposes.

15 credits

Professional Skills for Development

In this module, students gain a critically-engaged understanding of professional practice in international development and develop a range of professional skills for future career paths. Students learn to apply academic training to real-world situations, such as stakeholder engagement and the design and progressing of development projects. There are a small number of guest sessions led by professional practitioners (when budget permits). The module also emphasises employability-related skills and familiarisation with approaches and techniques used in the workplace, as well as widely applicable communication skills

15 credits
Optional modules (full list TBC):
Theory and Debates in Food Security and Food Justice

Food Security and Food Justice are areas of increasing importance at local, national, transnational and global scales. While various political and non-political agents at various scales have recognised that Global Hunger and Food Security (of which Food Justice is a primary component) is a key challenge requiring urgent interdisciplinary investigation and problem solving, there remains limited agreement as to how best to approach these issues and at what scale. This unit provides students with a background to the problems encompassed within the food security/food justice nexus by drawing on academic and policy debates that focus on both the macro as well as the micro grassroots impacts. By drawing on country case studies, the unit also critically evaluates different strategies for mitigating the impacts of food insecurity and injustice.

15 credits

The Science of Environmental Change

This module gives students a critical understanding of the science behind historical and recent environmental change. The module covers the core debates in environmental change, the science behind these changes, methods for detecting environmental change, and the impacts of these changes.

15 credits

Epidemiology

Epidemiology is the discipline underpinning both effective public health practice and research into the causes, control and prevention of disease. Knowledge and understanding of epidemiological concepts and methods is a basic requirement for effective public health practice.

This module will provide an introduction to epidemiology covering key epidemiological concepts; measures of disease; association and causation; confounding and bias. It will also introduce research designs including cross-sectional, ecological, cohort, case-control and intervention studies and introduce population health measures such as screening.

15 credits

Urban Development in the Global South

This module looks at the challenges of urban planning and development in the global South: how are conflicting imperatives of ecological sustainability, social inclusion and economic competitiveness being balanced by practitioners, and what implications does this have for those living there? The unit will develop understanding of how urban planning systems are constructed and mediated by different actors. The unit will use a series of scenarios representing some of the diversity of conditions that exist in the global South to develop understandings of how planning systems shape and are shaped by the contexts in which they operate.

15 credits

Disaster and Emergency Management

Disasters and emergencies can strike any community. It is not a question of whether a disaster will occur but when. However, the likelihood, scale and impact of a disaster can be minimized through appropriate emergency planning, preparation and response by the community, governmental and non-governmental organisations. This module will cover the key concepts of disaster and emergency management, explore some of the contemporary issues and develop students' knowledge and skills in this field.

15 credits

Introduction to Quantitative Analysis

This module introduces students to many of the most powerful and commonly used statistical methods in the social sciences. It assumes no prior statistical knowledge and focuses on the practical research priorities of selecting, conducting and interpreting the most appropriate test with an eye to, rather than an obsession with, the underpinning statistical foundations. The module uses weekly seminar sessions and SPSS practicals to build practical software skills alongside the conceptual understanding.

15 credits

Critical Digital Geography in Practice

Digital geographies of GIS, spatial analysis methods and cartography are now widely used in a large variety of academic and professional settings, from urban planning and architecture to health care and social research. This module is focused on helping students understand the critical and conceptual considerations of GIS, cartography, and critical data studies in exploring the relationship between digital and social, political and economic geographies. The module is taught through a combination of case-study-based lectures and seminars.

15 credits

Principles of GIS

This module introduces students to the core principles and skills of GIS. It covers the major sources of data used to study the lived environment and the variety of ways it can be displayed to aid both understanding and analysis. The module has a particular focus on techniques used in the analysis of socio-economic and demographic data and its potential applications. It is taught through a combination of lectures and practical workshops using ArcGIS software.




15 credits
Core modules:
International Development Field class

This unit provides students with the opportunity to explore and research development issues in the field and to enhance their understanding of grass-roots outcomes with reference to a particular developing country. The module will provide students with hands-on experience of fieldwork, allowing them to practice and build on research skills learnt in Semester 1 in a `developing' country context through group fieldwork projects. The module contributes to students' transferable skills through teamwork, research design and implementation and through presentation skills.

15 credits

Professional Skills for Development

In this module, students gain a critically-engaged understanding of professional practice in international development and develop a range of professional skills for future career paths. Students learn to apply academic training to real-world situations, such as stakeholder engagement and the design and progressing of development projects. There are a small number of guest sessions led by professional practitioners (when budget permits). The module also emphasises employability-related skills and familiarisation with approaches and techniques used in the workplace, as well as widely applicable communication skills

15 credits
Optional modules (full list TBC):
Environment, Society and Development: Key Issues, Debates and Concepts

This module engages critically with the key theoretical debates that shape the environment, society and international development. By looking at current questions in development theory and their relationship to development practice in the context of environmental change, it encourages students to think critically about the ways in which interdisciplinary approaches define issues and problems, and the theoretical viewpoints that inform their actions. The unit is taught primarily through seminars: these structure students' learning, and provide an environment in which they can develop their skills in researching, presenting and debating arguments drawn from the academic literature on international development.

15 credits

Managing Climate Change

This module aims to engender a detailed understanding of the development of ideas and theories of climate change, integrating the core social and physical science behind our understandings of climate change with a critical analysis of how this is interpreted and communicated. This understanding is then applied to consider the challenge of living with climate change in the Global South. The module is taught through seminars and lectures. Lectures introduce and impart factual knowledge while seminars allow discussion and an emphasis on applying key concepts to practical situations. Together these structure students' learning, and provide an environment in which they can develop their skills in researching, presenting and debating arguments drawn from the wide ranging literature on climate change.

15 credits

Health Promotion

The module seeks to elaborate on the theoretical background of health promotion with the aim of developing a critical awareness of the key concepts, debates and methods. The module also aims to evaluate a range of health promotion strategies in different fields. Teaching will be presented through a series of lectures and workshops that will also include group discussion, case studies and examples, to develop the lecture themes, and problem-solving skills.

15 credits

Public Health Informatics

Public Health Informatics is a module designed to look at how informatics and information technology can be used to help address some of the major issues in public health. Public health informatics was traditionally defined as the systematic application of information and computer science and technology to public health practice, research, and learning (Yasnoff, 2000). In this module, we examine this rapidly changing field, using a combination of lectures, individual and group exercises and self directed learning. Key issues around the local, national and international contributions that technology can make to public health are critically examined and students are given a theoretical and practical grounding in this increasingly important discipline.

15 credits

Communicable Disease Control

Health protection is one of the cornerstones of public health. The control of communicable diseases is one of the major functions of health protection. This module will cover the principles of surveillance, outbreak management, immunisation programmes, and prevention and control of infectious diseases. It will also present a broad range of common infectious disease topics including HIV, tuberculosis, meningitis, diarrhoeal illnesses and hospital acquired infections. This module would provide the essential foundations for students intending to undertake the Faculty of Public Health Part A/Diploma examination.

15 credits

Using Policy to Strengthen Health Systems

The module seeks to build on students' own experiences and knowledge of policy and public health systems. During the module, you will work individually and also in groups to develop a critical understanding of policy within particular public health systems. You will consider how policy to strengthen public health systems is developed and how improvements might be targeted at any combination of the regional, national, district, and community levels.

In the module, policy is interpreted broadly as 'purposeful and deliberate actions' through which efforts can be made to reshape or address issues within public health systems and is about power and politics (cf. Gilson, 2012). Public health systems are understood both as public health systems (covering, for example, health protection, health promotion and health care public health) and, more narrowly, as health care systems. The module is suitable for students with a broad public health and health care knowledge, but also for those with more limited experience.

15 credits

Cities of Diversity

Acknowledging diversity within cities is increasingly regarded as central to successful planning, urban development and city making and is a very hotly debated issue currently, particularly with #MeToo, Brexit and Trump! But what do we mean by diversity and what theories exist to help us understand it? This module will focus on various aspects of diversity in the form of differing social identities (such as age, ethnicity, sexuality, disability and gender – including focusing on masculinity within cities) but also critically explore the ways in which diversity is understood by policy makers and city managers. The module will focus on cities in both the global South and North and consider the significance of migration in relation to diversity in both contexts. The module will rely on a critical engagement with literature from the discipline of geography, planning, urban studies and development studies.


15 credits

Planning for Informality

The overall aim of this module is to critically examine informality, with a particular but not exclusive focus on cities of the Global South. The module relies on a mixture of lectures, seminars and student-led group work, with the latter focusing on an in-depth case study of a selected city. It explores patterns and causes of informality and discusses the strengths and limitations of a range of theoretical approaches. It also analyses the success of different real-world urban planning responses (understood in broad terms), including government-led, donor-led and community-focused ones, in addressing key urban issues in the context of informality.

15 credits

Citizen Participation in Planning and Development

Recent decades have seen a proliferation of initiatives to involve citizens in policy-making, planning and urban governance. There is widespread agreement that 'citizen engagement' can play a positive role in democratizing urban development. However, public participation raises a range of significant challenges for urban professional practice. This unit will draw on critical debates about the roles citizens and publics can and should play in shaping the city to reflect on the theory and practice of participation. The module is taught through lectures, seminars and workshops which structure learning, and help students to research case studies of participatory initiatives.

15 credits
Core modules:
Dissertation with Placement

The aim of this module is to enable students to develop an understanding of the research process and research skills required to undertake a supervised research project. Students will make a detailed analysis of an issue, topic or problem of their choice and report their findings in an appropriate manner. They will undertake a placement and relate their research specifically to the work of this organisation. This will develop students' vocational as well as research skills, providing valuable experience of real-world development practice and challenges.

60 credits
The content of our courses is reviewed annually to make sure it's up-to-date and relevant. Individual modules are occasionally updated or withdrawn. This is in response to discoveries through our world-leading research; funding changes; professional accreditation requirements; student or employer feedback; outcomes of reviews; and variations in staff or student numbers. In the event of any change we'll consult and inform students in good time and take reasonable steps to minimise disruption. We are no longer offering unrestricted module choice. If your course included unrestricted modules, your department will provide a list of modules from their own and other subject areas that you can choose from.
Duration
1 year full-time 
Teaching
The course is taught through a combination of seminars, lectures, workshops, reading groups and a 10-day international field class.
Assessment
You're assessed on coursework assignments, project work and a dissertation.
Your career
Our public health masters graduates go on to work in very diverse areas, although many find work in a health or public health setting, including returning to medicine if they are medics or intercalating students. Other graduates have gone on to undertake further doctoral/PhD study or to work in research or academic settings, which we feel reflects the quality of our research-led teaching in preparing and inspiring students.
Students have also found excellent opportunities at the World Health Organisation (WHO), the World Bank Group and various international organisations and government agencies including:
Whatcom Alliance for Health
Japan International Cooperation Agency
Nigeria Centre for Disease Control
The Centers for Disease Control and Prevention (CDC)
African Field Epidemiology Network (AFENET)
Student profiles
My course has given me a fantastic opportunity to broaden my horizons beyond my medical background. The international development side has provided the opportunity for travel to both Kenya and Ghana and given me the flexibility to focus on my own interests. The course attracts a strong mix of international students and it's allowed me to make some great friends from all around the globe.

Katherine Cobb
MPH International Development
 
Entry requirements
You'll need a 2:1 or first-class honours degree in an area of the social sciences or medicine.
Intercalating medical students must have successfully completed at least the equivalent of three years of an undergraduate medical degree and provide at least one satisfactory academic reference.
Overall IELTS score of 6.5 with a minimum of 6.0 in each component, or equivalent.
Fees and funding
There are various scholarships and bursaries available to support the dissertation with placement. Low-cost local placements are also available.
Additional costs
The cost of the compulsory field class is included in your tuition fees. The costs of the core dissertation with placement module are not included in your tuition fees.
You can apply for postgraduate study using our Postgraduate Online Application Form. It's a quick and easy process.
Any supervisors and research areas listed are indicative and may change before the start of the course.
Recognition of professional qualifications: from 1 January 2021, in order to have any UK professional qualifications recognised for work in an EU country across a number of regulated and other professions you need to apply to the host country for recognition. Read information from the UK government and the EU Regulated Professions Database.