2023 start
September
Antimicrobial Resistance
School of Biosciences, Faculty of Science

This course gives you a real-world insight into the approaches used to tackle the global threat of antimicrobial resistance and prepares you for an exciting career in this area. You'll receive hands-on training from scientists, clinicians and biotechnology industry experts.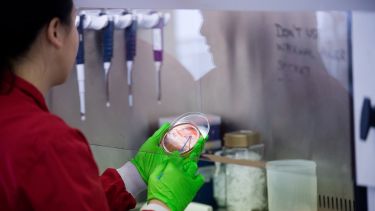 Course description
Designed in collaboration with the NHS, throughout your course, you'll learn about the latest clinical practice in the fast-moving area of antimicrobial resistance (AMR) ready for an exciting career in public health, policy making, or academia. 
You'll receive training in the main aspects of AMR, including microbe pathogenesis and resistance mechanisms, treatment regulations, national and international policies, public health, agricultural and environmental factors and potential new therapies and treatments.
To broaden your knowledge and gain an understanding of AMR, you'll be taught by a wide range of academics at the forefront of the subject, from social science, engineering, clinical academics, microbiologists and other scientists. Guest lectures from experts in the biotechnology and pharmaceutical industry, including GSK, and public health policy from Public Health England, will also introduce you to the different approaches that are being used to overcome this global threat. These lectures cover topics such as how infection outbreaks are managed in real life and how new treatments are taken through to clinical trials.
You'll get hands-on in the lab during modules led by our scientists and clinicians, where you'll gain a good understanding of host-pathogen interaction. You'll also receive training in science communication so you can explain AMR to a variety of audiences.
The biggest part of the course will be your Research Project in Antimicrobial Resistance. You'll spend three months researching an area of your choice that matches your future career aspirations and may include microbiology and host-pathogen interactions, public health or drug discovery and new therapies. Some students may have the opportunity to complete their research project with the NHS or with the local Public Health England centre (Yorkshire and Humber) where you'll focus on epidemiology of AMR and diagnostics.
Example research projects include:
A new mechanism for AMR? In patient heteroresistance to fluconazole in cryptococcosis and the role of macrophages
Targeting the lung immune response in treating AMR infection in chronic lung disease
Targeting neutrophils to improve the immune response to antimicrobial resistant infection
Combatting the mechanisms underlying antimicrobial-resistant typhoid fever with senolytic drugs
To kill and cure: Understanding antibiotic action to enhance activity
Investigation of antimicrobial resistance and other virulence determinants in Cutibacterium acnes causing prosthetic joint infections.
The Florey Institute
The Florey Institute for Host-Pathogen Interactions addresses one of the world's biggest challenges: infectious disease. Members of the Florey Institute include over 30 group leaders who are microbiologists, immunologists and clinician scientists, as well as engineers, chemists, physicists and experts in public health, modelling and politics. By working together with collaborative partners, the Florey Institute bridges the gap between science and patient care to tackle the global threat of antimicrobial resistance and rapidly evolving pathogens. As a student on this course, you'll become a member of this world leading Institute and join our cohort of PhD and MSc students.
Modules
Core modules:
Infectious Disease and Antimicrobials

This module will provide students with fundamental knowledge of infectious disease and antimicrobial mechanisms. In particular, it will focus on the history of infectious disease, and the infectious mechanisms used by pathogenic organisms, including: virulence strategies; transmission; colonisation; and biofilms. It will consider the host response to microorganisms, including the innate and acquired immune responses, as well as the resident microbiome. The mechanism of action of antibiotics will be discussed, as will common strategies employed by pathogens to circumvent drug treatment. Furthermore this module will develop a student's ability to perform techniques that will establish them as accomplished laboratory practitioners.

30 credits

AMR and Current Clinical Practice

In this module we will examine current clinical practice in relation to antimicrobial resistant infection, both in the UK and globally. We will discuss why it is a problem now and the implications for the future. We will describe how resistance arises and compare and contrast different antimicrobial resistant infections. We will study the different aspects of clinical practice, examining case studies and the successful reduction in MRSA cases in the UK. Finally, we will discuss and debate the ethics of antimicrobial stewardship and treatment, and the impact this has clinical practice.

30 credits

Advanced Scientific Skills

This module builds on existing, and further develops, generic scientific skills to equip postgraduate taught students with strong competences in presenting and reporting their research work using written and oral formats, in analysing data and the scientific literature, and in acquiring and extending their critical analysis skills. Teaching will be delivered using a blended approach with a combination of lectures, workshops, tutorials and seminars together with independent study and on-line teaching.

Taught throughout the academic year, the module will be articulated around three units addressing: 

Unit 1) Scientific presentation skills. In this unit, students will explore how to develop their academic (writing and oral) presentation skills. Some of the topics taught may include how to formulate a research question and hypothesis, how to find information, and how to structure a scientific essay or report. Students will learn how to communicate effectively their research to a scientific, as well as lay, audience. Emphasis will be placed on short oral communications and poster preparation and presentation.  The learning objectives will be acquired through lectures, workshops, tutorials and independent study.

Unit 2) Critical analysis skills. This unit prepares students to develop their ability to analyse and appraise the scientific value of the published and unpublished literature. Workshops and lectures will introduce students to the process of critical appraisal of scientific work. 

Unit 3) Statistics and data analysis skills. In this unit, students will learn methods to gather and analyse large datasets. In particular, workshops and lectures will teach students the basics of R coding and statistics for application in biosciences. The unit may also deliver other forms of data analysis relevant to the programme of study. Teaching within this unit will be delivered mainly through on-line material, lectures and workshops. Independent study will be essential to complete the acquisition of skills.

15 credits

Research and Communication across the Disciplines

This module will expose students to cutting edge research through seminars given by leading experts and the latest published material. Students will attend cross-discipline research forum meetings and specialist seminar series across the university, in addition to a research symposium held in the summer. Students will be shown how to engage with primary research material and will gain experience presenting and discussing complex issues raised in these seminars to their peers. In addition, students will be introduced to good ethical practice within academic research and how various career pathways, linked to their studies, work.

15 credits

Global Policy, Disease Control and New Therapies

This module will address the challenges and interdisciplinary approaches in combating antimicrobial resistance. The module will cover local, national and global policy, epidemiology and surveillance strategies centred around antimicrobial resistance. The concept of 'One Health' and the importance of other contributory factors of antimicrobial resistance such as environmental and agricultural, will be introduced and discussed. The module will also cover the development of new therapies from biological and chemical research as well as an industrial perspective. A series of lectures will also be given on the most recent and cutting-edge developments in alternative antimicrobial strategies from across the university.

30 credits

Research Project in Antimicrobial Resistance

The aim of the module is to provide the opportunity to undertake, learn and apply appropriate research and analytical methodologies to test specific hypotheses across any discipline pertaining to AMR. The module will also provide opportunities for students to develop skills necessary for conveying the aims and results of their investigation to a scientific audience in the form of an assessed dissertation and a poster. Students will be supervised individually, and supervision will be the responsibility of an academic member of staff.

60 credits
The content of our courses is reviewed annually to make sure it's up-to-date and relevant. Individual modules are occasionally updated or withdrawn. This is in response to discoveries through our world-leading research; funding changes; professional accreditation requirements; student or employer feedback; outcomes of reviews; and variations in staff or student numbers. In the event of any change we'll consult and inform students in good time and take reasonable steps to minimise disruption. We are no longer offering unrestricted module choice. If your course included unrestricted modules, your department will provide a list of modules from their own and other subject areas that you can choose from.
An open day gives you the best opportunity to hear first-hand from our current students and staff about our courses. You'll find out what makes us special.
Duration
1 year full-time 
Teaching
You'll receive personal supervision and tutorials by experienced scientists. Your learning will take place in modern, well-equipped labs and will lead to a project where you'll design and conduct your own research. You'll learn cutting edge science from research leaders and gain practice in reading scientific literature and writing reports. You'll be taught by experts from across the university and NHS as well as external guest lecturers from Public Health England, GSK and Morton Findlay Associates.
Assessment
Assessment is based on a combination of coursework, project work, formal examinations and a dissertation.
Your career
You'll be equipped with the specialist knowledge and transferable skills to pursue careers in:
Public health, with the NHS or other similar organisations around the world
Policy making for NGOs or in industry
Consulting, research scientist or infection controls roles for biotechnology or pharmaceutical giants like GSK, AstraZeneca or Pfizer
Research and academia in the areas of microbiology, immunology and beyond.
Throughout your course, external lecturers will visit to give talks on their chosen career paths, allowing you to gain a better understanding of the vast range of careers available to an MSc Antimicrobial Resistance graduate.
Department
The School of Biosciences brings together more than 100 years of teaching and research expertise across the breadth of biology.
It's home to over 120 lecturers who are actively involved in research at the cutting edge of their field, sharing their knowledge with more than 1,500 undergraduate and 300 postgraduate students. 
Our expertise spans the breadth and depth of bioscience, including molecular and cell biology, genetics, development, human physiology and pharmacology through to evolution, ecology, biodiversity conservation and sustainability. This makes us one of the broadest and largest groupings of the discipline and allows us to train the next generation of biologists in the latest research techniques and discoveries.
Entry requirements
Minimum 2:1 undergraduate honours degree in molecular biology or a related subject (e.g. biochemistry, genetics, biotechnology, microbiology).
We also accept medical students who wish to intercalate their studies.
We may also consider your application if you do not meet the standard academic requirements but you have relevant professional experience. An interview will be required in this case.
An existing foundation of microbiology or molecular knowledge will be useful for this course so you can get the most benefit from the teaching of our specialists from day one. We would therefore ask you to upload a short supporting statement of 500-700 words with your application. This should:
Explain your background and your previous study or experience in this field.
Explain your interest in studying Antimicrobial Resistance from a multidisciplinary perspective
Overall IELTS score of 6.5 with a minimum of 6.0 in each component, or equivalent.
You can apply for postgraduate study using our Postgraduate Online Application Form. It's a quick and easy process.
Any supervisors and research areas listed are indicative and may change before the start of the course.
Recognition of professional qualifications: from 1 January 2021, in order to have any UK professional qualifications recognised for work in an EU country across a number of regulated and other professions you need to apply to the host country for recognition. Read information from the UK government and the EU Regulated Professions Database.