2023 start
September
Digital Literacies, Culture and Education
School of Education, Faculty of Social Sciences

Changing digital technologies have an impact on children's lives and present opportunities and challenges for educators. This MA is designed to help those who work with children to respond to these challenges and create new opportunities for literacy, learning, creativity and play.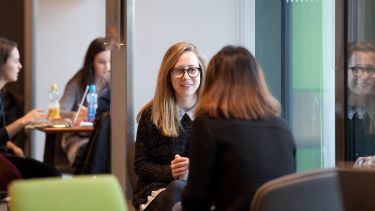 Course description
This course enables teachers, educators and creative practitioners to respond to the challenges that digital culture poses for education. You'll develop a thorough knowledge of the media that children and young people are engaging in, reflecting on how it shapes their literacy and learning at home and at school.
You'll address urgent questions and themes, such as how children learn literacy in the digital age; how we can support young people to be authors as well as players of games; how we ensure that contemporary teaching of literacy is inclusive and socially just.
The course is underpinned by research in the area of new and digital literacies. A key feature of the programme is its link to the Literacy Research Cluster, with opportunities to participate in current projects, an active reading/viewing group and a seminar programme.
Modules
Core modules:
Digital Culture and Childhoods

This module introduces students to thinking broadly and critically about the roles that digital texts, media and devices play in childhood. The module will involve analysing international examples of contemporary digital culture and diverse childhoods, encouraging critical engagement with multiple ways of understanding these phenomena. Drawing on theory relating to literacy, learning, identity and play as well as recently emerging digital literacies frameworks students will be encouraged to reflect on implications for their own professional contexts.

30 credits

Digital Literacies in Education

This module develops students' understanding of rapidly evolving digital technologies and how this impacts on the many ways children communicate, read and create texts, and play. The module charts key changes in how literacy has been theorised, researched and taught, providing an important context for the development of pedagogic practice to meet the needs of 21st century children. This is underpinned by a commitment to social justice and an aim to increase access to digital literacy learning for children and those who support their learning. Learning is assessed by portfolio, including a scheme of learning activities and a reflective rationale.

30 credits

Media Making and Creativity

This module will enable students to become practitioners who can facilitate digital media making using everyday tools such as phones, tablets and computers, for example, animation, games design and news production with children. A key focus in this module will be on increasing expertise in pedagogies which enable creativity in a variety of education contexts such as museums, makerspaces, libraries and schools. The module will include digital media production workshops where students will work on a series of group and individual creative projects.

30 credits

Researching Digital Childhoods

This module enables students to develop the skills, knowledge and awareness needed to carry out practical, high-quality research about digital childhoods. Students will engage in a series of practical research activities including data collection (visual data, paired interviewing and life history accounts), data analysis, (secondary data - quant and qual, visual and verbal) textual analysis (semiotic, multimodal, narrative) and dissemination (poster production, blog entry and podcast). Having taken part in the practical research activities based on existing datasets, students will be asked to produce a reflective account of ethical and meaningful ways to research digital literacies with children and young people.

30 credits

Dissertation

In this module, students are supported in planning and implementing a piece of original research, and in writing or producing a dissertation. The research will be empirical, utilise qualitative methods or textual analysis, and focus on something from the students' engagement with the programme, their professional context, or in response to a brief from a creative partner organisation. Links to these organisations will be facilitated by the School, and it is anticipated that earlier modules will allow students to start imagining possible projects with external partners.

60 credits
The content of our courses is reviewed annually to make sure it's up-to-date and relevant. Individual modules are occasionally updated or withdrawn. This is in response to discoveries through our world-leading research; funding changes; professional accreditation requirements; student or employer feedback; outcomes of reviews; and variations in staff or student numbers. In the event of any change we'll consult and inform students in good time and take reasonable steps to minimise disruption. We are no longer offering unrestricted module choice. If your course included unrestricted modules, your department will provide a list of modules from their own and other subject areas that you can choose from.
An open day gives you the best opportunity to hear first-hand from our current students and staff about our courses. You'll find out what makes us special.
Duration
1 year, full time
Teaching
Teaching takes place through lectures, tutorials, seminars and workshops.
Assessment
We use a variety of methods including essays, presentations, critical analyses, portfolios of teaching resources and media productions and a research dissertation.
Department
We're proud to welcome a vibrant and diverse community, with students based locally, nationally and internationally. Our research has a direct impact on educational theory, policy and practice; we're supporting the development of children, families, schools and learning communities.
Our seminars are interactive and everyone is encouraged to take part. The course director knows every student personally, and you will get a lot of individual support across all of your modules.
Our team of tutors at the School of Education comprises of experts in early childhood education, policy and practice, psychological theory of education, and languages and education. Many of our academic staff are internationally recognised in their specialist areas.
Entry requirements
Minimum 2:1 undergraduate honours degree in a relevant subject. We may also consider your application if you do not meet the standard academic requirements but you have considerable relevant professional experience.
Overall IELTS score of 6.5 with a minimum of 6.0 in each component, or equivalent.
Apply online, with a 750-word statement. We would particularly like you to address the following questions:
What particularly interests you about the course?
What experience do you have of working with children and young people?
What skills would you like to develop?
Why do you want to study at the University of Sheffield?
You can apply for postgraduate study using our Postgraduate Online Application Form. It's a quick and easy process.
Any supervisors and research areas listed are indicative and may change before the start of the course.
Recognition of professional qualifications: from 1 January 2021, in order to have any UK professional qualifications recognised for work in an EU country across a number of regulated and other professions you need to apply to the host country for recognition. Read information from the UK government and the EU Regulated Professions Database.