2023 start
September
Global Journalism
Department of Journalism Studies, Faculty of Social Sciences

Our students see journalism's bigger picture: freedom of expression, 'fake news', media ethics and globalisation, as well as digital reporting techniques. That's why they become great journalists, communications experts and media researchers.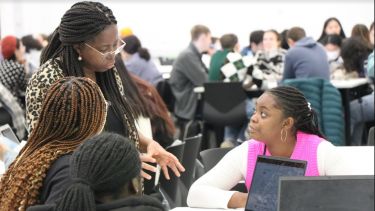 Course description
This far-reaching journalism degree combines research on media practice and freedom around the world with some practical newswriting experience and events.
You'll look at journalism within the context of globalisation, comparing and contrasting media practice around the world, immersed in vital discussions around the relationship between media, society and government – at a hugely critical moment for freedom of expression.
Our annual International Journalism Week is a focal point, with high-level discussions led by media professionals, researchers and campaigners from around the world.
Modules
Global Journalism: Digital Journalism for a Global Society

This year-long module introduces students to new forms and practices of journalism emerging in the digital era, such as online and multimedia journalism, data journalism and computational journalism. It helps students understand how the interactions of digital technologies and social change have influenced the status and state of journalism, the quality of journalism and what role journalism plays in society. Examples and cases from different countries will be discussed. This module also helps students to develop analytical skills and apply this knowledge to specific case studies and empirical data.

30 credits

Global Journalism: Writing for the media

This module introduces students to the culture and practice of writing for the media and to some of the practical reporting methods used by journalists. In so doing, it introduces students to some of the key skills required by journalists and media professionals. As this module is an introduction to how journalists prepare and write news stories for the media under stringent deadlines, students will develop basic skills in these areas.

15 credits

Global Journalism: Research Portfolio

You will prepare and execute a substantial piece of work, in the form of a research portfolio, including a reflection, a journal article and an outward-facing resource, that analyses an issue in journalism. You will learn and apply knowledge regarding the use, dissemination and application of research, its potential impact, and how to target audiences and how to reflect on the challenges faced by researchers. You will be able to make an informed choice about the nature of your project in relation to your own strengths, weaknesses and ambitions.

75 credits

Global Journalism: Journalism in Britain

This module encourages a critical approach to its subject matter and this means questions! Who owned the first million-selling daily newspaper in Britain? What was the impact of broadcast journalism on newspapers? Why has the tabloid genre become so pervasive? Where can we see comparisons and contrasts to the 'British' model? When did journalism emerge as a distinct form of communication? How have women been involved in the development of journalism? What role have news cartoons played within the quality and tabloid press?

In order to understand issues and debates within the contemporary British news media, it is best to start with an understanding of how journalism has evolved within this particular national context. How did we get the news media that we have today and what does this mean for contemporary society? This is as important a question whether you are an overseas student, or a student from the UK who has never taken too much notice of the specifics of the news media. Students on this module will learn about the historical development of journalism and current debates concerning the news media in the UK including the evolution of the related field of Journalism Studies.

15 credits

Global Journalism: Media freedom: European, UK and US perspectives

The overall aim of this module is to develop an understanding of the international treaties and national laws safeguarding the exercise of freedom of expression by the media, the different interpretations of this freedom in Europe and the US, and the limitations to which it is subject. In particular, it aims to facilitate students in developing knowledge of topics including the protection of freedom of expression in the European Convention of Human Rights, the Human Rights Act and the First Amendment; the tensions between media freedom, hate speech and privacy; media freedom and political expression; the contrasting models of press freedom and broadcasting regulation; the debate on internet freedom or regulation. The module seeks to expose students to European, UK and US laws, as well as to other jurisdictions where comparative analysis is appropriate.

15 credits

Global Journalism: Critical Incidents in International Journalism

In this module students will explore and analyse international critical incidents (for example, in the UK, US, Asia and Africa) and the efforts to ensure high-quality journalism that follow them. Students will engage in the critical analysis of media reform history, theories and perspectives related to critical incidents in journalism. Additionally, students will have an opportunity to develop their own media reform project and/or participate in an existing one.

15 credits

Global Journalism: Radio and NGO Communication in conflict-affected areas

Non-governmental organisations (NGOs) and other such organisations are valuable information sources, mediators and actors in conflict-affected zones and use local media, particularly radio, to amplify their messages, programmes and advocacy. This module focuses on, and engages with, the public and political communication used, and sometimes misused, and even abused, by radio and NGOs, internationally and historically, during times of conflict and the challenges they encounter culturally, politically, economically, legally and institutionally. In this case, 'internationally' means from the perspective of the Global South.

15 credits
The content of our courses is reviewed annually to make sure it's up-to-date and relevant. Individual modules are occasionally updated or withdrawn. This is in response to discoveries through our world-leading research; funding changes; professional accreditation requirements; student or employer feedback; outcomes of reviews; and variations in staff or student numbers. In the event of any change we'll consult and inform students in good time and take reasonable steps to minimise disruption. We are no longer offering unrestricted module choice. If your course included unrestricted modules, your department will provide a list of modules from their own and other subject areas that you can choose from.
An open day gives you the best opportunity to hear first-hand from our current students and staff about our courses. You'll find out what makes us special.
Duration
1 year full-time
Teaching
We teach through lectures, seminars, workshops and research exercises.
Assessment
You're assessed by essays, examinations, presentations and a research portfolio.
Department
Study with us and you'll learn vital practical skills: how to spot big stories and write sparkling copy, video editing, shorthand and advanced social media.
Because of our research expertise as an elite Russell Group university, you'll also discover how journalism is part of an epic social narrative about right and wrong, liberty and democracy, war and peace: about the life stories of people, societies and entire continents. We don't just teach you how, we show you why.
Join us and you'll be taught by professional journalists with years of experience in TV, radio, newspapers and magazines; and by influential academic researchers with powerful international reputations, who write the textbooks that journalists learn from.
Entry requirements
Minimum 2:1 undergraduate honours degree.
We may also consider your application if you do not meet the standard academic requirements but you have considerable work experience in a media-related role.
Overall IELTS score of 6.5 with a minimum of 6.0 in each component, or equivalent.
Fees and funding
There are a number of bursaries for students on the journalism, magazine and broadcast courses, from the Scott Trust (owner of The Guardian), Journalism Diversity Fund and others.
We use a staged admissions process to assess applications for this course. You'll still apply for this course in the usual way, using our Postgraduate Online Application Form.
Any supervisors and research areas listed are indicative and may change before the start of the course.
Recognition of professional qualifications: from 1 January 2021, in order to have any UK professional qualifications recognised for work in an EU country across a number of regulated and other professions you need to apply to the host country for recognition. Read information from the UK government and the EU Regulated Professions Database.