2023 start
September
Molecular Medicine: Clinical Applications Pathway
The Medical School, Faculty of Medicine, Dentistry and Health

The clinical applications module gives you the chance to observe how the latest advances in molecular medicine have been translated into clinical practice in the NHS. You'll have the opportunity to work with research active clinicians in the University Teaching Hospital. This course is for MBBS/MBChB qualified applicants only.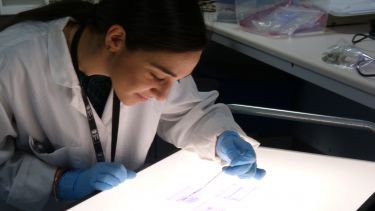 Course description
Medicine is quickly adopting molecular diagnostic technologies, vaccines and therapies that are the results of recent advances in molecular medicine and they are dramatically improving the way that human diseases can be treated.
Students with a degree in medicine have the chance to spend a 20-week clinical attachment with a specialist clinical team at the University Hospital. You need to have completed the taught part of the MSc Molecular Medicine. 
The clinical applications module gives you the chance to observe how the latest advances in molecular medicine have been translated into clinical practice in the UK NHS. You will have the opportunity to work with research active clinicians in the University Teaching Hospital.
MSc Molecular Medicine prepares medically qualified students for careers as clinician scientists and as such is excellent preparation for a future PhD or MD in the UK or elsewhere. The clinical observership is not an accredited clinical training course.
Teaching and assessment
In addition to the taught course in molecular medicine, you will undertake two components specific to the clinical area you are studying.
1. Literature Review
In this module, you are expected to carry out independent bibliogaphical research on the scientific background to the clinical work you will do during the observership and to write a review of the scientific articles that you have read. The review should be written as professionally as possible, as if it were intended for publication as a short review article or as the background section of a grant application.
The module starts in December and is led by a supervisor/clinical co-supervisor. You'll first receive guidance from your supervisor on the topics to cover in the review, and then work on your own for several weeks. You'll carry out bibliographic searches, read criticially the scientific literature identified and prepare a draft of the review before submitting the final version.
2. Seminar Presentation
The aim of the module is to acquire skills in presenting the background, evidence and some early clinical observations succinctly and comprehensibly, and to respond to questions from the audience. You should also be able to pose appropriate questions to other student speakers.
3. Clinical Observership
The observership runs from the end of March to early August. Total 300 hours or 3 days per week equivalent.
You'll spend time with relevant clinical and laboratory teams at the Royal Hallamshire Hospital. In advance of the start of the observership, the student and supervisor meet to decide the precise focus of the observership and a personal development plan. During the observership you will compile a portfolio of clinical cases seen, discussed and reflected on and use these to inform a dissertation that discusses how advances in molecular medicine are translating into changes in clinical practice in the specific clinical area.
Portfolio
During the observership you'll put together a portfolio as evidence of your clinical experience. This will include three elements:
Log book - diagnosis, summary of history, examination, investigations, management plan, outcome.
Case-based discussion - a discussion about the management of a patient. The supervisor provides feedback on your clinical reasoning, decision-making and application of medical knowledge in relation to patient care. The case-based discussion might focus on a written record in the logbook or patient notes.
Reflection - you will document your reflections about the key learning from a case and its relevance to the themes of your project.
Dissertation
This project pulls together the molecular biology and clinical practice in the discipline. You will agree a project question with your supervisor. The main output is a dissertation. You may be invited to attend a viva voce examination. The dissertation will draw on the clinical experience during the observership as recorded in the portfolio and can build on, but not include, the literature review.
Modules
Core modules:
From Genome to Gene Function

Single gene disorders are generally rare but are the simplest to analyse. Students will be introduced to the framework of the techniques and data processing that are currently used to find individual genetic changes that are pathogenic in single gene disorders. Students will then be introduced to a series of methods that could be used for testing the effect of mutations on gene function and for testing whether the the gene that causes the pathology has been correctly identified. Reference will be made to current and historic papers to illustrate the development of thinking and techniques in the area.

15 credits

Modulating Immunity

Recombinant proteins are increasingly important in medicine, particularly in modulating the immune system, as vaccines and as modulators of humoral and cellular immunity. This module contains lectures on innate and acquired immunity, biotechnology particularly as applied to the production of recombinant vaccines and modulators of the immune response.

10 credits

Research Literature Review

The module trains students in detailed critical assessment of the scientific literature and introduces students to the area of their chosen project. Students will learn to access and critically assess the literature in a detailed area of biomedical science (relevant to their research project), find gaps in contemporary knowledge and identify unresolved questions. Induction into to the specific subject area will be provided by their project supervisor. Students will plan a review which will be used as a basis for dicussion with the supervisor. Final assessment will be on on the quality of a finished 3000 word review.

15 credits

Human Disease Genetics

The study of polygenic human diseases is now progressing rapidly. Although polygenic diseases are more common than single-gene disorders, studies of monogenic diseases provide an opportunity to learn about underlying molecular mechanisms, contributing to our understanding of all forms of genetic disease. In this module we will explain different ways to study human genetic diseases, and then focus on various disorders that have polygenic, chromosomal and monogenic contributions. The student will be able to see how disease mechanisms can be shared, and will learn to identify pathways that have led to the identification of gene targets for drug development. Students will explore the literature that relates to the disorders that are discussed in class so that they can propose appropriate experimental approaches to explore the genetics of other disorders.

10 credits

Human Gene Bioinformatics

Public databases are available for human and model organism genes, gene functions, sequence, genetic variants and known related pathologies. Human molecular biologists need to know how to access this data, which is in constant flux. We introduce students to the most significant nodes on the internet to access data so that students can remain up to date. Students will use tools known as gene browsers and databases to perform analyses and present data using only publicly available web software and standard word processors. The module is driven by a module booklet, tutorials and hands-on problem solving in a collaborative computer laboratory.

15 credits

Laboratory Practice and Statistics

The module covers techniques and analytical methods commonly used by most researchers in human molecular biology. Students learn the importance of experimental design and application of statistical methods for power and significance calculations for different types of experiment. In group work, students design a poster to present a set of data. In practical laboratory classes, students are shown how to perform a series of techniques that are frequently used in molecular biology, analyse their data statistically and present results in a formal laboratory notebook.

15 credits
You will take:
Seminar Presentation (Clinical Applications)

The aim of the module is for the student to acquire skills in critically presenting the background, evidence and some early clinical observations succinctly and comprehensibly, and to respond to questions from the audience. They should also be able to pose appropriate questions to other student speakers.[This module parallels the 10 credit Project Presentation modules, namely MED6023, MED6043, MED6053, MED6063 and MED6073 that are part of the current Molecular Medicine pathways.]

10 credits
You will take one from:
Clinical Project

Clinically trained students spend 20 weeks attached to a clinical team. Students will assess a hypothesis in relation to a clinical problem by application of modern clinical laboratory techniques in conjunction with clinical patient data.

60 credits

Clinical Observation

Clinically trained students spend 20 weeks attached, as students, to a clinical team where they experience, reflect on and critically assess the application of cutting edge molecular medicine to patients. Students contrast current with historic practice and identify unmet applications for molecular medicine within the clinical area.

60 credits
Microbes and Infection modules:
Virulence Mechanisms of Viruses, Fungi and Protozoa

TThis module extends the immunology teaching in MED6006 to cover how the host immune system interacts with pathogens. The module focuses on the variety of mechanisms that pathogens use to evade or subvert host defences. The module will then investigate the virulence mechanisms of some important pathogenic viral and fungal human pathogens.

10 credits

Mechanisms of Bacterial Pathogenicity

The module will provide a broad explanation of the multi-faceted nature and complexity of bacterial pathogenicity. It will explain that pathogenicity is not just down to the expression of a particular toxin, but that bacteria have developed very elegant and complex processes through which they colonise a host and cause disease. The module will use a step by step approach using some of the main models and paradigms of how bacteria are able to colonise the host and cause disease at a mechanistic level.

10 credits

Characterisation of Bacterial Virulence Determinants

The overall aim of this module is to convey the principles underlying the growing arsenal of experimental approaches that are currently being employed to (i) identify virulence genes, (ii) elucidate the molecular mechanisms underlying their genetic control, (iii) characterise their protein products both in terms of their structure and function at the molecular level, and (iv) unravel the molecular mechanisms by which virulence proteins are targeted to host cells or the extracellular milieu.

10 credits
The content of our courses is reviewed annually to make sure it's up-to-date and relevant. Individual modules are occasionally updated or withdrawn. This is in response to discoveries through our world-leading research; funding changes; professional accreditation requirements; student or employer feedback; outcomes of reviews; and variations in staff or student numbers. In the event of any change we'll consult and inform students in good time and take reasonable steps to minimise disruption. We are no longer offering unrestricted module choice. If your course included unrestricted modules, your department will provide a list of modules from their own and other subject areas that you can choose from.
An open day gives you the best opportunity to hear first-hand from our current students and staff about our courses. You'll find out what makes us special.
Duration
1 year full-time. We are unable to offer a part-time or distancy learning study option for this course at present.
Our expertise
The University of Sheffield is ranked number one in the UK for the world-leading quality of our biomedical research and in the top ten for combined world-leading and internationally excellent research outputs in clinical medicine.
The impactful, high-quality research that we undertake influences how we teach across all of our postgraduate courses. In many areas, our research activity spans the spectrum from basic science up to practical clinical applications. We pride ourselves on collaboration between  clinicians and non-clinicians, and many of our courses include teaching from practising clinicians as well as research-active academics.
Entry requirements
This course is for MBBS/MBChB qualified applicants only.
Overall IELTS score of 7.0 with a minimum of 6.5 in each component, or equivalent.
You can apply for postgraduate study using our Postgraduate Online Application Form. It's a quick and easy process.