2023 start
September
Neuroscience
School of Biosciences, Faculty of Science

Train across the breadth of sensory neuroscience and learn about the molecular, cell and developmental biology of auditory and visual systems, ready to make a difference as a research leader in the field.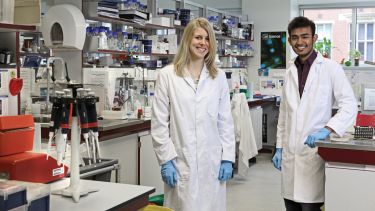 Course description
This 12-month course has been designed for students who are fascinated by the sensory neuroscience pathways that control our visual, olfactory and auditory systems and the implications of this in disease.
Built around our expertise that spans the breadth of sensory neuroscience, you'll undertake specialist practical training, alongside theoretical lecture modules to gain an in-depth understanding of the neurological pathways that control our senses. 
Our researchers are working to answer some of the biggest questions in sensory neuroscience, including how do our senses really work? What happens when they go wrong? And how can we treat diseases or conditions that affect them? In the School of Biosciences we're exploring therapies to repair damaged cochlea nerve fibres, visual information processing using drosophila and zebrafish model organisms, and potential treatments for chronic pain. Throughout your course you'll be taught a range of modern neuroscience techniques, including neuronal cell culture, model organism handling, RT-PCR and imaging of fixed samples using fluorescence microscopy, allowing you to contribute to this research and tackle these pressing questions. 
You'll cover molecular, cell and developmental biology of auditory and visual systems, and learn how to conduct your own advanced imaging and behavioural analysis, focusing on information processing from sensory transduction to the central nervous system and behaviour. You'll also have the chance to use model organisms to study gene function and development which are central for the creation of therapeutic treatments for hearing loss and blindness.
The biggest part of the course is the independent research project. You'll spend three months researching an area of sensory neuroscience that matches your future career aspirations. You'll be trained by our experts to use specialist equipment that you'll need to complete your project, with access to animal genetic models of disease as well as electrophysiology, regenerative medicine and computer simulation tools.
Example research projects include:
Assessing the integration of sensory inputs in the zebrafish brain with electrophysiology
Investigating diabetes-induced anatomical changes in dorsal root ganglia
Modelling pain, differentiation of a new neuronal cell line into a nociceptive phenotype for use in pain and pharmaceutical research
Assessing the integration of sensory inputs in the zebrafish brain with electrophysiology
The University is home to the Neuroscience Institute which brings together internationally-recognised expertise in medicine, science and engineering to improve the lives of patients and families affected by neurological, sensory and developmental disorders.
Modules
Core modules:
Ethics and Public Awareness of Science

Those working within public health need to be familiar with secondary data sources that support research, management and practice. This module will consider the main types of secondary data - relating to demography, epidemiology, clinical effectiveness and cost-effectiveness. Strengths, uses, interpretation and limitations of secondary data sources will be examined, assessing these with regard to completeness, accuracy, relevance and timeliness. Students will explore these issues in connection with a case study for a specific country. Scenario planning, confidentiality and the use of computers are other key topics that are illustrated and explored within the module.The module will begin with an introduction to the areas in which legislation impinges on biomedical research. We will then proceed to analyse the processes by which such legislation is made including, especially, the ethical bases for such legislation. To do this we will introduce the students to the philosophical bases of ethical thought and get them to analyse existing laws to discover the ethics that underlies these laws. The students will then be asked to discuss the ethics of specific topics in the form of a formal debate. In addition, we examine how society perceives science and how the process of science itself works and how this influences scientists' abilities to present their work to the wider community. 

15 credits

Practical Developmental Genetics

The practical unit aims to provide students with experience of research techniques in developmental biology. Students will perform experiments designed to reveal molecular and cellular principles underpinning developmental mechanisms. Emphasis will be placed on exploiting classical genetic and molecular resources available in model organisms such as zebrafish, Drosophila melanogaster, and chick for studying gene function in development. Students will gain experience of performing experimental work, data collection and interpretation of results.

15 credits

Neuroscience Techniques

The module is based around teaching students a range of modern neuroscience techniques by trying to answer the overall question: Can the MED cells provide a replacement for primary Dorsal Root Ganglia (DRG)?

15 credits

Advanced Scientific Skills

This module builds on existing, and further develops, generic scientific skills to equip postgraduate taught students with strong competences in presenting and reporting their research work using written and oral formats, in analysing data and the scientific literature, and in acquiring and extending their critical analysis skills. Teaching will be delivered using a blended approach with a combination of lectures, workshops, tutorials and seminars together with independent study and on-line teaching.

Taught throughout the academic year, the module will be articulated around three units addressing: 

Unit 1) Scientific presentation skills. In this unit, students will explore how to develop their academic (writing and oral) presentation skills. Some of the topics taught may include how to formulate a research question and hypothesis, how to find information, and how to structure a scientific essay or report. Students will learn how to communicate effectively their research to a scientific, as well as lay, audience. Emphasis will be placed on short oral communications and poster preparation and presentation.  The learning objectives will be acquired through lectures, workshops, tutorials and independent study.

Unit 2) Critical analysis skills. This unit prepares students to develop their ability to analyse and appraise the scientific value of the published and unpublished literature. Workshops and lectures will introduce students to the process of critical appraisal of scientific work. 

Unit 3) Statistics and data analysis skills. In this unit, students will learn methods to gather and analyse large datasets. In particular, workshops and lectures will teach students the basics of R coding and statistics for application in biosciences. The unit may also deliver other forms of data analysis relevant to the programme of study. Teaching within this unit will be delivered mainly through on-line material, lectures and workshops. Independent study will be essential to complete the acquisition of skills.

15 credits

Critical Analysis of Current Science

This module is designed to develop the student's ability to read and understand the scientific literature relating to their own research area and also enable them to integrate their own work into the wider scientific field. The module consists of the following components; a seminar and seminar analysis programme designed to develop student skills in listening, understanding and appraising scientific research presented by external invited speakers; contribution, preparation and presentation of journal clubs reporting on the literature published in the field of biomedical science. In the latter component, students will be expected to demonstrate critical analysis skills, which will be encouraged through questions and discussions in classes. Each component is assessed through formal examination and oral presentation.

15 credits

Literature Review and Research Proposal

This unit involves an in-depth survey of the current literature relevant to the student's research project. Students will carry out an exhaustive search of the literature relevant to their project using the resources of the University, including appropriate databases and specialist search engines, as well as paper-based resources in the University Library. Based on primary research articles, review articles and textbooks, students will work independently under the supervision of the project supervisor to produce a document reporting on the background literature underpinning their research project. The literature review should demonstrate an ability to comprehend and synthesise the experimental evidence presented in the literature, to critically appraise previous studies and identify gaps in the knowledge, and to describe the experimental design of the research project.  To prepare their literature review,  students will meet at regular intervals with their supervisors to discuss their progress.

15 credits

Research Project

The module aims to provide students with experience of conducting a research project, and develop analytical and organisational skills required for a career in science. Students undertake a research project which reflects the research activities in the Department/Faculty/University. Projects will be supervised by a member of the academic staff, although students may have additional contact with various staff contributing to their training. Students will gain experience of experimental design, and in execution, collation, interpretation and presentation of scientific data.
Assessment of the project will be based on a written dissertation, an evaluation of the research skills developed during the tenure of the project, including keeping a lab book, and delivery of an individual poster presentation.


60 credits
Optional modules - two from:
Neurodevelopment and Behaviour

This course examines the mechanisms that underlie development of the nervous system during embryogenesis. Examples will be described from a variety of model organisms to introduce key steps in the establishment of the CNS and PNS, steps that include neural induction, neural patterning, early segregation of CNS and PNS, the establishment and refinement of connectivity in the nervous system. Recent research from teachers of this course, and from both the classical and current literature is used to analyse and evaluate theories and mechanisms of establishment of the functional nervous system.

15 credits

Computational Neuroscience 1: Biologically Grounded Models

This module starts with a primer on neuroscience and the role of computational neuroscience. The next part of the module covers abstract neuron models and introduce classic computational principles and learning rules related to neural networks. From there we move to more biologically grounded models and deal with single neuron models including leaky-integrate-and-fire and conductance-based neurons. Finally, we examine higher levels of description, in particular systems in context of reinforcement learning. While the emphasis throughout the module is on methodological issues, how models can be built, tested and validated at each level, we will also draw connections to specific brain regions to motivate and illustrate the models.

15 credits

Sensory Neuroscience

This module covers the adult function and functional development of the auditory system, including sensory transduction and information processing. It will focus primarily on the periphery but will include representation of information in central pathways, with attention to mammalian animal models. The aims will be to show how physiological and developmental mechanisms combine to create the exquisite structural and functional tuning of the auditory system to the external world and how complex sensory information is encoded in the nervous system.

15 credits
The content of our courses is reviewed annually to make sure it's up-to-date and relevant. Individual modules are occasionally updated or withdrawn. This is in response to discoveries through our world-leading research; funding changes; professional accreditation requirements; student or employer feedback; outcomes of reviews; and variations in staff or student numbers. In the event of any change we'll consult and inform students in good time and take reasonable steps to minimise disruption. We are no longer offering unrestricted module choice. If your course included unrestricted modules, your department will provide a list of modules from their own and other subject areas that you can choose from.
An open day gives you the best opportunity to hear first-hand from our current students and staff about our courses. You'll find out what makes us special.
Duration
1 year full-time
Teaching
Throughout your degree, you'll be taught through lectures, practical sessions, lab placements, tutorials,  seminars and online teaching. In small group teaching classes you'll discuss, debate and present on scientific and ethical topics.
Assessment
Assessment is by formal examinations, coursework assignments, debates, poster presentations and a dissertation.
Your career
This course is designed to train you for a wide range of exciting careers at the cutting-edge of neuroscience, or further study to PhD level.
Graduates will be equipped with the specialist knowledge and transferable skills to pursue careers within:
Universities and other academic institutions, working as lecturers, researchers and laboratory technicians
The pharmaceutical industry as development scientists, biotechnologists and lab managers
Within the NHS as laboratory scientists, or pursuing further study on the Scientist Training Programme (STP) in Neurophysiology
Rinri Theraputics is a therapeutic discovery and development company working in the field of hearing loss, founded and led by Professor of Sensory Stem Cell Biology, Marcelo Rivolta from our department. Based in Sheffield, the spinout company is developing a novel stem cell therapy to restore hearing and reverse sensorineural hearing loss. Rinri has previously employed graduates of our courses in research roles due to the specialist skills and knowledge they gain with us.
Department
The School of Biosciences brings together more than 100 years of teaching and research expertise across the breadth of biology.
It's home to over 120 lecturers who are actively involved in research at the cutting edge of their field, sharing their knowledge with more than 1,500 undergraduate and 300 postgraduate students. 
Our expertise spans the breadth and depth of bioscience, including molecular and cell biology, genetics, development, human physiology and pharmacology through to evolution, ecology, biodiversity conservation and sustainability. This makes us one of the broadest and largest groupings of the discipline and allows us to train the next generation of biologists in the latest research techniques and discoveries.
Student profiles
Entry requirements
Minimum 2:1 undergraduate honours degree in a biomedical-related subject.
We also accept medical students who wish to intercalate their studies.
Overall IELTS score of 6.5 with a minimum of 6.0 in each component, or equivalent.
You can apply for postgraduate study using our Postgraduate Online Application Form. It's a quick and easy process.
Any supervisors and research areas listed are indicative and may change before the start of the course.
Recognition of professional qualifications: from 1 January 2021, in order to have any UK professional qualifications recognised for work in an EU country across a number of regulated and other professions you need to apply to the host country for recognition. Read information from the UK government and the EU Regulated Professions Database.