2023 start
September
Ophthalmology Advanced Clinical Practice (Paediatrics)
Division of Ophthalmology and Orthoptics, Health Sciences School, Faculty of Medicine, Dentistry and Health

This course is ideal for current paediatric eye-care practitioners (orthoptists, optometrists and ophthalmic nurses) who want to advance their specialist ophthalmic practice skills. Clinicians who wish to reach the highest levels of innovative and cutting-edge paediatric ophthalmology practice will benefit from this course.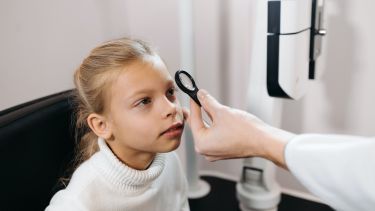 Course description
The course is suitable for forward-thinking practitioners, already working in paediatric ophthalmology, who wish to pioneer new or improved services.
You'll gain comprehensive and advanced knowledge of paediatric ophthalmology conditions. As well as studying the core elements of diagnosing and managing a wide range of ophthalmological conditions affecting paediatric patients, you'll learn techniques and management solutions through clinical, work-based learning.
You'll benefit from this course if you are ready to implement patient-led improvements and wish to reach advanced clinical practitioner status in paediatric ophthalmology.
Accreditation
Accreditation will be applied for when available, from the emerging Centre for Advancing Practice who plan to hold a register of all advanced clinical practitioners.
Modules
Year one core module:
Paediatrics ACP

The module is ideal for eye-care practitioners who want to advance their ophthalmic practice skills, to reach the highest levels of innovative and cutting-edge paediatric ophthalmology practice. The module is suitable for practitioners already working in paediatric care, who are forward-thinking, independent learners and who wish to pioneer new or improved services. The module will allow students to gain comprehensive and advanced knowledge of the issues surrounding paediatric ophthalmological care. As well as studying the core elements of how to diagnose and manage a wide range of ophthalmology conditions primarily affecting paediatric patients, students will practise techniques and management solutions during work based learning. Paediatric practitioners desiring to implement patient-led improvements by means of reflective practice and those wishing to reach advanced clinical practitioner status in paediatric ophthalmology, would benefit from this moduleThe core 60 credit first year module includes an introduction to the role of the ACP in paediatric ophthalmology, diagnosing and managing blepharitis, dry eye, allergic conjunctivitis, juvenile idiopathic arthritis, inherited retinal disease, retinal imaging, electrodiagnostic testing, retinoscopy, glaucoma, contact lenses, investigative techniques, cerebral visual impairment, communicating with vision impaired children, disc and neurological screening, nasolacrimal duct obstruction, chalazion, surgical consent and surgical listing and emergency eye treatment and continued professional development.  

60 credits
Year two core module (semester one):
Clinical Leadership and Education in Ophthalmology

The aim of this module is to enable eye-care practitioners developing as advanced clinical practitioners in paediatric ophthalmology, to deliver high quality, compassionate and efficient care to patients.  In this speciality in particular, it is imperative that clinical practitioners are highly effective in managing and balancing uncertainty and risk.  As such, they need expertise with decision-making tools and frameworks, in order to take management and leadership positions that will benefit patients.  They need to be effective educators, to ensure that colleagues can adopt the strategies and changes implemented.  Leadership and education in paediatric ophthalmology needs to adapt to local and national organisational strategies and agendas and implement reflective learning from significant patient events. The aim of this module is to facilitate effective clinical leadership and education for practitioners specialising in paediatric ophthalmology. It represents two of the key pillars of advanced clinical practice set out by Health Education England (clinical leadership and facilitating education).  The module will be fully aligned with the Advanced Clinical Practice framework and students will be equipped with models regarding decision making and managing and balancing risk in the midst of an often evolving, incomplete and complex clinical picture.  As such, they will develop effective advanced clinical practice, using resources appropriately in order that they will relieve clinical pressure on paediatric ophthalmologists. Students will critically explore and analyse theories and evidence underpinning clinical practice improvements, critical decision-making in paediatric ophthalmology and service redesign.  Students will develop resourcefulness for creatively providing high quality paediatric ophthalmic care and implementing transformational change, which positively impacts patients and colleagues.  As with other modules on this ACP programme, the intention is to deliver content through blended learning using online lectures, tutorials, independent and work-based learning.

30 credits
In addition, one 30-credit module of choice from the following options (please note, Research Methods is a pre-requisite for the 3rd year clinical research project):
Concomitance and Incomitance in Depth

This is based around clinicians re-examining their prior knowledge in relation to clinical practice and recent research and to evaluate their work - emphasising areas in which further examination of techniques/theory is indicated. 

30 credits

Insight into Disease

This module will help the clinician to a wider understanding of diseases which affect ocular motility and which are frequently encountered in clinical practice. 

30 credits

Low Vision

This unit is delivered by Distance Learning with an Introductory day. It aims to give the qualified practitioner the knowledge to expand into the field of low vision assessment and management; also exploring local and national services and policies. It includes the optics of, and types of, low vision aids, and their method of use. The many factors relevant to reduced visual acuity, such as lighting, glare and contrast are explored along with pathology. Relevant literature will inform the unit and the students will be required to critically analyse and synthesise evidence pertaining to the subject as they complete unit exercises throughout. The student will be working in low vision clinics and will be required to provide evidence of reflection on patients seen as part of the assessment. The remaining assessments will be through an assignment and a practical examination.

30 credits

Exemption

This module will facilitate advanced practice in the area of prescription only and non-prescription exemption listed medicines for Orthoptists, by enhancing knowledge of the pharmacokinetics and actions of these specific medicines. It will advance learning and understanding of the different non-pharmacological and pharmacological approaches to modifying disease and inform practitioners of the potential for adverse effects and how to minimise them. Students will be enabled to apply the principles of evidence-based practice including clinical and cost-effectiveness. These areas of advanced knowledge and understanding will enable Orthoptists who are registered with the Health and Care Professionals Council, to become registered as qualified to use exemptions to sell, supply and administer specific listed medicines for any condition within their scope of practice. 

30 credits

Research Methods

This unit comprises the following sections: The research question; Concepts and indicators; Validity and reliability; Data collection and sampling; Quantitative data analysis; Qualitative data analysis; Critical appraisal; Philosophy of science. 

30 credits
Year three modules - choose one from:
Critical development of clinical practice

Senior health and social care professionals need to be able to translate and apply learning from academic programmes in order to make a meaningful contribution to practice. This unit will enable students to complete a substantial piece of work that has potential to stimulate development or innovation in their practice. It draws together learning from the programme and engages the academic skills of critical appraisal with development of a proposal for application to practice. Students identify a relevant issue and subject this to systematic analysis to produce an evidence based report which addresses improvement objectives through deliverable recommendations.

60 credits

Research Project

The research project allows the student to pursue an area of interest. It involves literature searching to determine previous work in the field and the design and execution of original work.   Students will prepare, conduct and write-up a piece of original research in one of two ways: either an empirical research project or a literature based dissertation.  This will enhance their understanding and knowledge of the conceptual research process.  Students will utilise systematic research methodology to design the project, undertake the research, analyse the data collected and produce an evidence-based report

60 credits
The content of our courses is reviewed annually to make sure it's up-to-date and relevant. Individual modules are occasionally updated or withdrawn. This is in response to discoveries through our world-leading research; funding changes; professional accreditation requirements; student or employer feedback; outcomes of reviews; and variations in staff or student numbers. In the event of any change we'll consult and inform students in good time and take reasonable steps to minimise disruption. We are no longer offering unrestricted module choice. If your course included unrestricted modules, your department will provide a list of modules from their own and other subject areas that you can choose from.
An open day gives you the best opportunity to hear first-hand from our current students and staff about our courses. You'll find out what makes us special.
Duration
3 years part-time (MMedSci)
2 years part-time (PG Diploma)
1 year part-time (PG Certificate)
Teaching
Introductory learning sessions (currently delivered online)
Online tutorials
Self-directed learning units, completion of which contributes to a practice portfolio
Approximately 10-12 hours of study, including both theoretical and clinical and work-based learning is expected per week
Clinical commitment for Year 1
Year 1 comprises a compulsory foundation year in paediatric ophthalmology and as such requires that you carry out work-based learning activities in a clinical setting. We anticipate that the combination of academic exercises and assignments, self-directed and work-based learning will take you approximately at least 10 hours per week. You may wish to consider this in planning for the course.
You'll need to gain access to additional paediatric clinics to increase your clinical exposure and practise clinical skills under supervision, particularly during this first year of study and we recommend spending between 0.5-1 day per week in additional paediatric ophthalmology clinics for the duration of this module.
Assessment
Essays
Portfolio work
Practical work
Dissertation or research project write-up
Your career
This programme will allow successful students to become advanced clinical practitioners in paediatric ophthalmology, offering a new work stream to paediatric ophthalmology care in the UK.
Entry requirements
Minimum 2:1 undergraduate honours degree in an eye care-related degree.
Applicants must be currently working in paediatric eye care and have the support of a local ophthalmologist or advanced clinical practitioner in paediatric ophthalmology, in order to gain clinical experience under supervision, for a wide range of paediatric eye conditions. For this course you will need to gain practical experience and clinical exposure by attending paediatric ophthalmology clinics.
You will need to identify at least one local mentor, either Ophthalmologist or Advanced Clinical Practitioner in Paediatric Ophthalmology, who will agree to help, support and supervise you during the programme.
A local mentor handbook for prospective and current mentors is available to download.
Local mentor handbook (PDF, 837KB)
You will need to complete a Local Mentor Support Form and return it by email to orthoptics@sheffield.ac.uk at the same time that you submit your application.
Overall IELTS score of 7.0 with 6.5 in each other component, or equivalent.
Fees and funding
Applicants may be eligible through learning beyond registration and NHS grants via their NHS Trust.
You can apply for postgraduate study using our Postgraduate Online Application Form. It's a quick and easy process.
Any supervisors and research areas listed are indicative and may change before the start of the course.
Recognition of professional qualifications: from 1 January 2021, in order to have any UK professional qualifications recognised for work in an EU country across a number of regulated and other professions you need to apply to the host country for recognition. Read information from the UK government and the EU Regulated Professions Database.