2023 start
September
Osteoarchaeology
Department of Archaeology, Faculty of Arts and Humanities

Study human and animal remains from all over the world, specialising in either one or both disciplines.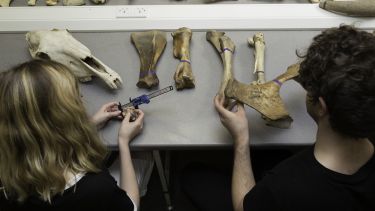 Course description
Using a combination of established and cutting-edge methods, this course focuses on the study of bones from archaeological sites. You'll get training in the analysis of both animal and human bones, but you may decide to specialise in one or the other.  
The course is taught through lectures, seminars and lab-based practicals. We use case studies from all over the world and we explore all phases of human history. You'll have access to labs and some of the best collections of human and animal remains in the world.
Modules
Core modules:
Biological Anthropology I

The module provides a theoretical background to the study of human skeletal remains as well as essential practical skills in the osteological analysis of human bone.

15 credits

Dissertation

This module requires students to plan, execute and write up an original research project. This dissertation project is chosen with, and approved by, the designated supervisor, who may or may not be the programme director. Dissertation topics must be based on original research and on the students' own ideas: they must be worthwhile, affordable, manageable within time limits, be capable of supervision within the Department and related to the subject matter on the appropriate Masters.

60 credits

Work Placement

The placement scheme is designed to allow students to work alongside practitioners 'in the field', and to get consolidated hands on experience in a subject/technique of particular interest to them. Placements can be in any sphere of professional practice in archaeology or management of the historic environment. Students will be expected to spend a minimum of eight weeks on the placement. The assessment will have two elements: a short account of the placement, and a written project report resulting from an aspect of the work undertaken.

60 credits

Dissertation (Journal Paper Style)

This module requires students to plan, execute and write up an original research project. This dissertation project is chosen with, and approved by, the designated supervisor, who may or may not be the programme director. Dissertation topics must be based on original research and on the students' own ideas: they must be worthwhile, affordable, manageable within time limits, be capable of supervision within the Department and related to the subject matter on the appropriate Masters. Students who choose this particular type of dissertation will place particular emphasis on synthetic writing and an ability to familiarise themselves with journal publication submission and style. With the exception of the word count the students will follow the editorial guidelines of the Journal of Archaeological Science.

60 credits

Advanced Zooarchaeology

This unit is designed for students who have already taken a basic module in zooarchaeology (e.g. AAP661) or have equivalent experience and provides them with the opportunity to investigate the subject at a more specialised level. All key zooarchaeological areas are touched upon but more complex aspects of methods and their applications than those taught in a foundation module are presented and discussed. In other words this module moves the teaching towards full training - rather than merely educational - purposes. It is based on a variety of hands-on sessions, lectures, seminars and discussion groups.

15 credits

The history of the human animal relationship

This unit will provide the students with an understanding of the main stages in the evolution of the human-animal relationship, from the Palaeolithic to modern times. The importance of animals in the history of human societies as well as its variation in time and space will be discussed. The unit will cover ecological and economic as well as social, ritual and symbolic aspects and, though focussed on archaeology, will also make use of ethnographic, historical, literary and iconographic sources. It will provide a necessary integration to modules dealing with the methods used to study past animals and those that are period-based.

15 credits

Archaeozoology

Zooarchaeology (or Archaeozoology) is the study of past human interaction with animals through the analysis of their material remains. This module provides a practical introduction to the identification, analysis and interpretation of animal bones from archaeological sites. Practical skills are developed through group laboratory work, concentrating on mammals but also touching on other classes of vertebrates. Methodological and theoretical issues in archaeological interpretation are discussed in the classes in combination with the hands-on work. The course culminates in a project report, which reconstructs animal exploitation through the analysis of ageing and biometrical data.

15 credits

Human Osteology

In this module the students are introduced to the human skeleton, both adult and immature, and comparative primate skeletons. They are provided with in depth information on how to recognise individual bones, how to side elements by being familiar with all pertinent landmarks. They will be introduced to the size and shape variation present in the skeleton of Homo sapiens, including variations due to sex, ethnic affinity, and temporal changes.

15 credits

Assemblage Analysis

Assemblage Analysis provides students with opportunities to develop their skills in the analytical study of archaeological evidence: human or animal bone, archaeobotanical remains or inorganic material culture. Students will build their confidence in working on archaeological material and datasets as independent researchers. The module will prepare students for undertaking assemblage-based reporting in professional and academic research.

15 credits
Optional modules:
You can take 30 credits of modules from across the Department
The content of our courses is reviewed annually to make sure it's up-to-date and relevant. Individual modules are occasionally updated or withdrawn. This is in response to discoveries through our world-leading research; funding changes; professional accreditation requirements; student or employer feedback; outcomes of reviews; and variations in staff or student numbers. In the event of any change we'll consult and inform students in good time and take reasonable steps to minimise disruption. We are no longer offering unrestricted module choice. If your course included unrestricted modules, your department will provide a list of modules from their own and other subject areas that you can choose from.
An open day gives you the best opportunity to hear first-hand from our current students and staff about our courses. You'll find out what makes us special.
Duration
1 year full-time
2 years part-time
Teaching
You can expect a balanced timetable of lectures, seminars and practicals. You'll have access to specialist labs and world-class reference collections. Many of our masters courses include a fieldwork or project-based component.
We integrate humanities and science-based approaches to nurture a deeper understanding. You'll have the opportunity to explore different viewpoints and make up your own mind about their strengths and weaknesses.
We'll help you to develop your critical thinking as well as your practical skills. What we ask of you, as a member of our lively academic community, is that you challenge, question, and explore.
Fieldwork
All our masters students have the option to get involved in research projects – in the UK, Europe and elsewhere – even if fieldwork isn't part of your course.
Department
The Department of Archaeology at Sheffield has a reputation for world-leading research and teaching in archaeology. We're among the top 50 archaeology departments in the world (QS World University Rankings by Subject 2020).
You'll be taught by experts in their field who are at the forefront of their research. Our research-led teaching draws directly on the work of our inspirational academics who are experts in the specialist fields of bioarchaeology, medieval archaeology, cultural materials, funerary archaeology, Mediterranean archaeology and landscape archaeology.
We take an interdisciplinary approach to teaching, bringing science, the humanities and other related areas to your studies. Our multidisciplinary teaching helps you develop a strong set of skills. Our graduates are articulate, analytical and creative. They are also adaptable, curious and culturally aware. We have alumni working all over the world in a diverse range of fields, including archiving, archaeology, teaching, museums, charities, publishing, and national and local government.
Our staff and students play an important role in the life of the city through projects and partnerships with heritage groups, commercial archaeologists and heritage providers. You'll share your understanding with others, and by doing this you'll help local communities make sense of their origins, and get a sense of their place in the wider world.
Student profiles
My MSc in Osteoarchaeology has been fundamental in developing my career as it provided me with the essential tools of zooarchaeological analysis as well as the necessary skills to approach a career in archaeology, whether on commercially funded projects or in academic research.
Entry requirements
Minimum 2:1 undergraduate honours degree in an arts, humanities or science subject.
Your interest in and understanding of archaeology is more important than what you studied at undergraduate level: we may consider degrees in other subjects if you display an interest in archaeology in your application.
Overall IELTS score of 6.5 with a minimum of 6.0 in each component, or equivalent.
Fees and funding
Studentships
If you accept a place on a course, you may be eligible to apply for White Rose College of the Arts and Humanities (WRoCAH) and University of Sheffield studentships. We also offer a number of department and course-specific scholarships. See the department's fees and funding page for more information.
You can apply for postgraduate study using our Postgraduate Online Application Form. It's a quick and easy process.
Any supervisors and research areas listed are indicative and may change before the start of the course.
Recognition of professional qualifications: from 1 January 2021, in order to have any UK professional qualifications recognised for work in an EU country across a number of regulated and other professions you need to apply to the host country for recognition. Read information from the UK government and the EU Regulated Professions Database.