2023 start
September
Pharmaceutical Engineering
Department of Chemical and Biological Engineering, Faculty of Engineering

Our MSc gives you hands-on experience of an industrial-scale continuous powder processing plant and develops the knowledge and skills you need to stand out in the global pharma market.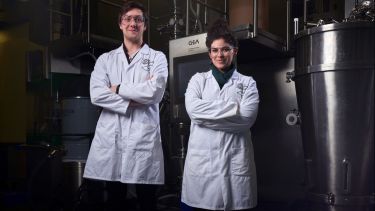 Course description
This programme has been developed taking into consideration the requirements of the global pharmaceutical industry. You'll discover about the science and application of products, oral drug delivery, the production of medicines and new technologies used in the pharmaceutical and biopharmaceutical processes.

You'll also have the potential to help develop and discover better medicines that literally could change millions of lives. Unlike similar courses which deal with the chemistry part of pharmaceutical manufacturing processes, this course has been designed to imply the chemical engineering fundamentals which is more essential in real life experience.

You'll gain hands-on-experience with high value formulated products using our industrial scale continuous powder processing plant (ConsiGm 25). Situated in our state of the art teaching facility, The Diamond, the Pilot Plant will be the cornerstone of your study here at Sheffield.

The skills also gained on this MSc in the field of particle technology will allow you to work in other sectors such as the detergent sector (such as Unilever or P&G), food products (such as Nestle), catalyst and fertiliser sectors.

You'll be taught by the very best, the department works closely with some of the world's major pharmaceutical companies (such as Pfizer, AstraZeneca and GSK). The graduates of this course will be highly sought after in the global pharma market.
Accreditation
We are fully accredited by the Institution of Chemical Engineers.
Modules
Core modules:
Science of Formulated Products

Formulated products are an increasing focus across a wide variety of chemical engineering industries, including the pharmaceutical sector, food manufacture, fast moving consumer goods, fertilisers and catalyst manufacture. These industries are unified by the need to understand particle behaviour and hence this unit will introduce the engineering concepts of various particle processing systems such as powder flow, mixing, granulation, fluidized bed drying and tableting. The theoretical concepts developed in lectures will be reinforced by the opportunity to see Diamond Pilot Plant, which is a world-leading full scale continuous pharmaceutical production line. In addition, the materials will be supplemented by guest lecturers from a range of relevant industries.

15 credits

Continuous Manufacturing Technology: PAT and Process Optimisation

The module covers recent advances in Process Analytical Technology (PAT), which is used in continuous manufacturing of pharmaceutical products. Selection of suitable PAT tools and PAT data interpretation are both addressed. Additionally, the module will present different approaches used in process control and optimization. The lecture topics are designed based on the skills required by the pharmaceutical industry and there is significant input from industrial experts.

15 credits

The Biotech and Pharmaceutical Industry

This lecture module will be taught by professionals from a wide range of companies in the drug industry and from the business services team here at the University of Sheffield. The course will teach students the major steps in the drug discovery process including; screening, development, testing, small molecule manufacture, venture capital funding, patent law, the growing field of contract research and the roles each company has within this industry. Students will learn directly from specialists within these fields. From the Sheffield business team, the students will learn how new ventures are started from University and the process of generating new spin out companies.

15 credits

Biopharmaceutical Manufacturing

The module aims to provide an understanding of the key unit operations used in manufacturing biopharmaceutical products including vaccines, therapeutic proteins, and cell/gene therapies. The module will cover fermentation, extraction technologies and purification operations. The module will describe the design and application of each unit of operations, and introduce key associated topics including process engineering, analytical technologies, automation, quality by design, and regulatory issues. The module will have a particular focus on the latest industrial trends, and current and future challenges in biopharmaceutical manufacturing will be studied in-depth.

15 credits

Biopharmaceutical Engineering

This module will equip you with a comprehensive understanding of technologies that contribute to the production of complex biological products by engineered cells. An emphasis will be placed on (a) core design principles and tools that underpin engineering of genetic vectors, cells and biopharmaceutical products (e.g. proteins, vaccines, gene therapeutics) and (b) bioproduction process design and optimisation. Case histories and exemplars will be provided by invited external experts from bioindustry to reinforce your understanding of core principles.

15 credits

Particle Design and Processing

This module will give an introduction to particulate products. An overview of particle and powder characterisation will be given, and particle property distributions and how these change over time will be covered. Particle design (production of new particles with specific attributes) and production methods will be included (e.g. crystallisation and precipitation, granulation, jet break up and spray drying, aerosol processes, chemical vapour deposition, suspension polymerisation and grinding).

15 credits

Process Safety in the Chemical, Pharma and Fine Chemicals Industry

This module addresses process safety in the chemical, pharma and fine chemical industry. It is one of a series of modules which address hazards and risks in specific industries. A wide range of chemical hazards are examined including flammability, toxicity, chemical reactivity and environmental impact. Tools and techniques for identifying hazards and reducing risk are described and practical experience in their use is provided in the form of workshop activities. The module will describe how to prepare a 'basis for safety' for a process.

15 credits

Strategic Engineering Management and Business Practices

This module aims to provide fundamentals of what strategy is and distinguish it from activities, tactics and goals of an organisation. It explains its important role in the continual success of organisations. It also introduces how strategy can be translated into business practices, methods, procedures to achieve the goals of an organisation's strategy.

The module is designed to develop your analytical and critical skills in the strategic management issues facing engineering organisations in today's fast-changing environment. It is a unique opportunity for you to equip yourself with the essential industry-relevant skills to excel as a future leader.

15 credits

Research Project

The application of scientific and engineering principles to a solution of practical problems of engineering systems and processes is developed throughout the course and demonstrated in particular by the research projects. Each student registered for the Masters degree in 'Pharmaceutical Engineering' must complete a research-based portfolio. The project is 60 credits. It is the most important individual module in the course. The topic for study is selected in consultation with appropriate members of the teaching staff. You will choose a research project which best fits your interests and undertakes a unique and original project on that area. Projects vary from industrially-based problem solving to laboratory-based research and development of new processes or ideas. The research portfolio is a major part of the degree and you will be allocated an academic supervisor who provides advice and guidance throughout the period of study. Opportunities exist for research studies to be carried out in collaboration with other university research centres as well as industrial organisations. You will present your project as a portfolio consisting of a Technical Review (5,000 words) and a Dissertation (10-15,000 words) and also must present the work as a poster and oral presentation during the academic year. A marking scheme is provided at the start of the project and each research project report is marked using a mark sheet which gives weightings to different parts.

60 credits
The content of our courses is reviewed annually to make sure it's up-to-date and relevant. Individual modules are occasionally updated or withdrawn. This is in response to discoveries through our world-leading research; funding changes; professional accreditation requirements; student or employer feedback; outcomes of reviews; and variations in staff or student numbers. In the event of any change we'll consult and inform students in good time and take reasonable steps to minimise disruption. We are no longer offering unrestricted module choice. If your course included unrestricted modules, your department will provide a list of modules from their own and other subject areas that you can choose from.
An open day gives you the best opportunity to hear first-hand from our current students and staff about our courses. You'll find out what makes us special.
Duration
1 year full-time
Department
Chemical engineers conceive and design processes to produce, transform and transport materials. Our courses help prepare you for a career in the oil and gas, chemical, nuclear and pharmaceutical industries.
Our first-class facilities include cutting-edge laboratories such as the Analytics Lab, Thermodynamics Lab and the Pilot Plant.
The Pilot Plant is the cornerstone to educate our students and it features a continuous powder processing plant – the first of its kind in any UK University.
We also have key relationships with major international companies involved with food, fuels, medicines, plastics, energy and high-technology industries.  Some of these include: Siemens, Petronas, Pfizer, Nestle, Lonza, Astrazeneca, Syngenta and Unilever. 
Here at Sheffield you'll become an innovative product developer, forward looking, a risk taker and a trail blazer. You'll be proud of the manufacturing heritage of our university and of our city.
Our intensive teaching, combined with practical experience in most of our courses, produces the kind of graduates employers want. 
We'll equip you with everything you need to deliver sustainable solutions to support an ever growing, global population – study at Sheffield and you could literally change millions of lives.
Entry requirements
Minimum 2:2 undergraduate honours degree in a science, technology or engineering subject.
Overall IELTS score of 6.5 with a minimum of 6.0 in each component, or equivalent.
You can apply for postgraduate study using our Postgraduate Online Application Form. It's a quick and easy process.
Any supervisors and research areas listed are indicative and may change before the start of the course.
Recognition of professional qualifications: from 1 January 2021, in order to have any UK professional qualifications recognised for work in an EU country across a number of regulated and other professions you need to apply to the host country for recognition. Read information from the UK government and the EU Regulated Professions Database.