2023 start
September
Sustainable Architecture Studies
School of Architecture, Faculty of Social Sciences

Develop a portfolio of advanced skills and knowledge across several architectural disciplines, with a focus on sustainable architectural design.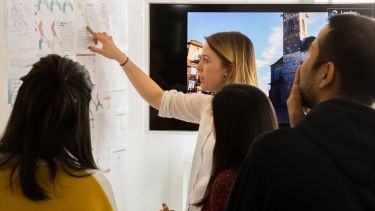 Course description
Our MSc combines the social and technical aspects of sustainable architecture. You'll be encouraged to develop a critical stance in relation to theories of sustainable architecture.
The course will inspire and enable you to pursue innovative research and design strategies for the built environment, with the aim of transforming the built environment for a more equitable future.
By the end of the course, you'll possess the skills to produce complex design proposals that adopt a holistic approach to design and address the social, economic and environmental aspects of sustainable architecture.
We're one of the UK's top architecture schools. Our international research projects shape policy and address public and professional needs. As a Sheffield student you'll engage with real issues affecting the built environment. You'll be encouraged to provide social and environmental solutions to the challenges of our time
Modules
Core modules:
Building Environmental Simulation and Analysis

The course unit aims to provide a general understanding of, and practical experience in computer modelling software systems. This involves the following: Thorough understanding of basic concepts of computer simulation, develop the ability to apply these concepts in real life situations. Understanding the use of computer simulation and the need to use the appropriate software to answer a specific enquiry. Understanding the relationships between the required outcome of a simulation exercise and the input details necessary to produce a valid answer.

15 credits

Renewable Energy

This is a core module for MSc Sustainable Architecture Studies (MSc SAS) and optional for students from: M.Arch (RIBA Part 2) MA Architectural Design (MAAD), MA Urban Design (MAUD), MSc Architectural Engineering Design (MSc AED) Energy efficiency, i.e. energy conservation techniques alongside renewable energy sources are often seen as the key to the solution of the world's future energy supply and pollution difficulties. This course introduces and discusses building energy use and building fabric efficiency and the role of small (building and city) scale energy sources of a renewable or particularly efficient nature and how these sources might be used at a variety of scales to supply a variety of needs. The course is interactive in nature and provides knowledge of renewable energy (RE) technologies and analytical skills for appropriate RE applications, including energy efficiency, in the built environment.

15 credits

Sustainable Design Project 1

This unit is the first in a sequence of two which are studio-based. It sets the foundations for ARC6842 Sustainable Design Project 2. The unit seeks to foster an awareness of the relationship between global environmental change and the construction and inhabitation of buildings. The unit introduces students to a range of approaches in sustainable architectural design, and encourages students to develop a critical stance in relation to theories of sustainable architecture.

15 credits

Sustainable Design Project 2

This unit is the second in a sequence of two which are studio-based. It builds upon the foundations laid by ARC6841 Sustainable Design Project 1. The unit provides practical workshops in methods for evaluating the thermal performance, provision of daylighting, ventilation and embodied energy of a design project. The unit also guides students through the complexity of adopting a holistic approach to design which addresses the social, economic and environmental aspects of sustainable architecture.

30 credits

Principles of Building Physics for Sustainable Design

Through lectures and workshops this module provides students with a conceptual and practical knowledge and understanding of a range of techniques in building physics that can be applied in sustainable design. The key principles that will be addressed are: the physics of heat and thermal comfort, the physics of light, the physics of sound. Additionally resource use shall be addressed in relation to energy, water and materials. The aim is to provide a toolkit of techniques and to encourage students to evaluate and / or integrate principles of building physics in sustainable design projects.

15 credits

Sustainable Design Thesis Project

This module is only for MSc Sustainable Architecture Studies students and is a core module. It allows students to develop their own in-depth project based on an individual research theme and the synthesized knowledge and skills gained from all previous units required for this programme. The thesis module is a 10,000 word written research-based dissertation in an A4 thesis document.

60 credits

Materials for Low Impact Buildings - Theory

This module engages through lectures and seminars with a range of materials for low impact buildings which may include load-bearing and frame construction using straw bales, rammed earth, adobe, cob, compressed earth blocks, hemp-lime blocks, earth renders and plasters, timber techniques. The aim is to give students in depth theoretical knowledge about the environmental performance, practical applications and historical use of materials for low impact buildings through lectures and seminars.

15 credits
Optional modules may include:
Behaviour in the Built Environment

The urban/built environment influences the behaviour of people; equally, people's behaviour can shape the environment. Understanding the interaction between people and their environment promotes the design of spaces and buildings that meet the needs of the people who occupy them. This module will discuss principles of behavioural and environmental psychology in the context of the design and management of indoor and outdoor spaces, including the application and interpretation of behavioural research methods. A key objective is for students to be better equipped to deliver a sustainable environment that meets user requirements.

15 credits

Building Information Modelling, Management and Analysis

This module aims to introduce Building Information Modelling (BIM) technology in practice with a focus on the technical aspects of how building data, both geometric and non-geometric, are created and integrated to support processes of designing, constructing and operating buildings. Fundamental knowledge and contemporary skills of using BIM will be delivered through a series of lectures, seminars, and hands-on workshops. Through executing individual assignments and term projects, students will learn BIM techniques to construct data-enriched virtual models and formulate critical thinking in how BIM can support innovative collaboration during various design, construction and operation phases along the building life cycle.

15 credits

Environment and Technology in Design

An advanced course in environmental design technologies and techniques developed around a sustainable framework. The course is grouped around broad environmental and natural themes to encourage an integrated and holistic approach to technology within the design process. The module focuses on research and investigation as a tool for developing students' understanding of complex technology concepts, including how technology integrates with the wider building and how it interacts with and is used by building occupants and users.



15 credits
The content of our courses is reviewed annually to make sure it's up-to-date and relevant. Individual modules are occasionally updated or withdrawn. This is in response to discoveries through our world-leading research; funding changes; professional accreditation requirements; student or employer feedback; outcomes of reviews; and variations in staff or student numbers. In the event of any change we'll consult and inform students in good time and take reasonable steps to minimise disruption. We are no longer offering unrestricted module choice. If your course included unrestricted modules, your department will provide a list of modules from their own and other subject areas that you can choose from.
An open day gives you the best opportunity to hear first-hand from our current students and staff about our courses. You'll find out what makes us special.
Duration
1 year full-time
2 years part-time
Teaching
Your work in the design studio is supported through lectures, seminars, tutorials and practical computer work.
Assessment
You'll be assessed on course assignments, and a final design thesis or written dissertation.
Department
Come to Sheffield and join some of the best architecture students in the UK - our students have won prizes at the RIBA Student Awards and the Royal Academy Summer Show. They've been shortlisted in the European Architecture Medals and the Inspiring Graduate Awards. Our staff are doing world-class research, helping to make the school a leader in our field across the UK and internationally.
We believe in architecture that makes a difference. We know that it has the potential to improve the lives of those who inhabit and use it.
Through our internationally-acclaimed teaching and research, we explore the social, spatial and environmental implications of architecture. As a Sheffield student, you will engage with real issues affecting the built environment.
We encourage you to explore ideas and collaborate with other students. Through group tutorials and peer review you'll learn how to express your opinions, and value the opinions of others. Sheffield is the perfect place to develop your personality as a designer.
We provide a balance of theory, design work and professional experience. We have a strong design studio culture. The studio acts as a laboratory for trialling your creative and critical ideas, and for developing fundamental architectural skills. You'll share ideas during group tutorials and review other students' work. This encourages you to express your own opinion and to value the opinions of others, as you begin to develop your personality as a designer.
Student profiles
Our built environment contributes a high percentage of carbon emissions and is one of the causes for global warming. I'm hoping to apply what I learn to influence people in the building industry to consider their impact on the environment.

Chun Yuen
MSc Sustainable Architecture Studies
Entry requirements
Minimum 2:1 undergraduate honours degree in a subject related to design in the built environment, such as architecture, landscape architecture or urban planning.
You should also provide a design portfolio. See the following link for more details on What to include with your application
We will also consider your application if your degree is not design based but you have considerable professional design experience.
Overall IELTS score of 6.5 with a minimum of 6.0 in each component, or equivalent.
We use a staged admissions process to assess applications for this course. You'll still apply for this course in the usual way, using our Postgraduate Online Application Form.
Any supervisors and research areas listed are indicative and may change before the start of the course.
Recognition of professional qualifications: from 1 January 2021, in order to have any UK professional qualifications recognised for work in an EU country across a number of regulated and other professions you need to apply to the host country for recognition. Read information from the UK government and the EU Regulated Professions Database.