2023 start
September
Work Psychology
Management School, Faculty of Social Sciences

Develop the practical skills necessary for a career in enhancing organisational and personal effectiveness.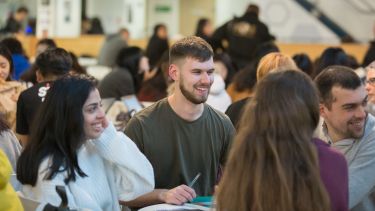 Course description
Our Work Psychology MSc is ideal for applicants who do not already have the Graduate Basis for Chartered Membership with the BPS.
You'll learn how to apply psychological theories and principles to the work environment to improve employee satisfaction and wellbeing as well as performance and productivity. You can apply these skills as a consultant to businesses or members of staff.
The course can involve a dissertation based on your interests in a real-world organisation, which will demand effective communication, negotiation and project-management skills. Alternatively, around half to two thirds of students take a project sourced through the Institute of Work Psychology's business network or the Management School's Employability Hub, solving real-world organisational issues. The dissertation project provides you with the chance to apply your knowledge to practical issues and develop organisational skills.
Throughout the course, hands-on workshops focus on developing psychology skills such as coaching, providing feedback, delivering presentations, using statistical software, group work and information management. Included in the course, at no charge, is additional training which allows you to work as a psychometric assessor for both ability and personality psychometric tests.
Recent dissertations included evaluating the effectiveness of the selection processes used by a large organisation; exploring the effects of home working on efficiency and wellbeing and; analysing the effects of workplace training interventions.
The MSc Work Psychology is not recognised by the BPS. It will help you develop the skills you need for research and practice as a work psychologist and is typically the route taken by international students. If you're already eligible for the British Psychological Society's (BPS) Graduate Basis for Chartered Membership, you can study for the MSc Occupational Psychology which is recognised by the BPS. It's possible to move from the MSc Work Psychology to the MSc Occupational Psychology if Graduate Basis for Chartered Membership is gained while on the course.
Accreditation
Modules
Work Design, Organisational Change and Development

This module locates Occupational/Work Psychology within a global context, providing students with an effective grounding for other core knowledge areas. It covers a range of topics, including organisational structure, design and culture, models of change and development, organisational effectiveness, performance and communications, the design of jobs, work systems and environments, workplace safety and methods for managing risk and reducing human error. Students also have the opportunity to critically engage with contemporary themes, such as technology-mediated work, consumer psychology and the role of social media in the workplace. Case studies, practical examples and exercises are used throughout the module to integrate theory and practice.

15 credits

Applying Psychology to Work and Organisations

This module will provide models for reflecting on evidenced based practice (e.g., the scientist-practitioner model) and specific tools (e.g., critical incident), techniques (e.g., interviewing and group facilitation) and abilities (e.g., assertive communication and conflict resolution) to enable the gathering, analysing and feeding back of data in organisational contexts. This is an interactive module consisting of theoretical and practical inputs and the opportunity to apply knowledge and abilities through discussion, individual presentation and feedback, group activities, skill development and evaluation, with the outputs being captured in critical reflection and portfolio entries. Effort has been made to match the assessment methods of this module with those used in Stage 2 of the QOccPsych so that this forms a logical progression from this module and the MSc programme.

15 credits

Leadership, Engagement and Motivation

The module aims to develop in students a critical understanding of the ways in which people lead, engage and motivate employees in context of work. Students will learn about the theory and practice of work motivation, effective team-working, performance appraisal and performance management, leadership (and destructive leadership), employee engagement, organisational power, politics and influence, and employee voice. In addition, students will learn about workplace issues concerning gender, inequality and diversity. Sessions will combine theoretical inputs with opportunities to apply knowledge through discussion, class exercises, and debates.

15 credits

Learning, Training and Development

The module aims to develop in students a critical understanding of the ways in which people learn and develop in the context of work and organisation. First, students will learn about the theory and practice of employee training, focusing on issues such as needs analysis, learning theories, different training methods and evaluation strategies. This will then be followed by a wider examination of career development activities, including coaching, counselling and mentoring. Sessions will combine theoretical inputs with opportunities to apply knowledge through discussion, case studies and simulation exercises.

15 credits

Research Methods for Occupational Psychologists

The module provides coverage of quantitative and qualitative methods for psychology postgraduates, including a critical overview of the ontological and epistemological assumptions that underlie both methods. As a result of undertaking this module, students are able to understand the rationale for using different research designs and methods. Teaching sessions use lectures, discussion, and practical exercises. The students engage in skill-based sessions in areas such as interviewing skills, theory development, and various methods of qualitative analysis such as discourse analysis, thematic analysis and interpretative phenomenological analysis. The module also covers the emerging field of evidence-based occupational psychology and innovative technologies in research methods.

15 credits

Selection and Psychological Testing in Organisations

This module covers theoretical and practical issues concerning the psychological assessment and selection of employees. An overview of the recruitment and selection process with a focus on the strategic role of employee planning and recruitment will be provided, followed by critical evaluation of different methods of selection such as interviews, focus group, psychometric testing and assessment centres. The module offers an in-depth insight into psychometric ability testing, including practices and considerations around test selection, administration, reporting and feeding back test results, assessing validity and reliability of tests, and issues surrounding equality and fairness in aptitude testing.

15 credits

Statistical Methods for Occupational Psychologists

This module covers intermediate level and more advanced statistical techniques needed in organisational research. Lectures will be used to teach the rationale behind hypothesis testing and describe the principles behind techniques such as linear regression, and exploratory factor analysis. Students will also attend practical classes in order to apply and develop their knowledge.

15 credits

Well-being and Work

This module covers one of the core knowledge areas required for Occupational/Work Psychology and explores how work relates to individual and organisational well-being by considering the role of work and employment. It will cover areas related to the employment lifecycle, patterns of work, occupational health, stress and emotions, the causes, symptoms, assessment, prevention and management of stress, bullying and harassment, positive psychological perspectives and the promotion of wellbeing. Individual differences and diversity in responses will be considered. Critical evaluation of the psychological evidence base for relevant interventions and how these might be implemented and evaluated in practice will also be discussed.

15 credits

Dissertation

Students will undertake a research project in an organisational setting under the guidance of their academic supervisor. In carrying out the study, students will apply and develop their skills in reviewing the academic literature to define key research questions, implementing appropriate research methodologies, conducting data analyses, negotiating with organisations and writing up the research for both academic and practioner audiences.

60 credits
The content of our courses is reviewed annually to make sure it's up-to-date and relevant. Individual modules are occasionally updated or withdrawn. This is in response to discoveries through our world-leading research; funding changes; professional accreditation requirements; student or employer feedback; outcomes of reviews; and variations in staff or student numbers. In the event of any change we'll consult and inform students in good time and take reasonable steps to minimise disruption. We are no longer offering unrestricted module choice. If your course included unrestricted modules, your department will provide a list of modules from their own and other subject areas that you can choose from.
An open day gives you the best opportunity to hear first-hand from our current students and staff about our courses. You'll find out what makes us special.
Duration
1 year full-time
Teaching
Lectures
Seminars
Case studies
Group work for collaborative learning
Web-based discussion groups
Assessment
Individual assignments
Group projects
Exams
Dissertation
Department
We have an international reputation for practical and real-world economics.
We are a leading business school with Triple Crown accreditation (AACSB, AMBA and EQUIS). These awards have been achieved through the outstanding quality of our programmes, research output, support for students and alumni, and links with industry. We have a world-class reputation for high quality teaching, ground-breaking research and cutting-edge thinking.
You'll be part of a dynamic and engaging business school that puts you and your future at the heart of everything it does. We balance a rigorous academic foundation with practical skills to ensure you are ready for the world of work.
We want you to develop skills so you can apply course content in a company setting. Our close links with organisations keep us in tune with the changing demands of the workplace. We know what employers are looking for.
You'll learn from experts - many are former industry professionals and they work closely with businesses. Because our academics are world-leading researchers, your education will draw on the most current management theories.
We want you to engage with the academic content, be conscientious and take an independent approach to study. We want you to be informed, innovative and proactive and do everything we can to support and enhance your career, steering you in the right direction with all the knowledge and skills you require.
You'll benefit from tailored on-site and online professional careers support, dedicated skills sessions and events with experts from world-leading organisations and professional bodies. These activities will help guide your personal and professional development to help you secure your dream placement, internship or graduate role.
Entry requirements
Minimum 2:1 undergraduate honours degree in psychology or another subject with significant coverage of psychology plus research methods.
Overall IELTS score of 6.5 with a minimum of 6.0 in each component, or equivalent.
You can apply for postgraduate study using our Postgraduate Online Application Form. It's a quick and easy process.
Any supervisors and research areas listed are indicative and may change before the start of the course.
Recognition of professional qualifications: from 1 January 2021, in order to have any UK professional qualifications recognised for work in an EU country across a number of regulated and other professions you need to apply to the host country for recognition. Read information from the UK government and the EU Regulated Professions Database.