Applications for 2024 entry are now open. Register your interest to hear about postgraduate study and events at the University of Sheffield.
2024 start
September
Composition
Department of Music, Faculty of Arts and Humanities

Immerse yourself in contemporary music, sharpen your skills and explore your creative voice. The MA in Composition is taught by a diverse team of internationally renowned composers who love to share their knowledge and expertise.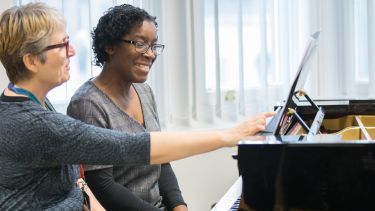 Course description
This course focuses upon composition of contemporary music and offers two distinct pathways:
Instrumental composition pathway - explore a broad range of compositional approaches and techniques with a strong emphasis on inquiry-led practice. This will include collaboration with professional performers and peers, resulting in numerous live premieres of work, and/or the scope for interacting across disciplines. You may also have the opportunity to make mixed-media work, and collaborate with artists working with other media (visual, design, text).

Electronic/electroacoustic composition pathway - explore creative applications of analogue/digital technologies, studio-based composition techniques, real-time audio processing techniques, aesthetics of sonic art, historical developments in electronic music, temporal/spatial-audio and post-digital aesthetics, amongst others.
At the start of the course, you'll be offered intensive training in the knowledge and methods of your chosen field. This is followed by opportunities for independent research and exploration. By the end you will have developed and refined your own compositional voice and will be able to situate creative work within a broader contextual framework.
The MA also includes composition for film and film sound recording, recognising training needs for those wishing to enter the creative industries as composers, sound designers and game contributors.
Sheffield is an ideal place to complete your MA in Composition. The department works closely with the University's Concerts Series and oversees ensembles such as the Symphony and Chamber Orchestras, the Chamber Choir and the Folk Group, all of which you can compose for.
The University of Sheffield Sound Studios is also home to Sound Junction, one of the UK's longest-running and most significant concert series dedicated exclusively to acousmatic, electroacoustic music. This provides students with a prestigious platform to perform their work.
Applying
You'll need to provide a portfolio with your application.
Accreditation
We are an All-Steinway School.
Modules
Core modules:
Film Sound and Composition

Film Sound and Composition equips students with the necessary skills to score to picture in styles that suit the student's compositional background and develop a 'show reel'. Students will complete two videos and a short analytical essay. At least one should demonstrate the candidate's additional skills in producing Foley, effects, sound design and dialogue.

30 credits

Influences and Inspirations: independent study of compositional practice

This module provides an opportunity for students to study the major influences on, and inspirations behind, their own compositional practice. Students on the module shall choose either an individual composer, group of composers, or compositional school, and undertake an independent study that explores their approach, compositional language, technique, and/or aesthetic concerns. Students shall choose a topic, in consultation with a supervisor, involving either analysis, criticism or reflection on an aspect of compositional practice, and use a range of written texts, testimonies, scores, recordings, performances and other relevant bibliographic sources, to address such a topic. Assessment involves the submission of an essay proposal, or plan, which is subsequently followed by a full scholarly essay submission.

30 credits

Collaborative practice, public engagement and impact

Collaborative practice, public engagement and impact' supports projects that entail an aspect of collaboration, co-operation, knowledge exchange or impact. Students are supported to form relevant partnerships within or outside the module, department, faculty or university, which may be with an/another artist or practitioner (e.g. scientist, engineer), or with a venue such as a concert hall, gallery, museum or media outlet. Within the context of these partnerships students will design and execute projects leading to a live performance, presentation or event. KE or impact-focussed projects will be mandated to involve a public audience. Projects may involve diverse media and may be presented in a live or digital/mixed format. In order to accommodate a wide range of arts and humanities practices, including novel formats engendered through the module, the assessment format will be approved on an individual basis within specified parameters appropriate to the project.
Indicative projects include:
- Collaboration with an/another artist within or outside the student's discipline to produce a new artistic work
- Collaboration with a scientist, engineer or other academic, to produce an event, experiment, demonstration or new tool
- Co-operation/partnership with an external organisation, venue or media outlet to produce or present work to a public audience
- Innovative presentation

30 credits

Composition Portfolio

Creative Portfolio invites the candidate to collate a diverse body of work, including a number of small and medium-scale projects and two large-scale projects. The total duration should be around 25 - 40 minutes of music/sound, although this will vary depending upon the nature of the project. Total number of projects should not exceed 5. Projects may include musical compositions, works of sonic art, audio-visual pieces, sound installations, web based media/events, live-electronic performances, interactive media, amongst related uses of creative media. The portfolio will be accompanied by a 2,000 word commentary.

60 credits
Optional modules - one from:
Electronic Music Techniques

Electronic Music Techniques introduces you to a wide range of compositional methods and techniques using music technology and production tools such as the Digital Audio Workstation and more specialised software.

You are encouraged to think about developing a personal voice; pushing the skills you already have acquired and using the DAW to a high degree of personalised skill. You may also develop your own tools using scripted and graphical programming techniques. 

As you progress you will bring together compositional methods of sound design, electronic and electroacoustic music, creating a solid context for your independent study in the second semester.

The module does not foreground music technologies but considers all tools from the point of view of electronic music and sound design; from mixing and EQ to experimental granular and spectral techniques.

Initial techniques will be demonstrated through the creation of a number of small etudes before composing a larger work. 

You will be expected to present and critically document your work within the context of your chosen genres (which may be multiple and diverse).

Etudes will be designed in consultation with course tutors. The final submission of no more than 10 minutes may comprise one or two works. These must demonstrate an experimental personal development and may take the form of audio compositions and performances, audio-visual pieces, installations, web-based systems, or a larger electronic work - again in consultation with the teaching team.

30 credits

Instrumental Techniques

This module will deal with the techniques and methods of instrumental composition relevant to the contemporary composer through a combination of compositional tasks modelled on the practice of a wide range of 20th and 21st Century composers.

30 credits
The content of our courses is reviewed annually to make sure it's up-to-date and relevant. Individual modules are occasionally updated or withdrawn. This is in response to discoveries through our world-leading research; funding changes; professional accreditation requirements; student or employer feedback; outcomes of reviews; and variations in staff or student numbers. In the event of any change we'll consult and inform students in good time and take reasonable steps to minimise disruption.
Open days
An open day gives you the best opportunity to hear first-hand from our current students and staff about our courses. You'll find out what makes us special.
Duration
1 year full-time
2 years part-time
Teaching
The course is taught through lectures, seminars, workshops and tutorials. These are combined with departmental study days and extracurricular listening groups, professional workshops, and performance opportunities, all of which makes for a stimulating and supportive study environment.
Department of Music students study at the heart of the campus in our Jessop Building, Soundhouse and performance facilities. We timetable teaching across the whole of our campus. Teaching may take place in a student's home.
Learn more about your supervisors

Changes to the teaching staff on the programme are possible, but are likely to include:
Assessment
You'll be assessed through practical, experiential and theoretical methods that include compositions and essays. A written essay will assess your knowledge of a broad range of current artistic practices along with your skills in evaluation, analysis and criticism, information organisation and writing.
Your career
Many of our graduates have found success in writing for film and TV, while a large number have gone onto teach or work in creative arts organisations. Others have stayed to continue their studies at PhD level, or taken up offers to study further at leading music conservatoires.
By joining a leading Russell-Group University you'll experience an outstanding teaching and learning environment. The multi-disaplinary approach will provide you with a well-rounded skill set to succeed in a wide range of rewarding career paths.
Department
Department of Music
Our department ethos combines high achievement with a sense of community and a shared passion for music. Our internationally recognised research informs our high-quality teaching and our student experience is collaborative, supportive and inspiring.
Sheffield is celebrated as one of the UK's leading music cities, with dozens of major venues from the City Hall and Crucible to Yellow Arch Studios and the Foundry, covering all music genres. This brings with it a host of opportunities for our students to get involved in professional music-making of the highest quality.
We work closely with the University's Concerts Series and oversee ensembles such as the Symphony and Chamber Orchestras, the Chamber Choir and the Folk Group, so our MA students have the opportunity to perform and develop ensemble skills with their peers.
Student profiles
MA Composition developed and strengthened my compositional voice with tutorials, live opportunities, and conferences. It gave me the opportunity to collaborate with an engineer on a very unique sound installation. Most significantly, it changed the way I think and write about music with group discussions and focused dissertation study. This is a valuable and rewarding degree for composers who welcome a challenge.

Stephen Theofanous
MA Composition
Entry requirements
Minimum 2:1 undergraduate honours degree in music or a combined degree with a substantial music component.
We may accept other undergraduate degrees in a related subject, depending on your experience.
Provide a portfolio with your application
When you apply you'll need to provide a portfolio of your compositional work. The portfolio must include one or two examples of your best work and can be in many different formats depending on your style of composition. Instrumental composers should submit copies of scores alongside recordings of any performances or midi files. Electroacoustic composers should upload soundfiles of their works.
To submit your portfolio, you should provide an online link and file to your composition portfolio in your postgraduate online application.
Overall IELTS score of 6.5 with a minimum of 6.0 in each component, or equivalent.
Fees and funding
University funding and scholarships opportunities are available each year. Please check the department funding webpages for music specific scholarships. Department scholarships details are released in the January prior to the start of your course.
Apply
You can apply for 2024 postgraduate study using our Postgraduate Online Application Form. It's a quick and easy process.
Any supervisors and research areas listed are indicative and may change before the start of the course.
Recognition of professional qualifications: from 1 January 2021, in order to have any UK professional qualifications recognised for work in an EU country across a number of regulated and other professions you need to apply to the host country for recognition. Read information from the UK government and the EU Regulated Professions Database.