2024 start
September
International Criminology
School of Law, Faculty of Social Sciences

One of only a few courses that focuses on comparative and international perspectives to explore the key issues in criminology and criminal justice globally today.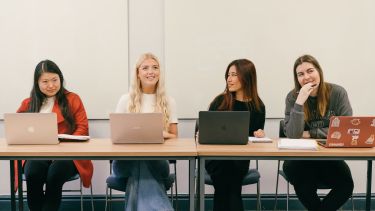 Course description
The International Criminology MA will allow you to explore key challenges in criminology and criminal justice internationally. It's designed for both those who have studied criminology previously, and those who come from law or other social science perspectives, as well as criminal justice practitioners.
Our research-led teaching draws from the research expertise of the many expert and internationally known criminology and criminal justice staff at the University of Sheffield.
This course is one of the very few that uses comparative and international perspectives to explore the key issues in criminology today.
Modules
Core modules:
Issues in Comparative Penology

This module studies punishment in its social contexts. It examines how penal systems work and in what ways they vary between different societies. The module will draw on an ongoing survey of penal systems in twelve countries. Students of different nationalities will have every opportunity to discuss and compare their own countries' experiences. Topics covered will include sentencing, imprisonment, non-custodial penalties, young offenders, privatisation of punishment, penal philosophies and the sociology of punishment.

15 credits

The Research Process

This module provides an introduction to the principles and practices of social science research. It will provide an overview of key concepts and distinctions, such as between epistemology and ontology, methods and methodology, subjectivity and objectivity, inductive and deductive reasoning, as well setting out some of the main principles of ethical social science research. It will also encourage students to critically reflect on how to put these principles into practice. It will teach students how to conduct literature searches, as well as exploring some of the main data collection and analysis techniques used in social science research, and how research studies are designed.

15 credits

Responding to Crime in Europe

This provides an introductory examination, at Master's level, of the levels of crime and the approaches taken in responding to crime across Europe. The focus will be comparative, considering the levels of victimisation, criminal justice organisation, and crime prevention initiatives that have been taken and put in place in different European countries.

15 credits

The Cultures of Criminology

Criminology is a subject area to which the academic disciplines of sociology, psychology, economics and law are brought to bear. This module explores the cultures of criminology - what criminologists take for granted as common-sense about the theory and methods they use to explore various subjects - to discover the very different theoretical and related methodological assumptions made by criminologists of particular academic persuasions. This aids our understanding of the benefits and shortcomings of choosing one theoretical perspective over another, and of the complexities of cross-cultural, comparative research. All of which has direct relevance to what could be called 'applied criminology' - the world of policy and administration.

15 credits

Dissertation (International Criminology)

Students must complete a 10,000-12,000 word dissertation on a legal topic of their choice within the field of international criminology. The dissertation gives the student the opportunity to explore an area of their interest in some depth. To achieve a masters standard the student is required to demonstrate an up-to-date critical analysis of the topic chosen for discussion.

60 credits
Optional modules - examples include:
Crime and Globalisation

The module examines crime in global perspective, including crime problems that have typically gone below the criminological radar and crime problems of the Global South. The module will examine crimes that cross national borders, new forms of (often organised) crime, crimes comitted by nation states, 'crimes' in zones without law and new, transnational, definitions of criminal conduct. In this module students will encounter case studies of crimes from a variety of global locations and will engage with up to the minute criminological research and theorising that attempts to understand and explain crime in a global context.

15 credits

Criminality, Victimhood and War

The module will examine the contested nature of criminality and victimhood within the context of war. Set against the backdrop of the post-9/11 War on Terror, it will explore how states, soldiers, contractors and civilians can all be characterised as both criminals and victims.

15 credits

Global Terrorism and Counterterrorism

This module critically examines terrorism and counterterrorism, and its impacts on law, criminal justice, and security. It draws on theoretical, legal and empirical terrorism research, and case studies from the UK, USA and other jurisdictions as well as considering efforts to define terrorism, and explores the roles of the media and social media in framing terrorism. The module examines efforts to combat terrorism through new legislation, policing, application of exceptional government powers, and community-based initiatives alongside exploring intended and unintended consequences of counterterrorism, including impacts on targeted communities and legitimacy implications.

15 credits

Gender and Violence

Gender and Violence focuses on inter-personal violence - sexual violence; 'domestic' violence; 'domestic' murder; male-on-male violence; and child abuse. The module examines whether and how extreme violence could be theorized as gendered. It explores how sexual and 'domestic' violence have been and are represented in popular discourse; in the law; in criminal justice processes; and in service provision and it traces developments in these areas, using case-studies and international comparisons.

15 credits

International Criminal Law

This module examines the material and subjective elements of international crimes namely, the crime of genocide, crimes against humanity, war crimes, and the crime of aggression; the criminal responsibility of individuals, and the mechanisms for the prosecution and punishment of the offenders. It also considers alternative methods of attributing justice. The module will mainly focus on the International Criminal Court and its jurisprudence and on the jurisprudence of the Yugoslav (ICTY) and the Rwanda (ICTR) Tribunals.

15 credits

Methods of Criminological Research

This is an advanced course in criminological research methods, building on the knowledge acquired in the first semester. It will further develop students' appreciation of the relationship between theory and methods, research design, and particular techniques, as applied in criminology. The module will focus in particular on evaluation. It will cover the theoretical basis of evaluation, and the application of evaluation methodology to interventions with individuals (such as treatment programmes), and communities (such as crime prevention and community safety programmes).

15 credits

Policing and Society

The aim of the module is to explore relationships between the police, citizens and their wider socio-political context. After all, the police are the 'litmus paper' for the unfolding dynamics of society. The module starts by familiarising students with key concepts, such as discretion, coercion and accountability. The module then goes to explore in-depth the history of policing, theories of policing, police powers and citizens' rights, community policing and patterns of policing in late-modern global societies, including civilianisation, privatisation and transnationalisation. This module draws partly on empirical evidence from England and Wales and other common law jurisdictions, but is also grounded in sociological theories about policing and society.

15 credits

Media, culture, crime and punishment

This module critically explores how meanings around criminality and criminal justice are constructed, perceived and contested through a range of different cultural forms and practices.

The module will support students to examine the role of cultural representations of crime in reproducing and resisting/contesting intersecting structural inequalities of race, gender, and social class across different geographic contexts.

Students will be supported to critically consider questions including:

How are crime and punishment portrayed in popular culture, political discourse and news coverage?

How do these cultural representations shape our understandings of, and attitudes to, crime and criminal justice?

How have activists, artists, academics and others sought to challenge and contest some of the dominant representations of crime and punishment that dominate popular culture?

Through a series of interactive workshops, we will focus on empirical examples and case studies from a range of contexts to consider how crime and criminal justice are represented in popular culture and public debate. We will explore and engage in current debates, asking if the burgeoning popularity of 'true crime' series has made us more concerned about serious crime; how we might read representations of police in film and television programmes as forms of 'copaganda'; and how media depictions of urban unrest shape criminal justice reactions to it.

15 credits
The content of our courses is reviewed annually to make sure it's up-to-date and relevant. Individual modules are occasionally updated or withdrawn. This is in response to discoveries through our world-leading research; funding changes; professional accreditation requirements; student or employer feedback; outcomes of reviews; and variations in staff or student numbers. In the event of any change we'll consult and inform students in good time and take reasonable steps to minimise disruption.
Open days
An open day gives you the best opportunity to hear first-hand from our current students and staff about our courses. You'll find out what makes us special.
You may also be able to pre-book a department visit as part of a campus tour.Open days and campus tours
Duration
1 year full-time
2 years part-time
Teaching
Teaching in each module is through seminars.
Assessment
Most modules will be assessed by 3,000 words of written work in the form of an essay.
Your dissertation will report on research on a topic relevant to the course and agreed in consultation with a supervisor.
Department
School of Law
At the School of Law, you will learn to identify and address the complex legal, moral, ethical and social questions that underpin the law. You will be taught by academics, some of whom are practising legal professionals, that are researching at the cutting edge of law and criminology. Our commitment to research-informed teaching means their discoveries become yours, as this research filters into teaching.
Our courses have been developed in consultation with the legal profession and have a strong international focus to develop you into a highly employable graduate. Top law firms regularly visit us to meet our students and take a hands-on approach by contributing to your wider education. They also interview our high-achieving students for jobs.
Our school is acclaimed for its exceptional research performance, aided by our world-leading academics, as well as our pioneering research centres and projects. 91% of our research is rated in the highest two categories in the REF 2021, meaning it is classed as world-leading or internationally excellent.
We endeavour to help you build the employability skills that employers value. At the School of Law we have a dedicated pro bono centre offering you a range of practical experiences. You will have the opportunity to work in our FreeLaw Clinic, fight injustice with our Criminal Justice Initiative and Miscarriages of Justice Review Centre, and gain work experience with our commercial clinic for start up businesses, CommLaw, delivering legal advice on commercial legal issues.
You can also provide practice support to litigants in person with Support Through Court and have the opportunity to get involved with local projects and charities such as Victim Support and Citizen's Advice Sheffield.
You'll be based at Bartolomé House, where you will learn through a variety of lectures, tutorials, seminars, and group work. You can also enhance your degree by taking advantage of our careers and employability sessions and there are also a variety of student societies that you might join. This includes the student-run Edward Bramley Law Society.
Entry requirements
Minimum 2:1 undergraduate honours degree in a relevant subject, such as criminology, law or a related social sciences or humanities subject.
Overall IELTS score of 6.5 with a minimum of 6.0 in each component, or equivalent.
Apply
You can apply now using our Postgraduate Online Application Form. It's a quick and easy process.
Contact
Any supervisors and research areas listed are indicative and may change before the start of the course.
Recognition of professional qualifications: from 1 January 2021, in order to have any UK professional qualifications recognised for work in an EU country across a number of regulated and other professions you need to apply to the host country for recognition. Read information from the UK government and the EU Regulated Professions Database.