Psychology students successfully complete mental health placements abroad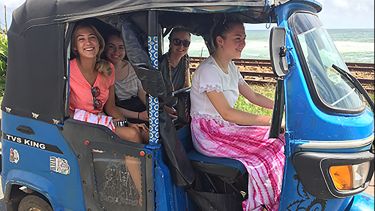 Securing a place on a Clinical Psychology Doctorate is highly competitive so current University of Sheffield BSc Psychology students, Chloe Robinson and Charlotte Pritchard, decided to venture further afield this summer to gain the crucial experience they need to make them stand out from the crowd, travelling abroad to participate in a Mental Health Placement with SLV.Global.
During their placements, Chloe and Charlotte were trained and supported by local professionals to help equip them with the skills to work sensitively within another culture, and in often under-resourced facilities and challenging environments.
---
I've learnt valuable skills whilst having fun and it will be something that stands out on my CV

Charlotte Pritchard

BSc Psychology student
---
For 4 and 5 weeks respectively, Chloe and Charlotte worked with service users of all ages, backgrounds and abilities on their placement and facilitated fun, meaningful sessions to increase intellectual and social stimulation, as well as much-needed human contact to individuals who, due to a lack of resources, are often treated with medication alone.
Talking about her placement, Chloe said:
"It was a fantastic opportunity for me to experience how the beliefs and treatments for mental illness in different cultures contrast those of the West so starkly. I would recommend it to anyone who wants to gain a new perspective on mental health and wishes to gain invaluable experience and confidence working with individuals with a broad range of mental health difficulties."
Charlotte added:
"The work you do is so enjoyable and engaging and it's amazing to see how much you can brighten up the service users' day - you yourself learn so much in the process of working with them, too. I've learnt valuable skills whilst having fun and it will be something that stands out on my CV, I could talk about it to a potential employer for hours!"
SLV.Global is a mental health organisation which provides psychology students and graduates the opportunity to gain practical psychology work experience in various unique, professional settings abroad.
Placements offer participants the chance to increase their knowledge of global mental health at the same time as putting their existing skills to good use.
SLV.Global places students from over 120 universities worldwide every year and in 2018, 14 students from the University of Sheffield successfully completed mental health placements with the organisation, gaining the hands-on, cross-cultural experience necessary to get ahead in the increasingly competitive mental health sector.
Explore the University
Discover why Sheffield is the right choice for you at one of our open days or events.