Crop and Soil Innovation Pipeline launch event
This event is currently postponed. Please check back for rescheduling announcements.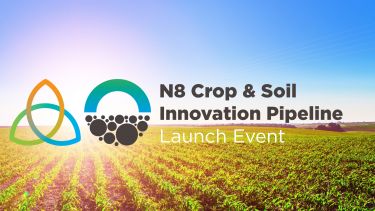 We are delighted to host the launch of the Crop and Soil Innovation Pipeline here in Sheffield.
The Crop and Soil Innovation Pipeline (CSIP) is an online portal where partners can access the expertise and facilities of all N8 Universities, delivering an innovation platform that integrates from fundamental crop and soil science to state of the art farms to generate transformative solutions for the AgriFood sector.
Addressing the challenge of increasing global food production (60% more food is needed worldwide by 2050) requires a resilient and sustainable approach that will reduce emission and waste whilst improving soil function.
Each of the N8 Universities has access to unique and cutting edge technology platforms, as well as strength in interdisciplinary expertise in the AgriFood sector. Despite their close geographical proximity, many of these resources are not fully exploited by systems level linkage between universities or with industrial collaborators. No other UK grouping has this breadth of expertise and infrastructure across the crop and soil research area. This unique strength allows CSIP to act as a single portal to integrate this expertise and infrastructure to create a hub that brings together businesses, farmers, and academics to actively generate significant, lasting transdisciplinary solutions to meet the challenges of sustainable agriculture.
To celebrate the launch of this exciting platform, we are inviting academics from each of the N8 Universities, their industry partners, and representatives from major funding bodies to take part in an industry innovation forum with the aim to drive breakouts and develop projects in areas related to innovation in crop and soil research.
Event details
TBC
Flagship institutes
The University's four flagship institutes bring together our key strengths to tackle global issues, turning interdisciplinary and translational research into real-world solutions.