Our Early Career Researcher group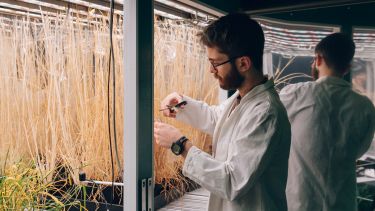 About the Early Career Researcher group
The Institute for Sustainable Food launched its new Early Career Researcher (ECR) group at the start of the 2021-22 academic year. The group has three core focuses;
First, the group aims to provide an informal social space for the Institute's growing community of early career researchers 

Second, the group aims to facilitate interactions with other ECRs and staff members based at the University of Sheffield, with a focus on social, networking and career development opportunities

Third, the group aims to engage with ECRs working in similar fields both in the United Kingdom and abroad, for example, by organising topical seminar and symposium events
Participation in the group is open and free to anyone and everyone who identifies as an early career researcher associated with the Institute for Sustainable Food, either directly or through a supervisor's affiliation. Although we recognise that different definitions of 'early career researcher' exist, our current definition has been kept as open as possible to include the broadest diversity of colleagues and backgrounds. The group is currently composed of members from nine different departments at the University of Sheffield, ranging from Geography and Economics to History and Biosciences. 
How to join the group
If you're an early career researcher affiliated with the Institute for Sustainable Food and you would like to be added to the group's mailing list, please follow these instructions to join our Google Group:
Log into MUSE and go to My Services > View All Muse Services > Google Groups, and under 'All Groups and Messages' search for 'ISF-ECR', click 'Ask to join group'.
We look forward to growing our community of early career researchers. 
Contact our steering group members

Our members