Food Systems and Practices: Past, Present and Future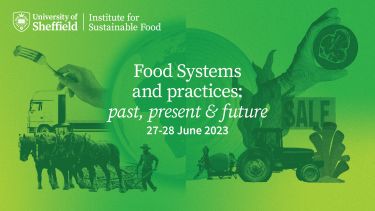 To register, please email fspsheffield@gmail.com for more details.
---
Description
Tuesday 27th June 2023
9am: Welcome
Welcome and Introductions (Peter Jackson & Phil Withington)
9.15 - 10.45: Session One
John Ingram (Oxford), Food Systems Past and Future
Alan Warde (Manchester), Practice Theory and Changing Eating
Peter Scholliers (Vrije, Brussels), 'The "Bread system" in Belgium between 1850 and 2020
10.45 - 11.00: Break
11.00 – 12.30: Session Two
Laurent Brassart (Lille), Building a New Food System in France During the Revolution and the Napoleonic Empire
Anna Knutsson (Upsalla), Smuggling as Food Systems in the 18th C North Sea Region
Spike Sweeting (V&A), Food and the British state, 1660-1800
12.30 - 13.30: Lunch
13.30 - 15.00: Session Three
Dr Anna Davies-Barrett (for the Tobacco, Health & History Project, Leicester), The historic health impacts of the commodification and consumption of tobacco: an osteoarchaeological perspective
Jessica Cronshagen (Oldenburg), "I could never bring myself to eat lizard, nor monkey": Writing about food in the chronicle and the letters of the missionary Christlieb Quandt (1740-1824) in colonial Suriname
Noha Saada, Caroline Oates and Panayiota Alevizou (Sheffield), Effects of inherited traditions on food consumption practices in Egypt
15.00 - 15.15: Break
15.15 - 16.45: Session Four
Amanda Herbert (Durham), "Them that are stale would not be acceptable": the Challenges of a Seventeenth-Century Grocer's Supply Chain
Łukasz Łucza (Rzeszów), Diachronic changes in the use of wild vegetables and mushrooms in Polish cuisine
Nathan Smith (Museum of Wales), The Kitchen or the Cabinet? The role of mushrooms as food in early taxonomic mycology 
16.45 - 19.00: Visit to Locksley Distillery
19.30: Conference Dinner, TBC
Wednesday 28th June 2023
9am - 10.30: Session Five
The FoodCult Project, Food, Culture, and Identity in Ireland, 1550-1650
10.30 - 10.45: Break
10.45 - 12.15: Session Six
Hanna Hodacs (Uppsala), Imitating chocolate 18th century Sweden – the role of substitutes bridging early modern and modern consumption of exotic goods 
Annika Raapke (Uppsala), Some Reflections on Chocolate Balls – or: Maintaining 18th century colonial food systems during wartime
Gabrielle Robilliard (Oldenburg), Hooked on retail: How colonial production of intoxicants altered the urban retail landscape in eighteenth-century Hamburg
12.15 - 13.15: Lunch
13.15 - 14.45: Session Seven
Panayiota Alevizou (Sheffield), Consumers and Sustainability Claims
Nicholas Groat (Sheffield), Craft, Community, and Continuity: An Archaeological Perspective on the Craft Alcohol Industry
Graeme Heron (Sheffield), Food Hubs & Reprovisioning as Facilitation for Food Democracy & Food Citizenship: Lessons from Food Works Sheffield & Fareshare North East
14.45 - 15.00: Break
15.00 - 16.30: Session Eight
Renée Girard (McGill), The Mi'kmaw chiquebi, the case of the dismissed root
Monika Kujawska (Ludz), Imbrications of traditional subsistence agriculture and market-oriented livelihoods: the case of the Ashaninka indigenous group from Peruvian Amazonia
Rachel Winchcombe (Manchester), Rethinking Food Gifts: Algonquian Food Practices in Seventeenth-Century Tsenacommacah
16.45 - 18.00: Concluding Roundtable
Dan Gosling, The National Archives
Gareth Roberts, Regather
Polly Russell, British Library
Nathan Smith, Museum of Wales
Spike Sweeting, Victoria and Albert Museum (V&A) 
---
Location
53.381260850166, -1.4787993
Events at the University
Browse upcoming public lectures, exhibitions, family events, concerts, shows and festivals across the University.