Planet to Plate: a three-day festival of talks, performances and live events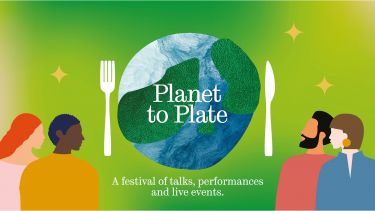 Event details
Time slots are 10:00-12:00, 14:00-16:00 and 18:00-20:00 over three days
---
Description
Planet to Plate was streamed live 15-17 June. You can catch up on all of the events below. 
---
The world is fast approaching the limit of its ability to feed itself.  The agri-food system is under unprecedented pressure. There have been massive shifts in how food is produced and how it is consumed.  Driven by a rising population, together with global demographic and dietary shifts, these changes are occurring in the face of depleting natural resources and a changing climate.  Together these changes are placing limits on the amount of food we can grow and where we can grow it. 
The Institute's vision is to find new ways to understand the complexity of the agri-food system, integrating across the domains of production and consumption and embedding the needs of a wide range of stakeholders from consumers and farmers to the wider business community, NGOs and government. 
Our unique approach recognises that achieving a sustainable food future is as much a socio-cultural problem as it is technological, understanding the global nature of the food system while appreciating that its impacts can be both local and global in scale. 
The Planet to Plate programme illustrates the power of collaborative research to address the grand challenges of food security and sustainability at all scales, from the planetary (global) to the domestic (household) scale.  Much of our research involves collaboration across disciplinary boundaries including innovative work with visual and performance artists.  
The Planet to Plate festival is a celebration of our work, exemplifying its transformative potential to address some of the most urgent challenges in 'feeding the world', now and in the future.
---
Events menu
In conversation with Duncan Cameron and Peter Jackson.
The Institute for Sustainable Food's directors discuss the power of collaborative research to meet the grand challenges of food security and sustainability. 
Watch again:
 Ryan Taylor: Aquakulture.  
A mixture of video and live musical performance based on Ryan's collaborative work with plant scientist Duncan Cameron.
Watch again:
Fishy business @ Club Garden mini-farm.
Hamish Cunningham and Gareth Roberts take you on a virtual walk-through of Sheffield's new aquaponics mini-farm and discuss how urban farming can contribute to food resilience.
Watch again:
Make it grow. 
Pamela Richardson-Ngwenya hosts a video screening and discussion, that showcases a series of participatory videos that pitch ideas for Zimbabwean community food projects. The community video-makers will be present to answer questions about their projects and videos.
Watch again:
Bittersweet air.
Anthony Bennett and Tim Daniell, present Gisele: Bittersweet Air.  A seriously playful collaboration between an artist, a drag queen and a natural scientist, designed to raise awareness and understanding of nitrous oxide emissions in modern agriculture.
Watch again:
Desert Garden
Tony Ryan and Moaed Al Meselmani discuss the award-winning Desert Garden project that has used recycled mattresses and hydroponics to grow food in the Za'atari refugee camp in Jordan.
Watch again:
Household food insecurity in the UK.
Hannah Lambie-Mumford with Rachel Loopstra and Katy Gordon discuss the government's response to COVID-19 and its implications for household food insecurity in the UK.
Watch again:
Forgotten food.
Siobhan Lambert-Hurley with Tarana Khan, Sadaf Hussain, Razak Khan and more present Forgotten Food a project that is connecting history to food sustainability in India through the revival of heritage rice, vintage recipe demos and oral storytelling. 
Watch again:
Values-based food systems: from shared vision to shared reality.
Gareth Roberts from Regather in conversation with Caroline Hart, will explore pathways to values-based food systems and their potential contribution to transforming food sustainability in Sheffield and beyond.
And a word of thanks from us
---
And here's a little taster video about our Institute...
Events at the University
Browse upcoming public lectures, exhibitions, family events, concerts, shows and festivals across the University.