New installation questions the place of food in contemporary society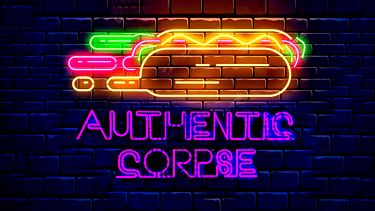 A new collaboration between Professor Peter Jackson, Co-director of the Institute for Sustainable Food, and artist Anthony Bennett will be on display at Festival of the Mind 2022 (15-25 September) in Sheffield's Millennium Gallery. 
'Authentic Corpse' explores the cultural meanings of food through an installation inspired by the parlour game, Exquisite Corpse, where a distorted body emerges from a series of separate drawings of head, body, legs and feet.
The collaboration builds on two research projects led by Professor Peter Jackson. The first was an ESRC-funded project which challenged widely-accepted ideas about the role of 'freshness' in the UK and Portuguese agri-food sectors, and the second is the H3 project, funded by the UKRI's Strategic Priorities Fund.
The installation uses four screens to represent the four sides of folded paper found in the original parlour game, as well as a morgue trolley. The appearance of the four screens will constitute a 'cadaver' in four parts. 
The juxtapositions of images on the screens will be intentionally random so that viewers can make their own links between the screens: their own 'Authentic Corpse'.
Beside the trolley are six stainless steel sinks with mirrors in each, reflecting the viewers' faces. The installation also includes clear flexible tubing containing liquid that is continually pumped around the screens and trolley, and into the sinks. 
The installation invites viewers to question what's in the tubes and what role they play in the piece, whether it's gravy or blood, if it's fresh or waste, or if it's being disposed of.
Reflecting on our relationship with food, the collaboration will challenge linear views of the food supply chain, using familiar images and provocative juxtapositions to examine the complex nature of culinary culture and conventional ideas of authenticity. 
Anthony Bennett, who is also an Honorary Research Fellow for environmental advocacy at the intersection of Science and Contemporary Art at the Institute for Sustainable Food, said: "From ghost kitchens and fictive kin, to meals on wheels and prison riots. Blimey, what a joy of a collaboration. Just eat? Hmmm…"
Professor Peter Jackson, Co-Director of the Institute for Sustainable Food, said: "It's been wonderful to work with Anthony on this piece which has been a creative collaboration from start to finish. Our regular meetings have sparked endless new ideas and conversations which have been both challenging and fun."
Festival of the Mind is an 11-day festival which sees Sheffield's cultural, creative and digital industries collaborate with some of the city's brightest academic minds to help bring their research to life in exciting, entertaining and innovative ways.
For more information on Festival of the Mind, including the full programme of events, visit: festivalofthemind.sheffield.ac.uk/2022/