New reports show how local areas across the UK responded to household food insecurity during COVID-19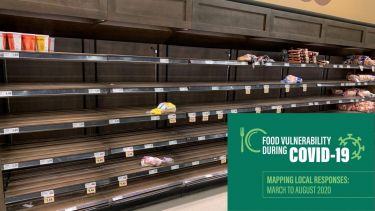 The new reports are part of the 'Food vulnerability during COVID-19 project' which is funded by the Economic and Social Research Council (ESRC) as part of the UK Research and Innovation's rapid response to COVID-19.

The collaborative project is led by Dr Hannah Lambie-Mumford from the University of Sheffield's Institute for Sustainable Food, and Dr Rachel Loopstra from King's College London, in partnership with Simon Shaw from the food and farming charity Sustain. 
The reports draw on 14 in-depth qualitative case studies of local authority areas in England, Northern Ireland, Scotland and Wales. The research highlighted the unprecedented scale of local responses to food access issues between March and August 2020 - the period of the first UK lockdown. 
Local responses included work by new and existing food providers from across different sectors. Working practices were also overhauled and extensive partnership and collaborative working took place. 
There were new levels of funding for food provision that have not been seen in recent times and new groups of volunteers, organisations and companies became involved in food support for the first time. 
The reports published today include:
A detailed comparative report presenting findings from a cross-case analysis of 14 local case studies, and an accompanying executive summary of the report.
Eight case study reports that map local responses in Argyll and Bute, Belfast, Cardiff, Derry and Strabane, Herefordshire, Moray, Swansea, West Berkshire.
A methodological appendix setting out the research methods that were undertaken in each local area case study.
A full report on local responses to household food insecurity during COVID-19 across the UK which includes all case studies, cross-case analysis and the methodological appendix. 
Find out more about the 'Food vulnerability during COVID-19 project'