You are viewing this course for 2023-24 entry. 2024-25 entry is also available.
Key details
A Levels

ABB


Other entry requirements
UCAS code

X300

3 years

/

Full-time

September start
Optional placement year
Study abroad
Course description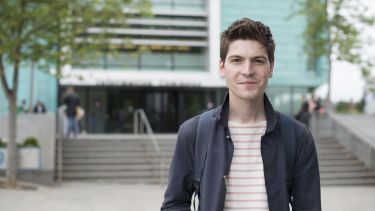 Our course is one of only a few in the country to combine education and childhood studies. You'll investigate different perspectives - philosophical, psychological, sociological, historical - to get a 360-degree view on educational theory, policy and practice.
You'll discover some of the key issues surrounding child development and child psychology, and explore the themes that shape current educational policy and practice. The Employability Skills Development module in the second year will help to develop your knowledge and skills in the professional environment through a work placement or work-based project.
Work placement

Work placements are provided in year 2, semester 2 where possible (according to external circumstances). Support will be provided in selecting an appropriate setting, and the placement can be undertaken any time between the start of the spring semester and the end of the summer vacation. The placement will be undertaken on a voluntary basis and you will be required to produce a detailed learning journal offering a reflective account of your experiences.

In the past, placements have been taken in a variety of organisations including primary schools, nurseries, special educational needs schools, CAMHS Services, Sheffield City Council Young People Services, educational theatre groups and educational trusts such as farms and museums.

If you go on a work placement, you might first need to undergo a Disclosure and Barring Service (DBS) check, which is funded by the School of Education. Non-UK clearance is necessary if you've spent three consecutive months or more in any other country in the past five years. It is often easier to obtain the clearance while in residence in the relevant country. The clearing will become invalid if you return to that country for a period of three consecutive months or more prior to the placement.
In the first year, you'll take modules in child psychology and the sociology of education. You'll develop practical skills in discerning data to help you become a critical researcher. You'll also have the opportunity to study histories of education, explore the curriculum and look at how childhood has been portrayed in different societies at different times.
In the second and third years, you choose from a list of subjects. Topics cover areas such as educational psychology, learning theory, globalising education, children and digital cultures, philosophies of education and education policy. We'll also train you in educational research methods. There's a small-scale research project in the second year and an extended dissertation in the third year.
Modules
A selection of modules are available each year - some examples are below. There may be changes before you start your course. From May of the year of entry, formal programme regulations will be available in our Programme Regulations Finder.
Choose a year to see modules for a level of study:
Title: Education, Culture and Childhood BA course structure
UCAS code: X300
Years: 2022, 2023
First year
Core modules:
Education, Power and Society: Introduction to the Sociology of Education

This module explores the relationship between educational institutions/cultures/systems and social inequalities. We focus on class, gender, ethnicity and disability and look at the ways in which education systems serve to tackle or reproduce patterns of inequality and relations of power. The module also evaluates different policy frameworks and goals. For example, whether the focus of education policy should be placed on nurturing active citizenship (and what this would look like) or whether the main priority should be to serve the needs of the economy (and how this might be achieved).

20 credits

Making Sense of Education: Facts, Fiction and Data

Politics, practices and media discourses related to Education, frequently invoke 'evidence' or statistical reasoning in an attempt to persuade. These approaches can be deliberately misused or accidentally misleading. This module will equip you with the knowledge you need to become a discerning data user and critic through a mix of active learning, seminars and computer workshops. You will develop practical skills to support your engagement with 'evidence' throughout your studies, explore a range of issues in qualitative and quantitative research design, and create a foundation for your future development as a critical researcher.

20 credits

Child Psychology

This module explores the relationship between psychological theory and educational policy and practice, considering some of the ways in which Education and Local Authority services have been influenced by ideas about children developed in psychological research. Some of the core concepts of Psychology are introduced such as cognitive psychology (intelligence, language and learning), behaviourism (including modification techniques), social and emotional development (including family and attachment, trauma) as well as the study of individual differences (with reference to psychopathologies such as autism, attention deficit/hyperactivity disorder).

20 credits
Optional modules - two from:
The Digital University

What is it like to be a University of Sheffield student, without ever setting foot on campus? What can learners in Mumbai, Adelaide, Capetown, and Shanghai learn from each other? And what new possibilities and challenges are digital technologies opening up for higher education? These questions, and more, will be explored in this module about online, distance, and blended learning: all forms of digital learning where students can be based anywhere with an internet connection. An experience of digital learning is part of the module, and participants will both take an active role in and learn from this experience.

20 credits

Critical Curriculum Study

The curriculum is often taken for granted by those who experience it, such as parents, students and teachers. This module poses questions about curriculum - what is it and who is it for? Different perspectives on curriculum are explored to establish a framework for critical curriculum study. After examining school curriculum reform both in England and in international contexts, the module will focus in depth on a single case study curriculum in England. This focused study will be carried out from the perspective of curriculum history, policy reform, analysis and implementation through research involving classroom-based curriculum development.

20 credits

Social and Historical Constructions of Childhood

In this module students will explore how childhood has been portrayed across different societies and at different times, and will examine how childhoods are shaped and influenced by the societies in which children live, learn and are cared for. Through a series of lectures, group work and individual study tasks, students will think about the ways in which childhood has changed over time and how different views and perspectives on childhood create different expectations of children. Through the study of historical and social constructions of childhood, students will develop a fuller understanding of how ways of working with children can be shaped by external influences.

20 credits

Histories of Education

This unit introduces students to a range of historical perspectives on education. It takes a critical historical approach to understanding the development of educational ideas, systems and practices by drawing attention to different cultural and historical contexts. In helping students question and challenge dominant ideas about education and its purposes, it will engage with and critique the philosophy of history to explore possible links between historical investigation and present day understandings of education. Topics include: the nature of history, early conceptions of education, education in pre-modern and modern contexts, development of mass schooling, histories of education, social justice and meritocracy.

20 credits
Plus one or two other optional modules.
Second year
Core module - Employability Skills Development:
This module helps you to develop your knowledge and skills as well as to apply these to a placement or work-based project. You will be supported to select an appropriate placement or work-based project, and produce a learning journal offering a reflective account of the experiences gained on this module. The critical, reflective, and analytical skills developed will help you to become a highly employable graduate with the skills to meet your career aspirations.
Other core modules:
Understanding Education: Research and Researching

This module explores a range of methodologies, methods and styles of re-presentation and reporting that are used in educational research. It also examines a number of important philosophical, practical and ethical issues, including: the inherently social nature of research; the moral responsibility researchers bear; approaches to qualitative and quantitative data analysis; and the influence of researchers' beliefs and values on the research that they do. The aim of this module is to equip students with the skills, knowledge and awareness needed to critically engage with a range of research publications and to conduct research of their own.

20 credits

Research Project in Education, Culture and Childhood

The aim of the module is to allow students to design and manage their own small scale research project. The objective is to give students the opportunity to engage with all the stages necessary in the planning and implementation of successful research, from the crafting of an appropriate set of research questions, through ethical review, literature search, data collection, analysis of findings and dissemination of results. Tutorial support will be provided by a supervisor, whose role will be to provide guidance and constructive formative feedback.

20 credits
Optional modules - two from:
Children and Digital Cultures

Digital technology has transformed the lives of many, impacting on culture and society. Many young people have quickly seen ways of extending and deepening social networks through their uses of technology, and immersed themselves in Virtual Worlds, Facebook etc and enjoyed browsing on shopping sites. This module examines new technologies and associated social practices impacting on children's lives, considering the nature of new digital practices and how these affect identity, society and culture. Educational implications of new technologies is a developing field of research and students will engage critically with debates within the field alongside examining websites and new practices.

20 credits

Psychology and Learning Communities

This module explores learning as conceptualised by different approaches within the broad umbrella of psychology. It examines how and why these different approaches emerged, how they compare to one another, and how they have come to inform different understandings of what learning is, how it happens and how it might be facilitated. It also explores how these different conceptualisations have come to impact individual learners, and particular learning communities. Critical attention is drawn to the way in which language facilitates social practices including those involved in the construction of different kinds of knowledge. In this sense, knowledge relates to formal conceptualisations of learning provided by developments in scientific disciplines (e.g. psychology) and the social sciences (e.g. education and sociology). It is also concerned with informal understandings such as the continual constitution of learner's identities through social engagement. The module aims to challenge notions of learning as an individual enterprise and to support students in critical reflection upon their own learning experiences in connection to the approaches discussed.

20 credits

Dimensions of Education Policy

This module looks at key issues in education policy. We will explore the origins and evaluate the success of the comprehensive system; look in detail at the debates surrounding grammar schools, faith schools, Academies and free schools; assess a range of policies designed to tackle education disadvantage; critically explore the politics of teaching and assessment; and reflect more generally on the discourse of choice and diversity that frames current education policy as a whole.

20 credits

Critical Issues in Teaching

This module introduces you to key issues and roles involved in being a teacher. It is suitable for those who definitely want to teach and those who have not yet considered teaching as a career. The focus of the module is teaching in England. It covers teaching across the age range, with sessions devoted to early years, primary, secondary and further and higher education. The module also deals with issues such as assessing students' learning, managing challenging behaviour, working with parents and other professionals. By the end of the module you should have a clear idea of what's involved in 'being a teacher'.

20 credits

Critical Psychology and Education

This module introduces different approaches to conceptualising learners and learning which fall within the broad field of critical psychology. The module begins with an introduction to the development of mainstream psychology in Europe and America, and an exploration of the subsequent development of alternative and critical psychological perspectives. Within the broader critical psychology landscape are a number of different threads (such as discursive psychology, indigenous psychology and feminist psychology). This module will examine the key principles of these various critical psychological perspectives with particular attention to their concepts of learning, learners, and learning communities. It will offer a challenge to some of the dominant ideas around learning which have emerged from mainstream fields of psychology since the 19th Century.

30 credits
Plus one or two other optional modules.
Third year
Core modules:
Philosophies of Education

This module will explore the importance of philosophy to the study of education. It covers key moments in the history of Western philosophy, focusing on the question of modernity (What is modernity? What are its ramifications for education?). The module will investigate the consequences of late modernity for present day education, a period in which the aims and purposes of education have become increasingly unclear, leaving education open to the rise of instrumentalism and the forces of capital. Overall the module offers a critique of common assumptions in education, provoking questioning about its nature and purposes.

20 credits

Dissertation

The aim of the dissertation is to enable students to advance their knowledge of education and childhood studies by pursuing an independent research project on a relevant chosen topic. Students completing the dissertation will have examined a subject in substantial depth, shown evidence of an ability to undertake sustained critical analysis, developed and improved their research skills, and produced a long piece of written work that demonstrates a detailed and sophisticated understanding of a particular area of relevance to the BA (Hons) Education, Culture and Childhood. Students will study a disseration of their choice that relates to their programme and staff expertise.

40 credits
Optional modules:
Psychoanalytic Perspectives of Infancy and Childhood

This module explores the relationship between psychological theory and experience. Students drawn to the study of psychology are presented with a curriculum comprising subjects (memory, perception, language, cognition, development, emotion) they have spent a lifetime experiencing. Hence psychology as a scientific study presents a unique experience for the student, learning what in an experiential sense is already known. This module introduces reflective models of inquiry in which psychological understanding is sought through the exploration of preconceptions transmitted within psychology and psychological education. This module also explores psychological approaches that illuminate different orientations to childhood experience and the implications for these different approaches for the knowledge generated.

20 credits

Education@Sheffield

In Education@Sheffield students are invited to explore and evaluate the rich and diverse research taking place within the School of Education. Through a series of seminars presented by active researchers, students are encouraged to critically engage with research - and the researchers themselves - in the fields of educational and childhood studies. The Education@Sheffield module enables students to acquire a critical understanding of various themes, settings and methodologies which shape contemporary educational research.

20 credits

What is Learning?

The module explores understandings about how people learn, and implications that these understandings have for how we conduct key social practices, including teaching, caring for children, assessing learning, and on educating generally. We will also look 'beneath' understandings of learning to the worldviews on which they stand, particularly 'realist' and 'constructivist' positions. This matters because 'realism' and 'constructivism' carry implications for how we conceptualise things we take for granted: the nature of truth, the process and products of science, the basis for ethics, the outcomes of research, and assumptions about what is. The module will explore these challenging issues.

20 credits

Globalising Education

This module considers the extent to which education might be viewed as a global context with a shared meaning. Moving outwards from the dominant concepts, principles and practices which frame 'our own' national, or regional responses to education, the module explores other possible ways of understanding difference. By examining 'other ways of seeing difference', in unfamiliar contexts, students are able to examine the implications of globalisation for education and explore the opportunities and obstacles for the social justice agendas within a range of cultural settings.

20 credits

Participatory Research with Children and Young People

This module explores the methodological and ethical issues involved in engaging children and young people as active participants in the research process. Students will analyse critically a number of case study research projects that have attempted to ensure the active participation of children and young people and will design a group research project that engages children and young people as active participants in the research process.

20 credits
Plus one or two other optional modules.
The content of our courses is reviewed annually to make sure it's up-to-date and relevant. Individual modules are occasionally updated or withdrawn. This is in response to discoveries through our world-leading research; funding changes; professional accreditation requirements; student or employer feedback; outcomes of reviews; and variations in staff or student numbers. In the event of any change we'll consult and inform students in good time and take reasonable steps to minimise disruption. We are no longer offering unrestricted module choice. If your course included unrestricted modules, your department will provide a list of modules from their own and other subject areas that you can choose from.
Learning and assessment
Learning
There will be a small number of students in your year group, so you will get to know each other and your tutors well. There will be some lectures but much of the teaching is through seminars, either as a year group, or in smaller groups. This creates a supportive learning environment where you can explore a topic in detail and exchange ideas.
You'll be taught by academic staff who are internationally recognised for research in their specialist areas. Many of them have won awards for their teaching while others are practitioners in fields such as educational psychology.
Assessment
We assess your learning through written coursework and presentations. Feedback is swift, personalised, and is part of an ongoing dialogue to support your future development.
Programme specification
This tells you the aims and learning outcomes of this course and how these will be achieved and assessed.
Entry requirements
If you have non-standard entry qualifications you may be able to do the foundation year option and then progress onto the main course.
Standard offer
The A Level entry requirements for this course are:
ABB
A Levels + additional qualifications BBB + B in a relevant EPQ (relevant research topics include politics, sociology, childhood studies, and psychology)
International Baccalaureate 33
BTEC Extended Diploma DDD in a relevant subject
BTEC Diploma DD + B at A Level
T Level Distinction in the CACHE Education and Childcare T Level, including Distinction in the occupational specialism and grade A in the core component
Scottish Highers AAABB
Welsh Baccalaureate + 2 A Levels B + AB
Access to HE Diploma Award of Access to HE Diploma in a relevant subject, with 45 credits at Level 3, including 30 at Distinction and 15 at Merit
Other requirements
CACHE Extended Diploma in a relevant subject is also accepted at grade A
Access Sheffield offer
The A Level entry requirements for this course are:
BBB
A Levels + additional qualifications BBB + B in a relevant EPQ (relevant research topics include politics, sociology, childhood studies, and psychology)
International Baccalaureate 32
BTEC Extended Diploma DDM in a relevant subject
BTEC Diploma DD + B at A Level
T Level Distinction in the CACHE Education and Childcare T Level, including Distinction in the occupational specialism and grade A in the core component
Scottish Highers AABBB
Welsh Baccalaureate + 2 A Levels B + BB
Access to HE Diploma Award of Access to HE Diploma in a relevant subject, with 45 credits at Level 3, including 24 at Distinction and 21 at Merit
Other requirements
CACHE Extended Diploma in a relevant subject is also accepted at grade A
School of Education
We're proud to welcome a vibrant and diverse community, with students based locally, nationally and internationally. Our research has a direct impact on educational theory, policy and practice; we're supporting the development of children, families, schools and learning communities.
The BA Education, Culture and Childhood combines two academic subject areas: Education Studies and Childhood Studies. This allows you to gain a detailed understanding of the themes underpinning current educational policy and practice as well as critically engage with issues surrounding child development and the meaning of childhood. You'll make links with psychology, sociology, history, cultural studies, politics and philosophy, too - to gain a truly 360-degree perspective on your subject.
Our seminars are interactive and everyone is encouraged to take part. The course director knows every student personally, and you will get a lot of individual support across all of your modules.
Our team of tutors at the School of Education comprises of experts in early childhood education, policy and practice, psychological theory of education, and languages and education. Many of our academic staff are internationally recognised in their specialist areas.
Our placement module is an excellent way to gain valuable work experience, enhancing your skills and influencing your career path. We offer quality work placements that also provide you with the opportunity to develop your knowledge and skills in a professional environment. We will support you in selecting an appropriate placement setting, whether you want to focus on teaching or alternatives to teaching.
We timetable teaching across the whole of our campus. Many of the University buildings are close together so it's easy to walk between them and it's a good way to get to know the city.
School of Education
Why choose Sheffield?
The University of Sheffield
  A top 100 university
QS World University Rankings 2023
  92 per cent of our research is rated as world-leading or internationally excellent
Research Excellence Framework 2021
  Top 50 in the most international universities rankings
Times Higher Education World University Rankings 2022
  No 1 Students' Union in the UK
Whatuni Student Choice Awards 2022, 2020, 2019, 2018, 2017
  A top 10 university targeted by employers
The Graduate Market in 2022, High Fliers report
---
School of Education
12th for education in the UK
Times Higher Education World University Rankings 2022
Graduate careers
School of Education
Our graduates go into educational leadership and management, educational journalism and publishing, educational research, community education and development, early years services, youth, charity and educational welfare work.
The degree is a sound basis for further training in social work and educational psychology. If you're interested in teaching, you could progress onto a primary PGCE. Or you may decide to stay on for a masters or PhD so you can specialise in an area that interests you.
Explore your career options on the School of Education website
Placements and study abroad
Fees and funding
Fees
Additional costs
The annual fee for your course includes a number of items in addition to your tuition. If an item or activity is classed as a compulsory element for your course, it will normally be included in your tuition fee. There are also other costs which you may need to consider.
Visit us
University open days
We host five open days each year, usually in June, July, September, October and November. You can talk to staff and students, tour the campus and see inside the accommodation.
Subject tasters
If you're considering your post-16 options, our interactive subject tasters are for you. There are a wide range of subjects to choose from and you can attend sessions online or on campus.
Offer holder days
If you've received an offer to study with us, we'll invite you to one of our offer holder days, which take place between February and April. These open days have a strong department focus and give you the chance to really explore student life here, even if you've visited us before.
Campus tours
Our weekly guided tours show you what Sheffield has to offer - both on campus and beyond. You can extend your visit with tours of our city, accommodation or sport facilities.
The awarding body for this course is the University of Sheffield.
Recognition of professional qualifications: from 1 January 2021, in order to have any UK professional qualifications recognised for work in an EU country across a number of regulated and other professions you need to apply to the host country for recognition. Read information from the UK government and the EU Regulated Professions Database.
Any supervisors and research areas listed are indicative and may change before the start of the course.