You have made a great choice in coming to visit us. Use this guide to plan your day.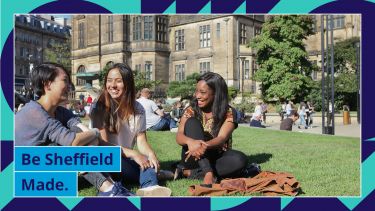 The open day is as flexible as you want it to be. You don't need to sign in on the day, and the only activities that are fixed are your pre-booked subject talk(s). Once you arrive on campus, simply pick up a copy of our printed open day guide from our general information stand outside the Octagon Centre, or from any of our Information Hubs spread around campus. Printed lists with full details for all of our subject talks will also be available to collect from these locations.
For further information, please see our open day FAQs.
---
10am - 4pm, Students' Union and concourse (and Octagon Centre for October/November)
Showcasing everything you need to know about Sheffield. Pick up guides, talk to the experts and start thinking about your future at Sheffield. Exhibitors include:
General Information
Sport Sheffield
Accommodation
Library Services 
IT Services
Disability and Dyslexia Support Service
Student Support Services
Student Fees and Funding Team
Access Sheffield
Students' Union - clubs and societies
Careers Service
301 Study Skills Centre
Languages for All
Global Opportunities (Study or Work Abroad)
Parents & Supporters Stand
Department for Lifelong Learning
Our Facilities and Your Safety
Sheffield - Your University City
---
Taking place throughout the day 
These 20 minute presentations run throughout the day ensuring that you can attend one that fits in with your schedule.
Welcome to our University
10am, 12pm, 1pm in the Students' Union Nelson Mandela Auditorium (September only), The Octagon Centre (October and November)
Learn what the University stands for and how our values guide everything we do.
Student life
10.30am, 12.30pm, 13.30pm in the Students' Union Nelson Mandela Auditorium (September only), The Octagon Centre (October and November)
Students talk about why the Sheffield experience is consistently voted as one of the best in the UK.
University accommodation
11am, 2pm in the Students' Union Nelson Mandela Auditorium (September only), The Octagon Centre (October and November)
Find out about all the different options available to you including locations, rooms and prices.
Global opportunities and exchanges
11:30am, 14:30pm in the Students' Union Nelson Mandela Auditorium (September only), The Octagon Centre (October and November)
Find out more about opportunities to spend a period abroad studying, working or teaching.
Funding your studies
Alfred Denny Conference Room - 10.30am, 12.30pm
All the information you need about fees and finance for university.
Student Health and Wellbeing Services
Alfred Denny Conference Room – 11am, 1pm
We have a wide range of health and wellbeing support services available to all students including an NHS GP practice on campus, the Disability and Dyslexia Support Service and mental health support and counselling. Come along and find out more about the support we can offer.
All about starting university: A guide for parents and supporters
Alfred Denny Conference Room - 11.30am, 1.30pm
Find out about the application process and practical information about guiding your child through the process of starting university.
---
The best way to find out about our world-class facilities is to see them for yourself.
Self-guided Campus Tours
Your Open Day guide will contain a campus map with details about how to undertake a self-guided campus tour. The full tour takes around an hour, but this can be done in stages over the day.
University accommodation site tours
9.30am - 4.00pm, buses available from the Information Commons
Tours of our award-winning Endcliffe accommodation site are running throughout the day. You can see inside a current resident's en-suite room and shared kitchen/living area, view our outstanding facilities and beautiful green outdoor spaces, and our accommodation experts will be on hand to answer your questions.
Free buses to the site leave every 15 minutes from the Information Commons building on Favell Road. The tours take approximately one hour from start to finish, and will bring you back to campus. Alternatively, walking maps are available from our accommodation stand in the Central exhibition.
City hub
10am – 4pm, Students' Union Concourse
Sheffield is a city that leaves a mark. Visit our city hub on the Students' Union concourse to watch videos, collect information, and get a taste of Sheffield from our local street food vendors.
City Tours
10am – 4pm, Students' Union Concourse (September), Students' Union level 3 (October and November)
Our student ambassadors will lead you on a 60-minute walking tour of the vibrant, green, modern city that is Sheffield. Alternatively, collect a self-guided tour leaflet to explore the city at your own pace.
Library tours
10am – 4pm, Information Commons and The Diamond
Information Commons - the IC provides a comfortable and safe study environment, as well as extensive technology support, laptop loans, and a high demand collection of 120,000 books. Meet our student ambassador tour guides at reception for a 15-minute tour.
The Diamond (library facilities tour) - Home to our multidisciplinary engineering facilities, the Diamond also offers over 1400 learning spaces and a wide variety of collaborative and individual study zones available to all students. Meet our student ambassador tour guides next to the Diamond Kitchen cafe for a 15-minute tour.
Sport Sheffield tours
10am – 4pm, Goodwin Sports Centre, Sports Hall Foyer
Meet at Goodwin Sports Centre Sports Hall Foyer for a 10-15 minute tour of the site's facilities. 
Students' Union tour
10am – 4pm, Students' Union Welcome Desk
Meet our ambassadors at the Students' Union welcome desk for a 20 minute tour. Learn why our Students' Union is consistently voted the best in the country and how it makes the student experience at Sheffield exceptional.
---
Which course is for you? 
It's not unusual if you haven't decided exactly which course you want to do. We provide opportunities for you to chat to staff and current students to ask your questions about the different subjects and specialisms you can study.
If you can't make it to a subject talk, or just want to find out more, they'll be able to help - or point you in the direction of someone who can.
Arts and Humanities Faculty Exhibition
10am - 3.30pm, Mappin Hall
In the Faculty of Arts and Humanities, we explore what makes us human through the study of languages, cultures, histories and ideas. Our degrees are wide-ranging and flexible, meaning you can shape your course around what interests and inspires you. Whichever course you choose, you will be studying in a vibrant intellectual environment, learning from staff who are dedicated teachers and active, world-leading researchers.
East Asian Studies
English
History
Languages and Cultures
Music
Philosophy 
Engineering and Computer Science Exhibition
10am - 3.30pm, The Diamond, first floor
Our partnerships with large companies such as Siemens, Boeing, Rolls-Royce and Airbus, as well as with local enterprises, means our degree courses will prepare you for the future. Teaching and learning is delivered in the Diamond building, with specialist labs, flight simulators and the UK's first student-led 'makerspace', providing you with the experience to become a world-class engineer or computer scientist.
Aerospace Engineering
Mechatronic and Robotic Engineering
Computer Systems Engineering
Bioengineering
Chemical Engineering
Civil and Structural Engineering
Computer Science
Electronic and Electrical Engineering
Materials Science and Engineering
Mechanical Engineering
General Engineering 
AMRC Degree Apprenticeships
Medicine, Dentistry and Health Drop-ins
10am - 3.30pm, Various venues (see below)
The Faculty of Medicine, Dentistry and Health provides excellent student support, practical experience and high-quality learning facilities, in a range of undergraduate courses across medicine, dentistry and health professions, including nursing, orthoptics and speech therapy. Courses are delivered by a mixture of academic staff and clinical staff, all of whom bring a wealth of knowledge and experience to their world-class teaching, guided by the latest research in the field.
Dentistry* - Dental School entrance
Human Communication Sciences - Medical School, Seminar Room 8
Medicine (September only) - Medical School entrance foyer
Nursing/Midwifery - Medical School, Seminar Room 9
Ophthalmology and Orthoptics - Medical School, Seminar Room 8
*Please note: Dental Surgery and Dental Hygiene & Dental Therapy will be represented at the September and October events only (not November).
Science Subject Drop-ins
10am - 3.30pm, Various venues (see below) 
Science at Sheffield spans biology, chemistry, physics, mathematics and psychology. Discover how you can explore the ideas and develop the practical skills that will help us solve challenges such as antibiotic resistance, plastic waste and how to build a quantum computer. Find out how we've designed our degrees to help you get the experience employers are looking for.
Biosciences – Firth Hall, Firth Court (first floor)
Chemistry – Dainton Building reception (September), Richard Roberts Atrium (October & November)
Mathematics and Statistics – please report to the Maths desk inside the Students' Union main entrance 
Physics and Astronomy – Hicks building, Room F24
Psychology – The Diamond, Workroom 1 (ground floor)
Social Sciences Faculty Exhibition
10am - 3.30pm, Uni Central food court (Students' Union Level 4) 
The Faculty of Social Sciences has a long-established reputation for producing world-leading research (REF 2021). This means that you'll be taught and supervised by researchers, writers and thinkers who are leaders in their fields. Many of our teaching staff are also professional practitioners, bringing their rich experience into the classroom.
Applied and Quantitative Social Sciences
Architecture
Business and Management
Data Science
Digital Media and Society
Economics
Education
Environmental Science
Geography
Global Sustainable Development
Journalism
Landscape Architecture
Law and Criminology
Politics
Politics, Philosophy and Economics
Sociology
Urban Studies and Planning
---
Here are the timetables of subject talks for our undergraduate open days. You should have chosen your talk when you booked your place online, but if you have any concerns or changes that need to be made, speak to a member of staff on the day at our General Information stand.
Talk details are subject to change - please refer to your reminder emails for the latest information. We will also have printed copies of talk details available to collect from our General Information stand and Information Hubs across campus.
---
We recommend travelling to the University via public transport. Sheffield has great transport links, with several park and ride sites, and is easily accessible by train. We are unable to offer visitor parking on campus and the public 'pay and display' parking close by is very limited. Please see our open day FAQs for further travel advice.
If you or your guests have a disability read our access information.
Explore the University
Discover what sets Sheffield apart at our next on-campus open day.