We are compiling a database of potential teachers, who could teach Mandarin Chinese, English, Science, Maths, Arts, Folk Dance, Kung Fu, and Chinese Zither to school-age children.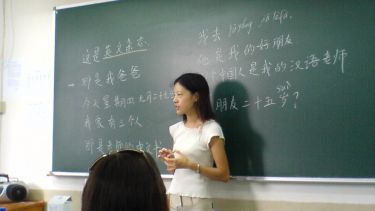 CI (Confucius Institute) Teachers- Subject in Maths, Arts, English, Science and Mandarin Chinese
The Confucius Institute is recruiting teachers, who could teach any of these subjects- Maths, Arts, English, Science or Mandarin Chinese to school-age children. The work is mainly held over the weekends during school term times, from September 2021 to July 2022, i.e. Saturday's classroom teaching and 1-1 private tuition. 
Advanced Drawing Arts (Sketch, Colour-drawing) Teacher and Secondary Maths Teacher are urgently needed.  
Please note: (1). Teaching from September 2021 is held online and will move back to face-to-face teaching when the teaching venue is ready. (2).A period of trial teaching will be applied before a regular teaching work can be given. (3) The workload will depends on students' recruitments, i.e. course demands. 
Main Duties:
Prepare teaching and learning materials, based on teaching programme, textbooks or national curriculum;

Follow lesson templates and deliver classroom lessons on Saturdays, and/or private tuition outside school times;

Maintain a safe study environment by monitoring students' welfare, safety, health, behavioural and emotional issues and report concerns.

Carry out continuous progress assessments, be encouraging and motivate the students.

Evaluate students' performances; get parents involved in the learning process of their children.
Essential skills:
Being proactive, confident, passionate and highly motivated.

Able to build a close rapport with pupils and good communications with parents.

Native speaker for the targeted language-teaching subject.
Previous experience in working with children and classroom teaching are advantageous. Availability for at least one year is advantageous. 
Hours:  One hour to up to six hours per week during school term times, depending on students' recruitments.
Please send your CV to confucius@sheffield.ac.uk and state which subject teacher you are applying for. 
Deadline for application extended to: 31 October 2021
Contact: Dr. Hu. Tel: 07593502130
---
A world top-100 university
We're a world top-100 university renowned for the excellence, impact and distinctiveness of our research-led learning and teaching.