School for children FAQs | 常见问题解答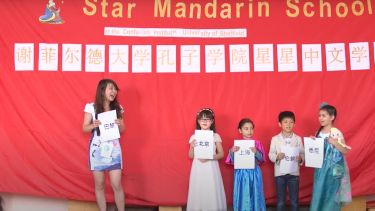 Do you teach Mandarin Chinese or Cantonese in your language courses?

The language taught in all our courses is Mandarin Chinese, in simplified characters.

My child does not have a Mandarin speaking environment at home? Does this matter?

No! Mandarin tuition is for Chinese-heritage children who can understand (by listening and speaking) because they have Mandarin speaking environment at home, and  English-speaking children who have no Mandarin speaking environment at home.

Our Mandarin programmes, therefore, are developed accordingly to cater for: 

What is the course structure?

Mandarin courses are structured for children to acquire all four language skills. Certain sets of textbooks are followed, aiming to achieve GCSE Chinese and GCE (A Level) Chinese.

Therefore, courses are for beginners' through to advanced level students, and include preparatory courses for GCSE and A Level Chinese.

Can my child join in at any time?

If your child has learned Chinese before, enrolment can take place at any time. We just need to assess your child's level of Chinese and find the most appropriate course for her/him.

Please note: Children are grouped mainly according to their knowledge of Chinese, so there may be some age difference within one class.

My child has not learned Chinese before? When is the best time to join in?

Our absolute beginners' courses run in the middle of September every year, just after the new school year starts.

These two-hour courses take place on Saturdays, at Bartolome House, School of Law, University of Sheffield, Winter Street, Sheffield S3 7ND, at the following times:

9:00 -11:00
11:15 – 13:15
13:45 – 15:45

What is the course fee, and how do I pay?

The standard rate is £2.50/h, for the first child of a family taking Mandarin language course.

The concession rate is £2/h, for the same child taking Maths, Arts, Dance or a Kung Fu course.

A concession rate of £2/h also applies to other children in the same family, taking any one of our courses.

Fees are collected for a school year (35 sessions), with 10% discount already applied for.

Register via the University Online Store.

How do I register and enrol on a course?

Please register and enrol for the courses at the University Online Store - search for "Mandarin". The link is open several weeks before September each year.

How do I get textbooks?

You can purchase textbooks via the University Online Store, and collect the textbooks in the classroom.

Please note: as a student, you can only purchase the textbook that is taught in your class.

The following textbooks are required for different courses:

Youer Hanyu, volume 1-4     幼儿汉语 1-4册 Zhong Wen, each volume, 3 books   中文 一册书三本

You will also need a blank exercise book.

Chinese Paradise, each Volume   汉语乐园  一册书
My First Chinese Words  快乐幼儿华语 16本小故事
My First Chinese Reader, each volume, 3 books 快乐儿童华语 一册
Kuaile Hanyu , each volume, 2 books  快乐汉语
Jin Bu, Student book and Workbook

You will also need a blank exercise book.

Can I get a refund for the course fee?

In principle, the fee paid will not be returned. If courses are cancelled due to unforeseen circumstances the course fee will be taken off subsequent courses.

Is there a Certificate of Participation for the course?

Normally in July we have an end-of-year test. Considering the child's performance over the year, the class teacher will give an annual report, and a Certificate of Participation will be presented at the same time.

My child is 3 years old, can they join in?

We accept children as young as 3.5 years old. This is to say, we accept children who have already been accepted by a mainstream Infant or primary school.

Foundation classes are recommended for younger children before they embark on a systematic study of Mandarin Chinese.

My child is a Cantonese speaker and wants to learn Mandarin. Which level to join in?

Cantonese speakers frequently join our classes. We can advise on a suitable course based on the student's level of spoken Mandarin, ability to read characters and whether there is a Mandarin speaking environment at home.

If the student cannot read characters and has difficulty to understand spoken Mandarin, they should enrol on the beginners course for English-speaking children.

For students whose parents speak a little Mandarin, we suggest the beginners course for Chinese-heritage children. In this instance the student will require some help from their parents, including daily Mandarin speaking practice at home.

If your child cannot read characters, but can understand some spoken Mandarin, then the beginners course for Chinese-heritage children would be appropriate.

If they can read characters, either in the form of traditional characters or simplified characters, we suggest they study with Chinese-heritage children.

In summary, if there is any possibility that a child could follow the course for heritage-speakers, we would do our best to help them settle in.

Is the course linked with any official accreditation?

All courses prepare students for GCSE Mandarin and A Level Chinese exams.

The Confucius Institute is a registered YCT (Youth Chinese Test) and HSK (Chinese Proficiency Test) centre, offering exams twice a year around May and November. 

The children's courses are also linked to YCT and HSK examinations, although the test is not a compulsory part of the course. YCT has four levels, while HSK has six levels, each assuming a certain range of vocabulary.

HSK is a standard evaluation of Chinese language ability and as such can provide a reference point for employers and education institutions. HSK is also one of the requirements for Confucius Institute scholarships.

More information and link to mock exams can be found on the HSK/YCT proficiency tests page.

Where can I get additional teaching and learning resources?

The Confucius Institute office houses a Chinese Language and Culture Resource Centre, which has a comprehensive collection of over 6000 textbooks, literature volumes, dictionaries, audio-visual materials, language learning software and periodicals.

These resources can be borrowed, and the centre also provides SCI students with study space for revision and language exchange.

Visit the Chinese Culture and Language Resource Centre page.

I would like to study Mandarin at the same time as my child, do you have courses for parents?

Yes. Our courses for English-speakers are held on Saturdays during school term times. Mandarin for Parents can be available at the same time as the children's classes.

Please contact us (Tel: 44 114 222 8447, or email confucius@sheffield.ac.uk) for course availability.
A world-class university – a unique student experience
Sheffield is a research university with a global reputation for excellence. We're a member of the Russell Group: one of the 24 leading UK universities for research and teaching.