UK-China Seminar Series | 中英讲座系列
The Confucius Institute regularly invites academics and experts worldwide to give talks at the UK-China Seminars Series about research in language and literature studies, language teaching and research, cultural exchanges and understanding.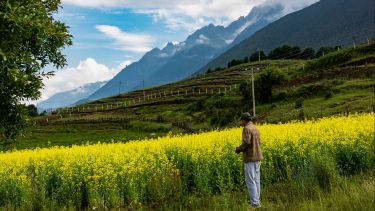 The UK-China Seminar Series, a new project for 2022 designed to facilitate cross-cultural dialogue between UK and China-based academics. 
---
UK-China Seminar Series Project 2022
Upcoming seminar on 7 December 2022, 
---
Previous events
On 14 July 2020, Professor Zhao Yang, Dean of the School of Chinese as a Second Language from Peking University, delivered an online lecture titled Research on the Acquisition of Chinese marker "men" from the perspective of Feature Recognition.
北京大学对外汉语教育学院院长赵阳教授围绕《特征重组视角下汉语复数标记"们"的习得研究》为主题,为孔院全体教师进行了专家线上讲座。
---
On 2 July 2020, Dr. Clare Wright, Lecturer in Linguistics and Language at the University of Leeds, discussed the challenges faced with Chinese teaching and the progressive development of Chinese teaching with the talk Is learning Chinese easy or difficult?.
利兹大学语言学与语言教学讲师克莱尔 莱特(Clare Wright)博士以"学习汉语易或难"为题,探讨中文教学所面临的挑战及逐步发展的汉语教学实践。
---
On 3 June 2020, Modesto Corderi Novoa, from University of the Basque Country (UPV-EHU), Spain, was invited to give a talk- Improlanguage!, a practical workshop for language or teachers and students on how to utilise several useful drama techniques that can facilitate interaction and communication in the language classroom.
孔院组织举办首场线上教师培训:来自西班牙的莫帝 Modesto Corderi Novoa,(University of the Basque Country (UPV-EHU), Spain),为孔院汉办教师和本土教师举办了首场线上教师培训—戏剧教 学法培训.
---
For more information, contact:
Email: confucius@sheffield.ac.uk
Events at the University
Browse upcoming public lectures, exhibitions, family events, concerts, shows and festivals across the University.