School Arts Competition- Chinese New Year | 中国新年生肖绘画比赛
Schools across the UK are invited to submit school pupil's artwork to celebrate Chinese New Year! We provide e-gift vouchers to winners who are judged by schools.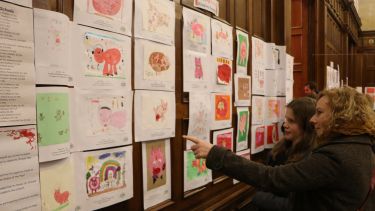 The Year of the Rabbit will be the next Chinese Lunar Year on 22nd January 2023 and the traits of the rabbit are popularity, compassion, and sincereness. We believe there can be no better traits to represent our unified spirit in the year of 2023 - and we're overjoyed to be able to share this spirit with schools across the country! 
How to immerse the school into a Lunar New Year celebration? Organise the school pupils to create an A4-sized drawing/painting of Chinese Zodiac. Send us the winning artwork, which will be exhibited at the Ballroom, Sheffield City Hall, on 24th January 2023.
We provide prizes to your school winners. 
Art Theme: the Rabbit- Year of the Rabbit 2023.
Amazon Voucher Prizes: £10 winner and £5 runner-ups.
Categories: KS1, Lower KS2, Upper KS2, KS3, KS4 and KS5.
Postal address: 2-4 Palmerston Road, University of Sheffield, Sheffield S10 2TE. Artwork must be original and created by hand using e.g. water-soluble, pastel, graphite, charcoal or coloured pencils etc.
Submission should include: Winners' Names, Category; Total Number of Participants in Each Category (minimum 25); School's Name, Contact Teacher's name/school email/mobile.
Entry Form:  Download Entry Form, PDF- 201KB  and Flyer, PDF - 247KB
10 FREE Tickets: If your school wants to apply for up to 10 free tickets* to the Lunar New Year Main Show at Sheffield City Hall on the 24th of January, 19:00-21:00, (where winners will be exhibited), you can either indicate by including a note with your postal submission or send an email to confucius@sheffield.ac.uk, indicating your interest.
Artwork Exhibition, including Prizes Collection and Tickets Collection by a School Representative will be held during Sheffield Chinese New Year Pre-Show, at Ballroom, Sheffield City Hall, Barker's Pool, Sheffield S1 2JA, on Tuesday 24th January 2023, 16:15-18:30. Free Admissions.
Deadline: Monday 16 January 2023
* Up to 10 FREE tickets for a Main Show at 19:00-21:00 can be requested on a first come first serve basis by each school. School arranges to distribute the tickets to school staff, parents and pupils.
---
For any enquiries, please contact Dr. Hu at 07593502130, and email: confucius@sheffield.ac.uk
---
Previous Competitions
2022 - Tiger

2021 - Ox

2020 - Rat

2019 - Pig

2018 - Dog

2017 - Rooster

2016 - Monkey

2015 - Goat

2014 - Horse

2013 - Snake

2012 - Dragon

2010 - Tiger
---
For more information, contact:
 Email: confucius@sheffield.ac.uk
Events at the University
Browse upcoming public lectures, exhibitions, family events, concerts, shows and festivals across the University.