China Day activities and workshops | 中 国 日
We support school in understanding Chinese language and culture through a range of different activities including workshop packages like "China Day" Activity for both primary schools and secondary schools.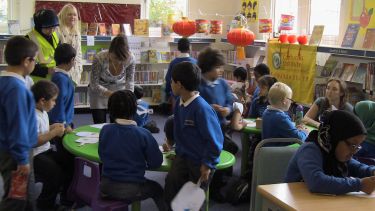 China-themed activities at school is probably the easiest way to engage students and to raise awareness of Chinese culture through enhanced extra-curricular provision, providing a unique experience for students.
Our aim is to educate the UK school students about China, its' culture and its' language.
How to organise a China Day 
Select a range of activities/workshops from our list, arrange a day for them to be taken place over the course of a day or two, and book our instructors to lead the activities. 
Workshops are normally about 50 minutes long, with a maximum of five workshops per day per instructor. For example, five workshops can be selected and rotated around five groups of students in a day.
China Day at your school
Book one or more of the following workshops for a China Day at your school:
Chinese language taster  
Chinese characters demystified
Chinese calligraphy
Chinese arts and crafts
Chinese folk dance
Kung Fu
Tai Chi
Music and Songs
Language and Storytelling
Chinese cookery*
*Chinese cookery: Costs of the ingredients will be passed onto the school. We will provide a list of ingredients in advance once we receive the total number of participants and dietary requirements from school. Please note that meat can be used for the Chinese dumpling filling unless a vegetarian option has been selected.
Cost
All of the above activities are charged at nominal cost, £70/half-day (before or after 12:00 noon) and £120/full day per instructor. Travel expenses incurred will be passed onto the school.
---
For more information, contact:
Email: confucius@sheffield.ac.uk
A world top-100 university
We're a world top-100 university renowned for the excellence, impact and distinctiveness of our research-led learning and teaching.