Learning practical lab techniques
Heather Wallis
Undergraduate Student
Intercalated BMedSci Degree
Project title: Neural Stromal Interactions in the Tumour Microenvironment.
When did I do my BMedSci
I undertook my BMedSci project between 2nd and 3rd year of BDS in 2015/2016
My Project
My project explored the possibility of a two-way interaction between nerves and cancer cells; specifically, an oral squamous cell carcinoma cell line. I investigated the effect of two neuropeptides released by nerves and their effects on cancer cell migration and proliferation along with the effect of cancer cells secretions on neurite outgrowth. The project warranted a number of research techniques including cell and neuronal culturing, qPCR, migration and proliferation assays in addition to ELISAs and immunocytochemistry.
Presentations and prizes
Throughout the BMedSci year I presented my findings and work in progress to staff and students at the Dental School on Monday afternoons and the Friday lunchtime speaker slot. I also presented my work as a poster at Guy's Hospital INSPIRE event, where I received 1st prize. Since completion of my BMedSci I have presented my work at the annual conference of the British Society for Oral and Dental Research in Plymouth, and was awarded the Junior Colgate Prize for undergraduate research. I was selected for the International Association of Dental Research (IADR) Hatton Award (an international prize) and following a presentation at the annual IADR meeting I was awarded 2nd place.
What I gained from my BMedSci
The BMedSci not only opened my eyes to the world of academia but also highlighted the vast range opportunities available within dentistry. I gained the ability to independently direct my study and comprehension of a topic in depth which would not normally be available within the BDS course. Not only have I expanded my knowledge of practical laboratory techniques but also developed a number of highly transferable skills. Most of all, the BMedSci provided me with the opportunity to engage with staff, PhD and master's students who I would otherwise not have met and become thoroughly immersed in the world of academic research.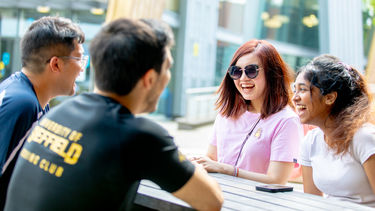 International Merit Scholarships
We offer a generous package of financial support for international students including 75 undergraduate scholarships worth £10,000 towards the annual tuition fee and 125 postgraduate taught scholarships worth £5,000 towards the tuition fee. Applications are now open for existing offer holders.