Students launch new technology into space to observe the sun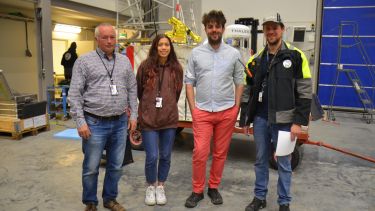 Students from the University of Sheffield have launched a solar observation platform into the earth's atmosphere to make observations of the sun. 
The Sheffield students were testing a new way to produce clear, sharp images of the solar chromosphere using Zero Pressure Balloons called SunbYte IV, which can be used to observe the sun's behaviour. 
Launching instruments into the earth's atmosphere could be a more cost-effective way of observing magnetic storms caused by Coronal Mass Ejections, which have the potential to damage modern communication and navigation systems. 
The University of Sheffield was the only UK university participating in the HEMERA balloon launch from the Esrange Space Center in northern Sweden, above the Arctic Circle. 
This is the fourth launch of the SunbYte platform into the earth's atmosphere after launches in 2017, 2018, and 2019. 
Project Lead Joseph Middleton who studies MEng Engineering said: 
"Thanks to the efforts of the team and the staff at Esrange Space Centre, we were able to launch SunbYte IV and the majority of the components worked as we hoped. This has given us a clearer idea of how we can achieve the project's aim of solar imaging."
The students that launched the balloon were Joseph Middleton (MEng Engineering), Sam Wege (MEng Mechanical Engineering), Ida Janiak (MPhys Physics and Astrophysics), and Luke Dolman (BEng Aerospace Engineering with a Year in Industry).  
The University of Sheffield is home to the Sheffield Space Initiative, where a number of student-led teams build innovative space technologies, including launching rockets to record-breaking altitudes or developing a Mars Rover to compete in international competitions.
Explore the University
Discover why Sheffield is the right choice for you at one of our open days or events.