White Rose University Press
Jointly run by the White Rose Universities of Sheffield, Leeds and York, White Rose University Press (WRUP) is the University of Sheffield's in-house university press. WRUP is a not-for-profit, open access press, publishing open access journals and books across a wide range of disciplines.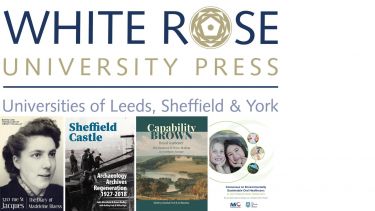 WRUP embodies the White Rose universities' commitment to openly disseminating research and teaching materials, publishing high quality research outputs, and pursuing digital innovation in publishing.
Combining openness and academic rigour
---
We are so fortunate to have the White Rose University Press: it's a vital part of the way we're increasing the excellence and integrity of the research we do at Sheffield and beyond. Publishing open access means so many more people can read and use our research, and in media suited to a digital society, which is great not just for dissemination but for helping create a more equitable society.

Professor Nicola Dibben

Department of Music and WRUP Editorial Board member
---
WRUP publications meet the highest academic standards and showcase the excellence of the research conducted at Sheffield, Leeds and York. WRUP is also open to submissions from the wider academic community. All research published by WRUP is subject to rigorous peer review by external expert reviewers, with all WRUP journals adhering to the COPE guidelines for best practice in peer review. 
Prior to commissioning, all proposals are reviewed by the WRUP Editorial Board, which is composed of senior academics from the White Rose Universities. Members of the editorial board from the University of Sheffield include Professor Nicola Dibben (Department of Music), Professor Nigel Harwood (School of English), and Professor Mary Vincent (Department of History). Members of the WRUP Management Board include Anna Clements, University of Sheffield Director of Library Services and University Librarian and Anna Grigson, Associate Director (Digital Strategies, Research and Engagement) at the University Library.

As open access publications, all WRUP journals and books are freely and openly available to all upon publication, with print copies of books also available for purchase via the WRUP website. Each WRUP publication is assigned a Digital Object Identifier (DOI), and WRUP books are indexed in internationally recognised resources including JSTOR, DOAB, and OAPEN. Journals are indexed in the Directory of Open Access Journals (DOAJ) and registered with Open Archives, and WRUP works with journal editors to list journals on relevant subject indexes such as SCOPUS. All WRUP content is also published under Creative Commons Licences, which ensure that copyright remains with authors and editors.
Support for early career colleagues
---
We are committed to enabling our PGRs to produce high quality academic publications from their doctoral studies and we are very excited about our partnership with the White Rose University Press enabling our PGRs, from a wide range of disciplines, to access expert guidance with the aim of their work being published by the Press.

Professor John Flint

Deputy Vice-President for Research, University of Sheffield
---
White Rose University Press is committed to supporting the work of early career colleagues at the University of Sheffield, most recently through the Sheffield Thesis Publishing Prize, which celebrates doctoral research at Sheffield by supporting recent PhD graduates to explore opportunities to develop their thesis into an open access monograph with WRUP.
Recent WRUP publications from Sheffield researchers
The below are all recent open access book publications written and/or edited by University of Sheffield researchers:
For details of forthcoming titles, see https://universitypress.whiterose.ac.uk/site/catalogue/ 
Support with book processing costs
WRUP offers a waiver fund for researchers based at the University of Sheffield to help subsidise some or all of the processing costs- you can find more details on this here. If you are not funded by a body which will pay your book processing charge (either directly or via a block grant to the University Library), you can apply to the University's Institutional Open Access Fund to cover the book processing charge for your publication.
Get involved
University of Sheffield researchers can get involved with the Press in a number of ways. To explore the process of publishing with WRUP, you can find more information here or contact the Press via email on universitypress@whiterose.ac.uk or using this webform. WRUP are also happy to discuss the OA publishing process more generally with individual academics or departments. 
Flagship institutes
The University's four flagship institutes bring together our key strengths to tackle global issues, turning interdisciplinary and translational research into real-world solutions.