The student experience is at the centre of everything we do, whether it be through our flexible learning spaces, providing access to the world's knowledge, or helping you to develop the skills you need to be an effective student.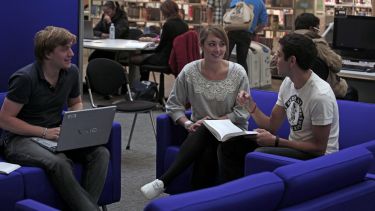 Off
Thinking of choosing Sheffield?
We have a strong commitment to delivering a first-class learning experience from start to finish - setting you up for a successful career.
What we offer
Access to an extensive digital library of over one million e-books and 60,000 journals
One-to-one support from specialist librarians who understand your subject
A wide choice of learning spaces and facilities
Help and support available from our virtual advisors, available wherever you are - and when you need them the most
A wide choice of learning spaces for both individual and group study
Wellbeing areas designed with you in mind
A library home to over one million print volumes, thousands of journals and other items to support your subject
Research skills and critical thinking training designed to enhance your study experience
Convenient access to laptops, whenever you need them
Services designed to help you make the most of your time (on and off-campus)
A wide range of resources and facilities to support students with learning difficulties and disabilities, ensuring everyone has full access to the Library
Access to unique and original collections
Opportunities to develop your skills as a researcher and benefit from our specialist skills development programme for PhD students.
---
Fuel your knowledge
Whatever you're learning, we have the learning resources to make it possible.
You'll have access to the world's knowledge through our extensive digital Library of over one million e-books and 60,000 journal titles, as well as a renowned print collection of over one million print volumes.
Start exploring and discovering today
---
Work your way, in your own time
University life and studying doesn't just happen on campus.
Many students study as distance learners. Wherever you're studying, we'll make sure you stay connected with our extensive digital library, online tutorials, and support from our virtual advisors.
---
Study in complete safety, at any time
If you're looking to work in the evening, access to safe learning spaces on campus will be important to you.
You can use a quiet study space for one or book a room for group work.
---
A supportive learning environment
We provide expert advice, when you need it. Available virtually or on-campus, we'll always be on-hand.
From accounting to zoology, we have a specialist librarian for every subject area - so when you need advice you can talk to someone who understands your subject and your course.
You can also book one-to-ones with your subject librarian to discuss how you might research an assignment or prepare for a project.
---
Highly flexible services
Order a book online and when you're finished with it, you can drop it off at any of the five sites and we'll get it back to where it belongs.
We'll automatically renew any unreturned books, provided no one else has requested them.
---
Research skills and critical thinking training
Our skills support enables you to make the most of our collections, as well as developing lifelong learning skills.
Our information skills advisers and liaison librarians offer web-based tutorials and short workshops designed to make you a more effective student and help you develop the research, information, digital and critical skills you need for a rewarding career.
---
Specialist support for PhD students
Specialist study demands specialist resources and support. If you are a PhD researcher, we'll make sure you have the tools and expert advice to help you navigate the world of research, as well as the ability to access and utilise the best quality information for your specialism.
To develop your skills as a researcher, it is vital to work with a wide range of resources. At the University of Sheffield you'll have access to extensive library collections, alongside an array of primary sources housed within our unique and original library collections.
---
What our students say
The University of Sheffield Library has maintained its efficiency at a very high standard since I started studying here last September. While StarPlus allows me to find and request books at any time, the Information Commons is open all day and all night allowing me to borrow and return books whenever. I also love the convenience of the autorenew function of borrowed books.

Laila Abubakari

International Political Communication MA
A world-class university – a unique student experience
Sheffield is a research university with a global reputation for excellence. We're a member of the Russell Group: one of the 24 leading UK universities for research and teaching.