We believe that philosophy sheds light on complex aspects of our existence and, at its best, can help people to make sense of the world and their lives in empowering ways.
Off
Philosophy typically involves getting puzzled about apparently familiar features of the ways we think about ourselves, about one another and about the world around us. For example, we praise and blame one another for actions we take to be good and bad; and we commonly organise systems of government which enable us to take large scale collective decisions. But what justifies our practices of praise and blame? What fixes where the contrast between good and bad action is located? What is the fairest and most effective way of making large scale collective decisions? These are difficult and thought-provoking questions.
The empowering nature of philosophy is why we engage in teaching, research, and publicly facing activities (such as seminars, talks, lectures, news stories, radio and television interventions) with a special focus on hot topics and challenging social, political, ethical and existential questions. Through these, we aim to use philosophy to make sense of the problems of our time, wrestling with the question of how careful thought might help to build a better future.
At Sheffield, we have many distinctive projects and themes with an engaged element. These are outlined below.
---
The Centre for Engaged Philosophy
The Centre for Engaged Philosophy brings together scholars and practitioners dedicated to engaged philosophical practices. This work is timely: our contemporary world is beset with complex problems. While philosophers were once deeply involved in addressing public affairs and social issues of their day, in the past century philosophy has generally shunned such involvement, creating an intellectual culture of isolated reflection. The Centre for Engaged Philosophy aims to return to the earlier vision by fostering rich conversation across disciplines and beyond the academy.
---
This award-winning student-led outreach programme enables students at Sheffield to deliver philosophical activities in schools, homeless shelters and day centres for the elderly. It has been running for over a decade, enabling over 300 volunteers to lead philosophical activities, engaging thousands of members of the public in philosophical conversations across the Sheffield city-region. It aims to promote opportunities for people of any age or background to engage with philosophy and to make philosophy a subject that is of use and value to both the individual and society.
---
Professor for the Public Understanding of Philosophy
Professor Angie Hobbs is the first ever UK Professor for the Public Understanding of Philosophy. She contributes regularly to radio and TV programmes (such as 'In Our Time', 'The Ideas that Make Us' and 'Newsnight'), newspaper articles and philosophy websites. She is a member of the World Economic Forum Global Future Council on Values, Ethics and Innovation and is a judge for the 2019 Man Booker International Prize. She also lectures and gives talks around the world, including at the Houses of Parliament, the World Economic Forum at Davos and Westminster Abbey.
---
Our research themes
Our teaching is based around the research interests of our academic staff. You can read about these through the links below.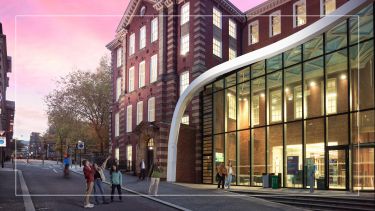 Visit us
Discover what sets Sheffield apart at our undergraduate open days on the Saturday 21 October or Saturday 18 November.