Applications for 2024 entry are now open. Register your interest to hear about postgraduate study and events at the University of Sheffield.
2024 start
September
Cancer Biology and Therapeutics
School of Medicine and Population Health, Faculty of Health

Learn how oncology research in the lab is translated into new treatments in the clinic. Study fundamental cancer biology and the latest advances in areas including immunotherapy and precision medicine.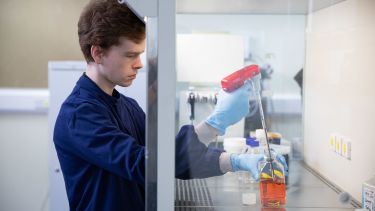 Course description
The title of this course has changed for 2024 entry. In previous years, the title was Translational Oncology.
Lead academic: Dr Helen Bryant
This course connects the cancer research that scientists conduct in the lab with the treatments that oncology patients receive. It covers the fundamental science of cancer, oncology research, and the process of translating scientific discoveries into new therapies in areas including immunotherapy and precision medicine.
You will study important topics in cellular and molecular biology, such as how cell mutations and dysfunctions contribute to cancer, as well as the broader epidemiology of the disease, to understand how and why it occurs. The tumour microenvironment is examined in detail, so you can learn how tumours grow and how cancer spreads.
The process of diagnosing and treating cancer is explored, from the perspective of researchers, clinicians and survivors of the disease. Topics range from the process of identifying potential pharmaceuticals to genetic screening and clinical trials. You will also learn about laboratory and clinical research methods and have the option to take either a bioinformatics course, to get experience working with complex biological data sets, or a Home Office licence course, so you can find out how in vivo experiments are carried out and regulated.
The University of Sheffield is a recognised Experimental Cancer Medicine Centre and the Cancer Biology and Therapeutics programme is led by experienced cancer researchers and clinicians. The biggest part of the degree will be your six-month research project, where you will join one of our research teams to apply your knowledge and test a hypothesis in translational oncology.
You can also attend seminars with leading cancer researchers to learn about the latest developments in oncology and take part in broader professional skills training.
Do you have a question? Talk to us
Book a 15-minute online meeting with our course tutor to find out more information and ask further questions.
Modules
From May of the year of entry, formal programme regulations will be available in our Programme Regulations Finder.
All taught modules are worth 15 credits
Cellular and Molecular Basis of Cancer

The module will deliver a contemporary analysis of cancer molecular biology, with emphasis on cellular components mutated or dysfunctional in cancer. This will include the cancer hallmarks, cell communication, cell cycle and checkpoints, genomics/epigenomics, cancer syndromes and molecular therapies. Through lectures, seminars, tutorials and team-building, we will examine how dysregulation of signalling contributes to cancer and how targeted/personalised approaches will transform therapy. Assessment will be through a referenced written seen exam and a data assessment day and will look to confirm understanding of core concepts and critical awareness of cancer biology. The module will be delivered by leading research scientists and clinicians.

15 credits

Cancer Epidemiology

This module will cover the principles underlying Cancer Epidemiology and generate a critical understanding of the distribution patterns of cancer, predisposition to cancer, prediction of susceptibility and current research. Through lectures, tutorials, class discussions and problem solving workshops we will examine measures of disease burden, impact of cancer from a public health perspective, genetic and environmental predisposition, biomarkers in risk prediction, prognostication and tailoring of treatment, understanding descriptive and analytical methods in cancer research, research methods, ethics and research governance. Assessment will be through a referenced written seen exam and an essay which will look to confirm understanding of core concepts and critical awareness of cancer epidemiology

15 credits

Cancer Diagnosis and Treatment

The module will evaluate the presentation and treatment of cancer from a number of perspectives. Through lectures, tutorials and class discussions we will examine modern oncology practices, such as multi-disciplinary team working, genetic screening in diagnosis, randomised clinical trials, and possible future approaches to tumour ablation, and particular attention will be paid to the diagnosis and treatment of the main cancers. The students will be given the novel opportunity to look at clinical cancer research and therapy through the eyes of survivors of the disease. Assessment will be through a referenced written seen exam and a blog post which will look to confirm critical understanding of cancer diagnosis and treatment practices.

15 credits

Tumour Microenvironment

This module aims to demonstrate the importance of the modified tumour microenvironment and to relate it to understanding mechanisms of tumour growth, metastasis and drug development. Through lectures, tutorials and workshops from leading scientists and clinicians we will examine how hypoxia, tumour angiogenesis, immunology, inflammation, tumour-stroma interactions, extracellular matrix remodelling, mechanisms of metastasis and cancer stem cells affect tumour growth and drug resistance, and how this knowledge can be exploited for development of novel cancer therapies. Assessment will be through a referenced written seen exam and a poster presentation which will look to assess critical awareness and understanding of the role of the tumour microenvironment.

15 credits

Cancer Technologies and Clinical Research

The aim of this module is to develop a critical understanding of mainstream and developing technologies currently used in preclinical and clinical cancer research. Classical tumour biology, proteomic and in vivo methodologies will be explored, in addition to biomarker/drug discovery, pre-clinical imaging and patient cancer trials. Advantages and limitations of each experimental approach will be discussed and how these may lead to identification and validation of novel cancer targets and drug treatments or the refinement of established cancer therapies. The core module consists of lectures, tutorials and group work, followed by an option choice of either the Home Office Licence course or a Cancer Bioinformatics/Modelling course.

Option 1 - Home Office Licence Induction Course: Biological and Veterinary Services

This will introduce the principles, legislation and practical approaches to in vivo experimentation. The course will assess specific knowledge related to regulated in vivo experimentation by a multiple choice examination. Specific procedural elements will be assessed by practical examination to demonstrate an individuals' ability. Students must reach a level which will, in the future, allow application for a Home Office personal licence (PIL) to undertake regulated procedures, although this is NOT one of the outcomes of the course.

Option 2 - Introduction to Bioinformatics: Mark Dunning and Michelle Lawson

This option will introduce students both conceptually and practically to the possibility and challenges in bioinformatics. Bioinformatics covers a range of methodologies to manage and interpret very highly dimensional data, for example from genomics, microarray, pretomics or metabolomics, all of which are widely used in Oncology. The course will provide a taught section on bioinformatics, a detailed series of workshops showcasing how RNASeq data-analysis workflows are undertaken and an assessed mini-project in which students gain practical experience of analysing and interpreting real-life data sets.

15 credits

Literature Review

This unit aims to develop abilities in information retrieval from appropriate sources, reference management, synthesis and critical analysis of published literature. Academics provide new titles each year to address unmet need for an original review, an updated review or questioning a paradigm in the wider literature, for a special themed edition of a journal. Submissions will be formatted as a review paper according to author guidelines for a chosen journal. Students will receive workshop training in information literacy and supervisor tutoring in the development of their review.

15 credits
The aim of the module is to provide the opportunity to learn and apply research methods to test a specific scientific hypothesis with an emphasis on translation. A list of projects will be made available and students will be asked to select their top choices. Having been assigned a project of their choice, students will carry out a 25 week research project. Students will be expected to join in with the departmental seminars, research group meetings, journal clubs and supervisor meetings, to learn and experience the role of a scientific researcher, complementing the laboratory experience.
Assessment will be through an oral presentation, a written dissertation and a mini viva. Students will also be assessed on their conduct and professional behaviour by their supervisors.
The content of our courses is reviewed annually to make sure it's up-to-date and relevant. Individual modules are occasionally updated or withdrawn. This is in response to discoveries through our world-leading research; funding changes; professional accreditation requirements; student or employer feedback; outcomes of reviews; and variations in staff or student numbers. In the event of any change we'll consult and inform students in good time and take reasonable steps to minimise disruption.
Open days
An open day gives you the best opportunity to hear first-hand from our current students and staff about our courses. You'll find out what makes us special.
Duration
1 year full-time
2 years part-time
Teaching
You will learn through lectures, seminars, workshops, discussions, debates, practical demonstrations, interactive tutorials and independent study.
Assessment
You will be assessed through seen exams, posters, presentations, and written work. The research project is assessed by a dissertation, presentation and viva voce exam.
Your career
This course is great preparation for a PhD and a career in cancer research. Lots of University of Sheffield graduates work as researchers and in other lab-based roles at top universities and research institutes.
Some students from this course have joined the NHS Scientific Training Programme, or gone on to study medicine. Others have entered the pharmaceutical and biotechnology industries.
For medical students, the course provides a clinical introduction and foundation if you are interested in sub-specialising in oncology.
Student profiles
Entry requirements
You'll need at least a 2:1 in a relevant life science undergraduate degree (eg Biochemistry, Biology, Genetics, Molecular Biology or a degree in veterinary science or medicine).
A 2:2 degree may be acceptable depending on an interview and assessment of your past achievements. Medical students can intercalate after completing three years of their medical degree.
Overall IELTS score of 7.0 with a minimum of 6.5 in each component, or equivalent.
Apply
You can apply for 2024 postgraduate study using our Postgraduate Online Application Form. It's a quick and easy process.
Any supervisors and research areas listed are indicative and may change before the start of the course.
Recognition of professional qualifications: from 1 January 2021, in order to have any UK professional qualifications recognised for work in an EU country across a number of regulated and other professions you need to apply to the host country for recognition. Read information from the UK government and the EU Regulated Professions Database.