Applications for 2024 entry are now open. Register your interest to hear about postgraduate study and events at the University of Sheffield.
2024 start
September
Midwifery
School of Allied Health Professions, Nursing and Midwifery, Faculty of Health

Qualify as a midwife and provide pregnancy, childbirth and postpartum care to women, birthing individuals and their families. This MSc is the first in the UK to also include the Professional Midwifery Advocate post-qualification course.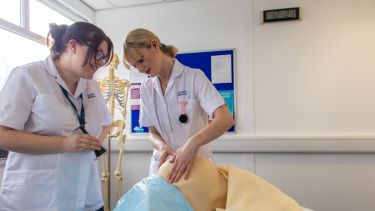 Course description
This course will enable you to become a highly-skilled, autonomous midwife. You will learn how to support, advise, and advocate for women, birthing individuals, their partners, and their families, by providing evidence-based care throughout pregnancy, childbirth and the postpartum period. Throughout your studies, you'll be fully supported by midwifery academics and practice educators. With the support of experienced midwife lecturers and practice supervisors our students are able to develop the competencies and essential skills mandated by the Nursing and Midwifery Council to enable registration as a midwife. 
Unique continuity of care placements
Half of the MSc programme is spent on clinical placement. We offer placements in Barnsley, Chesterfield, Doncaster, Rotherham and Sheffield.  Once allocated a placement, you'll be expected to work a variety of shifts covering a 24/7 period to experience the diversity of maternity care services, in a variety of settings. 
We are the first university to build the latest NHS guidance on continuity of care into our placements programme. This means, instead of seeing different women and birthing individuals at different stages throughout their pregnancy, you will build your own caseload of individuals and follow them through their pregnancy journey, fully supported by practice supervisors. 
These real-world experiences run alongside sessions at our state-of-the-art Clinical Skills Centre at the Northern General Hospital in Sheffield. Here, you will practise clinical skills in a safe and supportive simulated environment.
Enhanced training for advocacy roles
The programme is led by experienced midwives, healthcare professionals, and academics, who will introduce you to key topics and the latest research in midwifery - from public health to infant feeding, as well as supporting you to develop your practical skills. Theory sessions take place across the University campus and include lectures, seminars, workshops, enquiry-based learning, self-directed study, and simulation.
The University of Sheffield programme has a strong leadership focus throughout and is currently the only university to fully integrate the Professional Midwifery Advocate (PMA) course into our programme. This means that you will also be qualified for PMA roles that come with additional supervision, support and staff development responsibilities upon qualification as a midwife.
In addition, our 'Preparing to Prescribe' training will give you the background knowledge to pursue a non-medical prescribing qualification once you are practicing as a midwife.
NHS Learning Support Fund
As a MSc Midwifery student you can apply for the NHS Learning Support Fund to help support your studies. This includes a training grant of £5,000 per academic year, which you don't need to pay back. Students can also claim travel expenses to clinical placements and extra funding for those with dependent children or those facing hardship. All students on the programme are eligible for this funding, regardless of whether you have had an undergraduate loan in the past.
Accreditation
This course is accredited by the Nursing and Midwifery Council (NMC). It will give you the knowledge, skills and experience you need to join the NMC register and practise as a midwife. It also qualifies you to work as a Professional Midwifery Advocate.
The content of this course meets the UNICEF-UK Baby Friendly Initiative Standards.
Modules
Foundations of Evidence Based Midwifery Practice

This module aims to develop your skills of research critique to enable you to critically discuss research findings and lessons from data and reports. This will enable you to develop the skills and confidence to promote and inform best midwifery practice, and to advocate and support women when making informed decisions. This module will introduce you to key principles behind evidence-based practice, including its relevance, the role that research plays within it, how to determine which methods are suitable for different problems and the outcome measures you will encounter. You will also develop your ability to examine, interpret and present real-world midwifery and health care data to explain the robustness of the approach taken

15 credits

Introduction to Professional Midwifery Practice

During this module students will develop knowledge of the underlying concepts of the midwife's role in optimising normal physiological processes and providing women-centred care in the preconception and antenatal and the postnatal periods, and throughout normal labour and birth. During this module students will apply basic scientific principles of anatomy and physiology to maternal and infant health This will involve developing knowledge of the physiological processes that underpins labour, birth and the postnatal period. Students will develop knowledge and skills to support women and their families with psychosocial, cultural and spiritual needs during the intrapartum and postnatal period including links to continuity of carer.. This will provide the information required to undertake safe and effective practice and to work in partnership with women, enabling their views, preferences, and decisions to be heard, and helping to strengthen their capabilities.

15 credits

Introduction to concepts of Public Health in Childbearing.

The aim of this module is to introduce you to the key concepts of public health, health promotion and health prevention within current midwifery practice. You will explore the role of public health on a local, national and global level. You will be introduced to the skills and knowledge about health and wellbeing for the individual, the family and the population. Included in this module will be an introduction to infant feeding and the role of the midwife in infant feeding.

15 credits
Professional Midwifery Practice - the Midwife as a Leader

This module introduces you to the key concepts of leadership in healthcare, and will encourage you to reflect on the skills, knowledge and behaviours you need to develop to become a future leader of the midwifery profession. Discussions will focus on developing your knowledge, skills and attitudes required for effective leadership, as well as the key theories of leadership and how these relate to personal development, clinical practice and the business of healthcare. The knowledge, skills and attitudes required to lead others in healthcare practice, as well as the key theories of leadership and how these relate to leading a team in an aspect of healthcare will be discussed.

30 credits

Management of complex care and emergencies during pregnancy and childbirth

The aim of this module is to develop and critically apply the necessary knowledge, understanding and skills required in the management of complications and emergencies that occur in both mother and baby during childbirth. During this module you will learn to critically examine and assess the research and evidence-based care and apply principles of good practice to the care of women with complex needs. There will be an emphasis on early recognition and appropriate management of the emergency incorporating policies and guidelines, the midwife's role, and the importance of prompt escalation and effective communication with the interdisciplinary and multiagency team and the woman and her family around the time of the emergency.

15 credits

Developing concepts of public health for women and infants with complex and additional needs

The aim of this module is to enable you to develop your knowledge and understanding of, as well as critically analyse the impact of psychosocial and emotional complications in childbearing on the mother and infant, whilst also considering the wider implications for their families, communities and society as a whole. Problems which can arise during infant feeding will also be explored.

15 credits
Professional Midwifery Practice - transition from student to qualified midwife

This module aims to consolidate your academic evidence based learning and clinical experiences from years 1 and 2 in order to ease the transition into clinical practice as a registrant.
You will demonstrate your comprehensive knowledge of clinical and leadership skills required to support all women and families through their childbirth experience.
This module will include a leadership elective placement to help facilitate consolidation of leadership skills.
As part of your transition from student to qualified registrant, you will be able to identify the importance of self-care and recognising vulnerability in colleagues. You will also complete the NMC 2018 Practice Supervisor training and be Newborn and Infant Physical Examination (NIPE) screening ready upon qualifying.

30 credits

Management of Public Health and Infant Feeding

This module will focus on the leadership role within Public Health and Infant feeding focusing on decision making to improve outcomes through changes implemented in practice. It aims to ensure that future generations of Midwifery health professionals are enabled to incorporate Public Health, Health Promotion, Health Prevention and Baby Friendly Standards into their everyday practice. You will consolidate and critically apply the knowledge and skills learnt over the last 2 years, to demonstrate your understanding of the assessments, leadership and practical skills in the fields of Public Health and Infant Feeding.

15 credits

Research Skills for professional midwifery practice

This module will advance students' knowledge of research methods and data analysis approaches relevant to midwifery practice culminating in the development and presentation of a research proposal in an area of midwifery that is of particular interest to the student. The module aims to provide a logical and systematic overview of the research process and includes sections on developing a research question/hypothesis, choosing appropriate study designs, sampling frames, data collection, and analysis approaches. The module covers quantitative, qualitative and mixed methods using examples from midwifery research to illustrate core concepts. The student will then choose one of these methods for their research proposal. Principles of the midwife as a scholar and a leader will be explored as well as demonstrating how developing knowledge and skills in research and innovation can help to shape the future of midwifery through the development of evidenced-based care for women and their families.

15 credits
The content of our courses is reviewed annually to make sure it's up-to-date and relevant. Individual modules are occasionally updated or withdrawn. This is in response to discoveries through our world-leading research; funding changes; professional accreditation requirements; student or employer feedback; outcomes of reviews; and variations in staff or student numbers. In the event of any change we'll consult and inform students in good time and take reasonable steps to minimise disruption.
Open days
An open day gives you the best opportunity to hear first-hand from our current students and staff about our courses. You'll find out what makes us special.
Duration
3 years full-time
Teaching
This programme is 50 per cent theory and 50 per cent practice. You will learn through lectures, seminars, group and individual tutorials, skills workshops, clinical placements, and independent learning and reflection.
Practical sessions include high-fidelity patient simulation training and supervised clinical skills training, which you will record as part of your portfolio.
You may also learn from guest speakers, such as service users and carers, as well as patient stories, narratives and reports.
Assessment
You will be assessed through exams, essays, task-based assignments, presentations, clinical skills and a clinical practice portfolio.
Your career
Career prospects as a registered midwife are excellent. As a registered midwife, you will be in the unique position to provide personalised care to women, birthing individuals and their families from conception, antenatally, during labour to the postnatal period. This privilege can make a positive societal impact.
As a skilled and competent practitioner, you will support women in making decisions about their care within a multidisciplinary team using research and evidence-based knowledge to maintain safety and respect.
Our graduates can go on to work in the NHS, but others may choose to find positions overseas, in private practice, in social services, the pharmaceutical industry, research or in specialist areas such as drug rehabilitation.
You will be prepared for roles including midwifery manager, consultant midwife, practice development midwife, or specialist clinical midwife. 
Facilities
Our Clinical Skills Centre is based at the Northern General Hospital, one of the largest hospitals in the country. The centre contains mock clinical wards, resuscitation suites, simulated theatres and teaching rooms with high-fidelity patient simulation training – a perfect facility for training the midwives of tomorrow.
Entry requirements
Minimum 2:1 undergraduate honours degree in a related subject. A minimum grade of 4/C in GCSE English Language and Science is also required.
We may also consider your application if you do not meet the standard academic requirements but have relevant professional experience and good academic potential.
This course does not accept international students.
This course does not accept international students.
IELTS grade 7 with minimum of 7.0 in speaking, reading and listening and 6.5 in writing or equivalent.
Fees and funding
Additional costs
You'll receive an occupational health screening, immunisations and a DBS check on our professional programmes. These will be covered by your tuition fee. We recommend that you subscribe to the DBS update service within 30 days of your disclosure being issued (which you would need to pay for). You would need to pay for any additional DBS checks that may be required if you do not subscribe to the DBS update service.
Clinical placements are a compulsory element of the degree, which means that there will be an additional expense for travel and accommodation (where applicable).
If you are a UK student you will be able to apply for reimbursement for excess travel expenses and dual accommodation costs for placements (i.e. in order to claim, the total cost of your daily return travel from your normal accommodation to your practice placement site must exceed the cost of your usual daily return travel to university).
If you travel to placement in your own motor vehicle, it is your responsibility to ensure that you have adequate insurance cover for all risks associated with its use (i.e. this includes obtaining business use on your insurance policy). This cannot be reimbursed.
Apply
You can apply for 2024 postgraduate study using our Postgraduate Online Application Form. It's a quick and easy process.
Any supervisors and research areas listed are indicative and may change before the start of the course.
Recognition of professional qualifications: from 1 January 2021, in order to have any UK professional qualifications recognised for work in an EU country across a number of regulated and other professions you need to apply to the host country for recognition. Read information from the UK government and the EU Regulated Professions Database.