Prestigious psychology award goes to Dr Jaime Delgadillo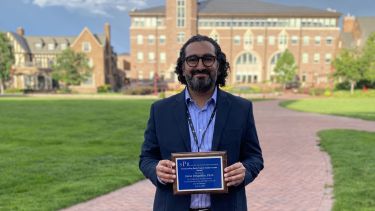 Earlier this month, Dr Jaime Delgadillo, Senior Lecturer from the Department of Psychology, was recognised with the highly prestigious international prize for excellence in research in psychological therapies by SPR, a global, scientific association devoted to research on psychotherapy.
The Outstanding Early Career Achievement Award for 2022 was presented to Jaime during the SPR 53rd annual meeting in Denver, Colorado, USA, which saw exceptional researchers and clinicians from across the world come together to discuss data-informed psychotherapy.
Jaime said: "SPR brings together some of the most inspiring and innovative scientists in the field of psychotherapy. I always look forward to attending the annual SPR conference, and I consider it a huge honour to be recognised by this society."
The award recognises Jaime's work exploring how people respond differently to therapy, which is something he talks about in his 2016 study. 
Describing his work, Jaime said: "The basic idea is that not everyone responds well to psychological treatment for mental health problems – some benefit a lot, some benefit a little, and some actually get worse. Individual differences between people, such as differences in personality, socioeconomic status, and types of symptoms, influence their likelihood of benefitting from available treatments. 
"If we could figure out which people may benefit most from specific treatment options, we might be able to help many others get the right treatment at the right time."
Jaime's approach to solving this problem involves using artificial intelligence (AI), as today's computers are capable of discovering complex patterns in data, allowing us to make predictions about future events.
Jaime added: "Satellite navigation tools, for example, can help us predict our travel time and to find alternative routes if we hit a roadblock. Using similar methods, I have been working to develop AI tools that can help us to not only foresee how a patient might respond to a particular form of therapy, but to also monitor their treatment response during the course of treatment to make any necessary adjustments. 
"Like many of my colleagues, my primary motivation is to help in some way to alleviate human suffering, so ultimately, the goal is to personalise therapy for individuals, based on their unique features and circumstances."
Since joining the University's academic community in 2016, Jaime has been teaching therapy and research skills in the Doctorate in Clinical Psychology, in addition to his role as Research Director for this programme. Alongside these activities, he is also the Director of Psychological Therapies Research at the Rotherham Doncaster and South Humber NHS Foundation Trust. 
Among his colleagues, he is recognised as one of the leading psychotherapy researchers of his generation. 
Jaime said: "Such comments are hugely generous and kind. I certainly don't view myself as a leader in the field, but as a student. Even though I am now teaching others, I am constantly learning and I tend to think of my current self as a highly underdeveloped and amateur version of my future self. 
"Because I value learning, I very much enjoy collaborating with other people whose work I follow. My proudest moment was to co-author book chapters with colleagues who I greatly admire, in the latest edition of Bergin and Garfield's Handbook of psychotherapy and behaviour change (Wiley, 2021).
"Among other such collaborative work, I was also recently involved in a study demonstrating that matching patients to available treatments in a personalised way has huge potential to improve the effectiveness of psychological treatments. My colleagues and I are doing more work in this area to implement this method in the UK National Health Service."
Flagship institutes
The University's four flagship institutes bring together our key strengths to tackle global issues, turning interdisciplinary and translational research into real-world solutions.