Understanding autism spectrum conditions in adulthood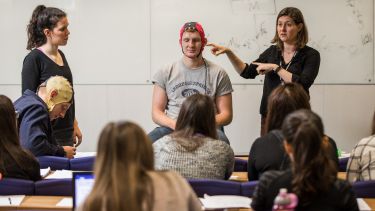 Autism is typically thought of as a childhood condition. In reality, it is a lifelong developmental condition, but there is limited understanding of autism in adulthood.
To help redress the balance, in 2016 Professor Elizabeth Milne was awarded a Mid-Career British Academy Fellowship, focussing on Autism Spectrum Conditions (ASCs) in adulthood.
She carried out research and public engagement activities to generate new data and encourage discussion between people with a range of backgrounds, including autistic adults, parents of those with ASCs, clinicians, academics and the general public.
Elizabeth's principle research interests are understanding sensory issues in autism spectrum conditions, and developing greater insights into neural and phenotypic variability in autism.
For this project electroencephalography (EEG) data was collected alongside qualitative interview data from participants with an ASC. The funding was also used to develop a series of public activities to foster discussion and debate, and a short documentary was also produced, telling the story of three people who were diagnosed with an ASC in adulthood.
Elizabeth had established an engaged audience through a previous lecture series launched in 2014. The public lectures typically attract an audience that includes people with a range of interests in the subject area.
The events provide a forum for people in the Sheffield area who have an interest in autism, so that they can come together to share ideas, knowledge and experiences. Attendees have expressed appreciation for having the opportunity to discuss their own experiences with experts in the field with insight into ASC.
What's more, the forums, and the people who attend, have informed the direction of the research itself. "I've learned so much by bringing my research out of the lab and engaging with autistic people and the autistic community," she said.
This innovative approach has led to further opportunities and spin off projects. Elizabeth has been involved with raising awareness of adults living with autism in the workplace or attending university – a topic which became the subject of a second short film. The Sheffield Autism Research Lab YouTube channel has now had more than 30,000 views since its conception in 2014.
Elizabeth is now working on a University of Sheffield initiative to explore how the institution can make small changes to make everyday activities on campus easier and more accessible to people with ASCs, or other conditions that may affect sensory perception and everyday public interactions.
Life Satisfaction, Anxiety and Camouflage in Adults with and without a Diagnosis of ASD poster presented at International Society for Autism Research 2018 annual meeting in Rotterdam (PDF, 2.1MB)
---
Flagship institutes
The University's four flagship institutes bring together our key strengths to tackle global issues, turning interdisciplinary and translational research into real-world solutions.