The University of Sheffield joins local initiative in a bid to tackle city's stray cat crisis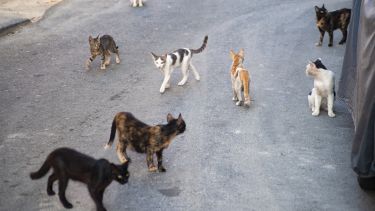 Scientists from the Department of Psychology at the University of Sheffield will analyse two questionnaires completed by cat owners at clinics offering free treatments and advice - one before a presentation by experts from the RSPCA and one after.
Academics are hoping to explore cat owners' knowledge and their intentions behind important decisions such as where they get their cat from, neutering and microchipping.
Sheffield academics will also measure whether Cat Smart's engagement with the local public increases the number of owned cats being neutered and raises awareness about the importance of neutering on the health, wellbeing and longevity of cats.
One of the key aims of the Cat Smart project is to advocate neutering from when a cat is four months old, to ensure that the cat does not produce a litter accidentally. This would have a profound impact on the number of stray cats in Sheffield.
On average the RSPCA receives a call to its National Control Centre about a cat every three minutes and receives more calls about cats than any other animal. In Sheffield alone there were 1,772 calls to the RSPCA about in 2016.
---
The Cat Smart project has so far helped 318 people with the cost of neutering their cats since the 30 August 2017

Carrie Stones

Cat Population Control Manager, RSPCA
---
Dr Thomas Webb said:
"Our research hopes to explore the decisions and thought processes behind cat owners' decisions. Neutering and microchipping your cat are two simple and effective ways to keep your cat safe and prevent the increasing numbers of stray cats; however, statistics suggest that cat owners and breeders are still reluctant to neuter and microchip cats – it will be interesting to see why this is."
Cat Smart will be offering free microchipping, neutering and advice as part of a one year pilot scheme
Six charities from across the city are taking part in the pilot; Cats Protection (Sheffield branches), PDSA, Rain Rescue, RSPCA Sheffield and the Sheffield Cats Shelter. Eight local veterinary practices are also signed up to the pilot – all determined to tackle the stray cat crisis in Sheffield.
Carrie Stones, Cat Population Control Manager at the RSPCA, said:
"Our aim is to raise awareness about the importance of neutering cats. We want our events to be fun and informative and to share with people, the health and wellbeing benefits of neutering cats.
"The reality is, we see so many pregnant mums and unwanted litters of kittens coming into our centres, especially over the summer months. All this can be avoided by neutering cats from four months old to avoid unplanned kittens."
She added:
"The Cat Smart project has so far helped 318 people with the cost of neutering their cats since the 30 August 2017. Cat Smart aim to host an event every month until May 2018, the next being held on the 20 January at the RSPCA Animal Centre, Stadium Way, Sheffield.
"The vets and practice staff from Highfield Vets Practice will be volunteering their Saturday to help us to tackle this issue.
"We are so grateful to have the support of the University of Sheffield. Their research and findings will be incredibly useful and informative in helping us to understand cat owners' choices and also help us to shape Cat Smart's aims and objectives going forward."
Psychology at the University of Sheffield explores every aspect of human behaviour from biological, social and developmental psychology to psychological disorders and cognitive neuroscience.
The University has experts working across neuroscience, robotics, child development, social psychology and healthcare. Research from the University of Sheffield drives innovation and improves lives through technological advancement and societal change.
Flagship institutes
The University's four flagship institutes bring together our key strengths to tackle global issues, turning interdisciplinary and translational research into real-world solutions.