Access to Sheffield (Y7-8)
Access to Sheffield (Y7-8) encourages pupils to develop their knowledge of degree level study and ask informed questions about higher education (HE) pathways and careers.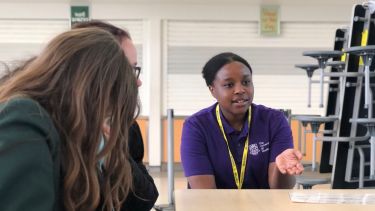 On
We work with Year 7 and Year 8 students from selected schools to develop knowledge and awareness of the benefits of HE, graduate employment and introduce them to the University of Sheffield. By taking part in our activities, students will get a foundation of helpful knowledge, to guide crucial decisions about their educational journey through years 9 to 13.
Access to Sheffield (Y7-8) breaks down barriers to HE by providing support, to help pupils develop confidence, knowledge and skills, through sessions and workshops focusing on:
General information regarding university and student finance
Introduction to the student experience, including clubs, societies, our Careers Service and Students' Union
Guidance for selecting GCSE subjects that lead to a degree and career pathways
The University of Sheffield campus and student facilities
Useful skills and prior study in preparation for HE
The sessions will provide students with a positive introduction to all aspects of university life and study. We want them to feel confident and comfortable in researching how other universities may differ in relation to courses, accommodation and student facilities. We'll provide impartial advice and guidance so your students can make an informed decision on the best route for their future.
Skills Builder
The Skills Builder framework is embedded into all of our programmes as part of a sequential, skills-based curriculum. Access to Sheffield (Y7-8) provides opportunities for students to practise and demonstrate essential skills, to develop their academic confidence and self-efficacy. Through participation, students will reflect on their own skill set and the importance of skills for academic success, in order to support their personal development and progression to higher education.
Access to Sheffield (Y7-8) has been accredited by Skills Builder as an Impact Level 3 programme: Practising essential skills.
---
We offer a flexible range of activities for schools to choose from. Our session delivery is adaptable, with the option to invite parents and pupils to work together during our activities. Sessions are suitable for differing audience sizes, within a classroom or assembly setting. All sessions are supported by our inspirational student ambassadors who will be on hand throughout to share their experiences of university life and study. 
---
Full criteria outlining who will be eligible for Access to Sheffield (Y7-8) will be available soon.
---
This programme is by invitation only. Schools located in the South Yorkshire Mayoral Combined Authority with a significant number of pupils who meet criteria will be contacted by the Access to Sheffield (Y7-Y8) team.
---
Contact us
7-8.accesstosheffield@sheffield.ac.uk
0114 222 1027
Connect with us
Be the first to know about activities at the university as well as support that we can provide to you and your students.