Institute for Sustainable Food and Regather - a local case study
How a Sheffield community benefit society is working with the Institute for Sustainable Food to boost the region's sustainable food offering.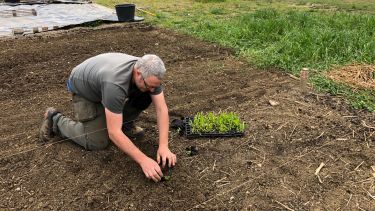 At the Institute for Sustainable Food we are seeking new ways to understand the complexity of the food system and to do this we want to expand our partnerships and work more closely with local organisations. We recognise that achieving a sustainable food future is as much a socio-cultural problem as it is technological. By working with partners in the Sheffield City Region we hope to transform the food system from the ground up.
Based in Sheffield, Regather is working to create a values based community food system, where land is more productive; food is fair and better quality; money is retained in the local economy; health and environment are improved; and people are engaged in how their food system, from local to global, can change for the better. 
Early in 2020 Regather approached the Institute for Sustainable Food with a proposal to sponsor a polytunnel at the Regather Farm, based in the Moss Valley on the Sheffield and North East Derbyshire border. The farm, which sits on a 15 acre site, comprises of a market garden, orchard, polytunnels, beehives and an agroforestry development and helps to supply a 700+ household veg box scheme also operated by Regather.
Whilst Regather already had plans to install polytunnels for their farm, the sponsorship from the Institute meant the society could justify investing in three polytunnels rather than just one polytunnel this year, creating a significant saving in terms of economies of scale and an substantial increase in productivity within a shorter period of time.
By helping us to buy at scale, the Regather Farm can now operate four polytunnels in which we will grow all year round. This is great for Sheffield as it helps us grow organic produce for our veg box scheme locally, which in turn cuts down on food miles, creates employment and offers local people a sustainable way to buy their veg."

"The launch of the flagship institutes at the University of Sheffield really opened up the sustainable food dialogue for us. We can now talk to academics and experts from a variety of disciplines in a joined up way. Opening up these conversations is a real boost for Regather and for ShefFood, and will help develop a multi-stakeholder regional food partnership and food strategy. It builds awareness of the fantastic 'good food work' happening in the Sheffield City Region. This really matters as we work to influence policy at the national level. In a way it is like standing on the shoulders of giants."

Gareth Roberts

Founder member of Regather
At the Institute for Sustainable Food we are keen to work with the local food sector to help transform the food system from the ground up. We want to use our expertise and advocacy to support local organisations to build a more sustainable food future.

"Helping the team at Regather purchase a polytunnel gave us a chance to work with the growers through knowledge exchange and strengthen our existing partnerships under the 'sustainable food' umbrella."

Professor Peter Jackson

Co-director of the Institute for Sustainable Food at the University of Sheffield
Over the years the team at Regather and the University of Sheffield have collaborated on several projects including Sheffield Engineering Leadership Academy (SELA), hosted an annual field trip at Regather Works for the Geography BA 'Critical Ecologies' module and worked with Engineers without Borders to develop engineering solutions for local food systems.
Whilst Regather already has established partnerships across the University of Sheffield, the arrival of the new flagships in 2019 sent out a strong message that there is a commitment to sustainable food from the University.
To support the strategic development of a more healthy, fair and sustainable food system for Sheffield, Regather, Food Works, Heeley City Farm, Green City Action and the Sheffield Climate Alliance are lead partners in ShefFood - the Sustainable Food Places member and food partnership for Sheffield.
Both the Institute and Regather are looking forward to working together on raising the profile of sustainable food on a regional level through the ShefFood partnership in 2021 and beyond.
If you are interested in working with the Institute please get in touch.
Flagship institutes
The University's four flagship institutes bring together our key strengths to tackle global issues, turning interdisciplinary and translational research into real-world solutions.