Climate facts to chew on at home-school lunchtime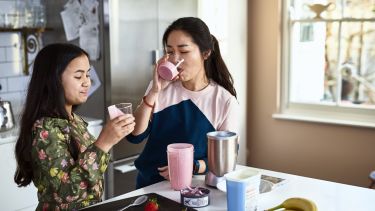 Each week day in June a group of University based researchers will release new materials aimed at seven to 14-year-olds, including videos, activity worksheets and interviews with experts. The team will answer questions and showcase work sent in by children.The programme is designed to encourage scientific creativity from home at  a time when many pupils are unable to attend their schools due to the Covid-19 pandemic.
Worksheets are released one week in advance, so schools can include them in their "learning from home" content and, at midday each weekday of June, families can make and eat their lunch while chewing on some food for thought from the Take a Bite out of Climate Change team.
This is a super fun way to learn how you can help reduce your carbon footprint. Trialing these activities with our own children has been a blast and lockdown has given us the opportunity to think up ways we can help our food system and tackle the climate crisis at home.

Dr Christian Reynolds

City, University of London and visiting researcher at the University of Sheffield's Institute for Sustainable Food
---
Daily schedule:
Monday - A three-minute video launches introducing the theme for the week
Tuesday - Worksheets are available, with the team talking through them via video
Wednesday - Children can learn from interviews with experts
Thursday -  The team answer questions sent in via Twitter, Instagram and email
Friday - Showcase of children's work from home
Weekly schedule:
Week 1: From plate to planet – climate change and food as one of several contributors.
Week 2: At the farm – how decisions made in primary food production impact the climate.
Week 3: At the shops – covering transportation, packaging and choices.
Week 4: At home – decisions we make at home on what to eat, recipes and food waste.
The final two days of June will include a summary and celebration of contributions from children.
Join in online: www.takeabitecc.org/athome 
---
With Covid-19, we're all thinking about food more than ever before, and we're more aware of how dependent we humans are on the natural world.

Professor Sarah Bridle

University of Manchester and Take a Bite out of Climate Change team lead and part of the N8 AgriFood partnership
Changing our diets is important from so many perspectives. In 2019, the school strikes for climate had a major role in raising the priority of climate change with world leaders. Meanwhile, Covid-19 has created a huge shock, but is an example of the sort of problem climate change will throw at us increasingly in the years ahead. As we invest in recovering from Covid-19, we must introduce measures to cut emissions and incentivise climate-friendly behaviours, including around food choices. To achieve that, we need the public demanding changes from politicians, which is where projects like this one are so important.

Professor Tim Benton

Research Director for emerging risks at the Royal Institute of International Affairs at Chatham House in London
Join in with Take a Bite Out of Climate Change online
---
Take a Bite out of Climate Change has been funded and supported by The University of Manchester, N8 AgriFood, the Science and Technology Facilities Council (STFC) Food Network+ and a Wellcome Trust Institutional Strategic Support Fund award [204796/Z/16/Z]. The team works in partnership with N8 AgriFood, LEAP, the LSHTM Centre on Climate Change and Planetary Health.
Flagship institutes
The University's four flagship institutes bring together our key strengths to tackle global issues, turning interdisciplinary and translational research into real-world solutions.