Launching East Africa's first combined solar energy and agriculture system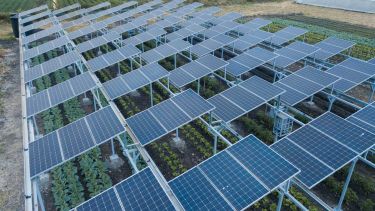 The event, which takes place on 24 February 2022 at Latia Agribusiness Centre in Isinya, Kenya, will include a tour of the Agrivoltaics system as well as knowledge sharing talks on crop yields and benefits to farmer incomes, clean energy production and savings on electricity costs, and rainwater harvesting and irrigation.
Talks will also focus on farmers' experiences, identifying the most suitable locations for the technology, and a community engagement strategy as part of the project's assessment of how agrivoltaic technology can be co-designed with users to inform how these systems can be rolled out across East Africa and beyond.
The Agrivoltaics system has been co-developed with local agriculture and energy experts to deliver solar electricity, crop production, and rainwater harvesting on the same land area in order to provide multiple energy and food security benefits. This interdisciplinary approach underpins the University of Sheffield research in sustainable development, food and energy security, building on the expertise of our flagship research institutes, including the Energy Institute and Institute for Sustainable Food.     
Access to energy is a widespread problem across East Africa, where 55 per cent of the population still do not have reliable electricity. Solar power is a key way of addressing this but traditional ground-mounted arrays of solar panels reduce the amount of land needed for other activities such as growing crops.
Instead of being mounted close to the ground, agrivoltaic systems are constructed several metres high, with gaps between the arrays of solar panels, enabling crops to be grown underneath.
Much of East Africa also has high light intensity, high temperatures and low rainfall. Agrivoltaic energy systems can significantly improve the productivity of crops because the shade provided by the panel arrays reduces heat stress and water loss.
The initiative, which is being led by Professor Sue Hartley in the School of Biosciences, has been funded as part of UKRI's Global Challenges Research Fund (GCRF) Collective Programme. It is a collaboration with the University of York, World Agroforestry (ICRAF), Teesside University, Stockholm Environment Institute, the Centre for Research in Energy and Energy Conservation, and the African Centre for Technology Studies.
Dr Richard Randle-Boggis, a Research Associate in the University's School of Biosciences and a member of the Institute for Sustainable Food at the University of Sheffield, said: "The fantastic appeal of this initiative is that it delivers a triple-win for food, energy and water security, all on the same area of land. And what makes the project especially exciting is that it brings together such a wide range of experts and stakeholder groups, including farmers, engineers, energy developers, agricultural scientists, policymakers, community groups and many more." 
Professor Sue Hartley, project lead and Vice-President for Research at the University of Sheffield, said: "This project is an excellent example of how ground-breaking interdisciplinary research can deliver really significant benefits to communities. It's really exciting to see this research being showcased in Kenya in this way, and I'm confident the event will stimulate even greater interest in the potential of this novel technology."