Making connections from land to sea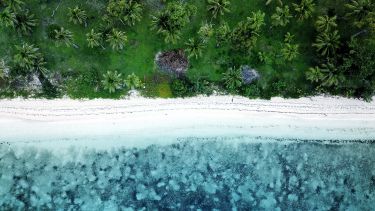 Professor Duncan Cameron, Director of the Institute for Sustainable Food at the University of Sheffield, has contributed to the 2020 WWF Living Planet Report.
The WWF Living Planet Report documents the state of the planet - including biodiversity, ecosystems, and demands on natural resources - and what it means for humans and wildlife. Published every two years, the report brings together a variety of research to provide a comprehensive view of the health of the Earth.
Working with experts from the University of Tasmania and University of California Santa Barbara, Professor Cameron calls for an integrative understanding of land-sea interactions to capture missing feedbacks and trade-offs in human impact scenarios.
You can read their piece below:
MAKING CONNECTIONS FROM LAND TO SEA
We need an integrative understanding of land-sea interactions to capture missing feedbacks and trade-offs in human impact scenarios.
Julia Blanchard (University of Tasmania), Duncan Cameron (University of Sheffield) and Richard Cottrell (University of California Santa Barbara)
Land and sea ecosystems are intrinsically connected, but these links are often ignored in scenario modelling that looks at a range of possible futures of land-use change. It's true that state-of-the art global land and sea use models both use complex combinations of 'big data', often with shared input sources like remote sensing and Earth system models. However, scenario modelling of changes in human activities, in the sea and on land, is largely carried out separately, with limited feedbacks to the connected ecosystems that underpin them.
We know that food production systems are major drivers of biodiversity loss, both on land and in the sea, exemplifying these hidden interconnections  – two examples are agricultural runoff into coastal and marine ecosystems, and the use of wild-capture fisheries for fertilisers and feed on land. Climate change creates feedbacks among these linkages, as food production produces emissions that impact the climate system, which in turn alters the environment, habitats and biodiversity that support resilient food production.
Shifting diets from land-based to more environmentally efficient ocean-based protein has been proposed as one leverage point for climate mitigation. Scenarios shifting towards marine diets, via aquaculture growth, have been shown to spare land and marine feed resources compared to business-as-usual practices.
However, the broader impacts of changes in food demand on marine ecosystems are not well understood. Given the threats to biodiversity already present in the ocean, care needs to be taken to ensure any shift would not create perverse biodiversity outcomes or create inequities in food and nutrition.
There are growing attempts to bridge these knowledge gaps; however, much of the work addressing the land-sea interface has, as yet, only been carried out at regional catchment scales.
Developments in global modelling of nutrient flows from a variety of human activities on land to coastal systems are promising, but the links to ecosystem responses across the land-ocean continuum are still missing. These critical gaps need to be accounted for if we are to understand and predict the consequences and trade-offs of changing human activities for the planet.
Climate change projections show that food production shocks across sectors are increasing, and are likely to worsen as extreme events such as marine heatwaves and drought become the 'new normal'. What this means for the overall food system, and underlying biodiversity and ecosystem processes, is not yet well understood. Scaling up assessments of the environmental impacts of food systems, by mapping synergies and trade-offs of biodiversity protection on human well-being, could help us to better understand the influence of feedbacks on sustainability pathways.
Flagship institutes
The University's four flagship institutes bring together our key strengths to tackle global issues, turning interdisciplinary and translational research into real-world solutions.