University of Sheffield leads £1.2m research network to build sustainable and resilient food systems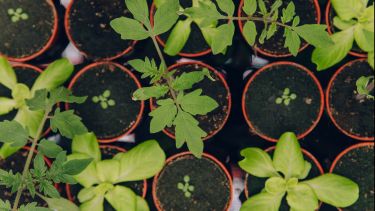 Network aims to use cutting-edge technologies and advanced research facilities to solve critical food security challenges through a collaborative approach
Second phase of the network to focus on new areas such as vertical farming and smart farms
---
The University of Sheffield has been awarded £1.2 million to lead a network of researchers working to build a sustainable, resilient global food system.
Sheffield experts will lead the second phase of the Science and Technology Facilities Council (STFC) Food Network+, which will bring together industry experts, academics, farmers, consumers and policy makers to devise an innovative way to address food security challenges.
The network will focus on new areas including smart farms, innovative production systems such as hydroponics (growing plants without soil), vertical farming, digital supply chains and diets for a healthy ageing population, among others. It aims to achieve breakthroughs to increase the resilience of food supply chains, improve the nutrition profile of foods and modify consumer behaviour to reduce waste.
Today's complex global food supply chains are fragile and threatened by a 'perfect storm' of coinciding risks, with demand set to increase by 70 per cent by 2050, while 30-50 per cent of food produced globally is currently wasted and climate breakdown is already impacting existing systems. 
The STFC, more commonly associated with nuclear physics and space exploration, will provide access to advanced research facilities including high-speed computing, cryogenics, thermal engineering, big data analytics and artificial intelligence to facilitate groundbreaking research. 
Researchers throughout the UK and in targeted Asian and African countries will be able to join the existing network of more than 750 multi-disciplinary researchers to work towards a safe, secure and sustainable food system that supplies nutritious and affordable food for all. They will collaborate with a wide range of challenge owners to transform research to address food security issues.
Dr Sonal Choudhary from Sheffield University Management School and the Institute for Sustainable Food at the University of Sheffield will lead the network, supporting members to co-design research priorities to address food system challenges in the UK and beyond. She will collaborate with colleagues from the University of Manchester, University of York, Open University, University of Hull and University of Southampton to run this network.
The network will initially appoint 10 champions – world-class researchers who will work with policymakers, industry and consumers in the UK, Asia and Africa to develop innovative interdisciplinary projects to address their national food research priorities. 
Dr Sonal Choudhary, Head of Operations Management and Decision Sciences Research Centre at the University of Sheffield, said: "The system that fills our supermarket shelves is frighteningly fragile, as climate breakdown threatens harvests while demand for food rises. Our research will draw on cutting-edge technologies and data science capabilities from the STFC to feed the world while protecting our natural environment.
"This funding will enable us to strengthen the existing STFC Food Network+ and attract new experts and organisations from across the globe to the project. 
"Our aim is to achieve food security and deliver healthy diets for all."
Professor Duncan Cameron, Director of the Institute for Sustainable Food at the University of Sheffield, said: "The food system is often described as a linear process from farm to fork, when in fact it is an immensely complicated network of interconnected stakeholders influenced by external factors from cultural practices to the climate crisis.
"Over the next decade, feeding a growing population with nutritious food while restoring the natural world is one of the greatest challenges we face. It will take an international network of researchers working across disciplines to develop the solutions – and I'm immensely proud that experts at the Institute for Sustainable Food will be leading this vital project."
Geoff McBride, theme leader for GFS, Agri-Tech and Water at the Science and Technology Facilities Council, said: "The first three years of the network was a resounding success. The coming four-year programme the network has planned has me very excited. It is both ambitious and risky for all the right reasons."
Flagship institutes
The University's four flagship institutes bring together our key strengths to tackle global issues, turning interdisciplinary and translational research into real-world solutions.