Dr Pamela Richardson, from the Department of Geography, joined the University of Sheffield in 2020 after winning ESRC IAA funds to implement a 12-month innovative Knowledge Exchange Project. She follows on this with a Marie Sklodowska-Curie Individual Fellowship, which will run until 2026.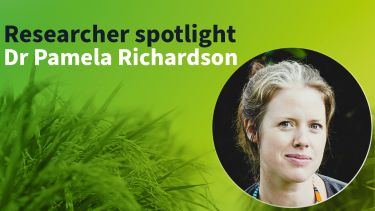 Off
What is your research background and what are your current research interests?
I am a geographer and facilitator interested in the intersection of food systems, social justice and innovation/transformation processes.  My research engages with the politics of knowledge production and I specialise in participatory and collaborative modes of enquiry, including video methods. I completed my doctorate in 2009, having undertaken research on the Eastern Caribbean sugar economy and EU policy reform implications. Since then, I've done postdoctoral research in Zimbabwe, South Africa and Tanzania, exploring community-based innovation and sustainable food strategies with critical analysis of socio-cultural and socio-ecological relations. I spent 4 years at the University of KwaZulu-Natal (South Africa) (2010-14) with the School of Development Studies and the Centre for Civil Society, and then 4 years in Germany, where I worked for the German Institute for Tropical and Subtropical Agriculture (DITSL) on an international Agricultural Research for Development project, exploring  inclusion/exclusion factors. I am currently a Marie-Sklodowska Curie Research Fellow. I moved to Sheffield two years ago, and am really happy to be back in a Geography department.  My current fellowship project, "Co-creating multi-scalar generative change towards sustainable food systems: learning with communities of practice in Zimbabwe and the UK" revolves around questions of how transformation towards more sustainable food systems take place in practice, across different scales. I'm collaborating with partner organisations in Zimbabwe at the moment, working with story-telling and grounded theory approaches.
Are there any particular projects or outputs of yours that you are particularly proud of or excited about? 
My most exciting project, which I feel most proud of, is Make it Grow.  It is an initiative that supports community groups to create video proposals, for the purpose of defining and pitching their own ideas for local food projects. The videos are a fundraising tool. In the past year, 15 Zimbabwean community groups completed participatory video proposals and have implemented projects as a result of joining our workshop programme.  Make it Grow began as a short-term Knowledge Exchange initiative but continues to evolve; I won the CROSS Catalyst Award in July and am planning to set up as a social enterprise, so that we can continue to work with international donor organisations as well as supporting grassroots community groups. 
What are your links to the Institute for Sustainable Food?
I became affiliated to the ISF as a Knowledge Exchange Fellow and am now affiliated through my Marie Curie project, with Prof Peter Jackson acting as my mentor during the Fellowship. 
Can you tell us a fun fact about you?
I am an avid gin-infuser. (Rhubarb mainly).